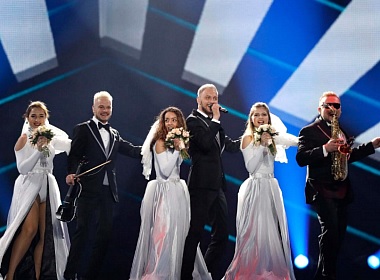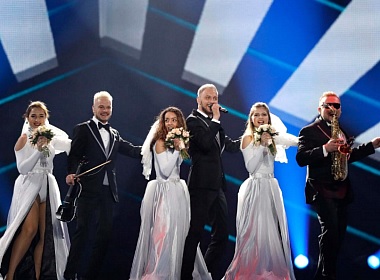 By now you are certainly aware that Kiev (Kyiv), Ukraine, hosts this year's singing Olympics, Eurovision. 42 countries sent performing ambassadors to defend their national flags. Due to internal dislikes and scheming, in 2017 Russia is left without a contestant and TV broadcast, hoping to make up for it the next year.
(Read about Russia-Ukraine controversy here.)
But other post-USSR countries participate and 5 of them proceeded to the grand final, which you can watch live on TV and online later today.
The live show is late in the afternoon if you are in Europe, about 3 pm in NY, USA, midday in LA.
Former Soviet republics who made it to the final
Ukraine (host country, pre-qualified)
Belarus
Armenia
Moldova
Azerbaijan
Brides are popular in 2017. Albanian contestant, Lindita, walked on Kiev's stage dressed in white as a bride. Unfortunately, the cute fitness model didn't make it to the final. You can view her video on the official website.
But another bridal party did. Moldova's act Project Sunstroke featured 3 dancing brides and their perfectly attired grooms, and a lively routine ending in the synchronic wedding bouquet-throwing action.
Project Sunstroke's performance became a trending topic on Twitter, with the most mentions going to "the epic sax guy". The cool moves got the audience cheering and vocals scored high enough to get through to tonight's live show that will decide who wins 2017 Eurovision. "Sincere, funny, and without pretence", DesertRose commented on YouTube. Winner of Eurovision 2017, could it be Moldova?
Who knows, results of this unique competition are always a surprise. Predictions of bookies are usually wrong but right now it's not in the top 5. Winner or not, it should do well in charts regardless.
You can meet Moldova's women at Elena's Models.
Video: Moldova's performance at semi-finals
Check this catchy tune, hopefully, you'll love it as much as the fans did.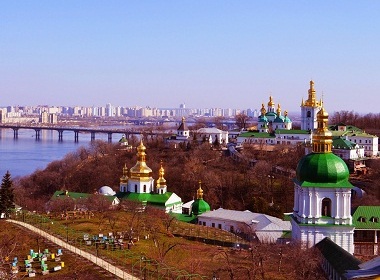 Read also: