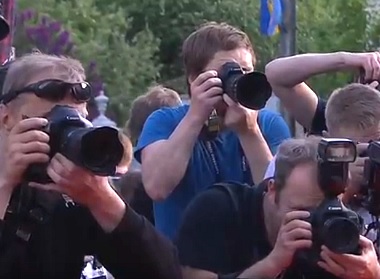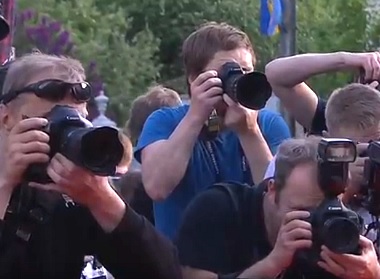 Eurovision 2017 will be available to residents of United States via Logo broadcast. Eurovision.tv published an update confirming that viewers can watch the world's largest international singing contest in the same way as the last year.
Ross Mathews and Michelle Visage from Rupauls' Drag Race will be presenters for the USA audience. Broadcasts accessible live from Kiev (Kyiv), Ukraine.
Eurovision dates and times to watch in the USA
The grand final taking place on the afternoon of Saturday, May 13 (morning in the USA) is streamed on the Logo's website and YouTube channel. It can be also viewed in the app.
Logo is not broadcasting semifinals, apparently.
Eurovision's own official website will also have live streaming of both finals and the semifinals. (It might require VPN due to geoblocking in the USA.)
Dates:
9, 11 (semifinals 1 & 2) and 13 May 2017 (grand final)
Live broadcasts start at 21:00 CEST (check your local times)
If tuning in seems too hard, the organizers publish videos through YouTube channel.
2017 contest in Ukraine
Ukraine, as the host country, has an automatic entry into the Grand Final.
It is the second time that Ukraine hosts Eurovision Singing Contest. Ukrainian singer Ruslana topped 2004 festival with the hit "Wild dances", and therefore 2005 competition was hosted in Kiev. It was the second year of the country's participation, after entering its first contestant, Oleksandr Ponomaryov, in 2003.
Reportedly, the organization of 2017 show cost Kiev 30 million euro (US $32.85 million). It is a remarkable amount in the country where the average monthly wage is under US $300, so it would cost 10 times less for labour than, let's say, in Denmark, which spent USD 60 million for 2014 Copenhagen extravaganza.
Azerbaijan invested USD 46 mln plus 130 million extra on building Crystal Hall arena in Baku to host 2012 carnival.
Russia thrown in $44 mln in 2009.
The last year's show only cost Swedes US $9 mln, Artur Gasparyan reveals in his review for MK.ru.
2017 event is of great importance for Ukrainians, so check it out. If you are in a relationship with a woman from Ukraine, find out about the actual hours to watch live shows for Americans, you may learn a lot of new things about the country of your girlfriend.
Check our previous posts related to this year's contest. It wasn't short of controversy, but this is what makes it exciting, right?
Video: The opening ceremony, 7 May 2017
Watch this year's opening ceremony. Performers from 42 countries walked the red carpet in their best fashion gear. If you have been to the Ukrainian capital before, that's a nice reminder of its cute charm.

Featured photo: YouTube

Share this article