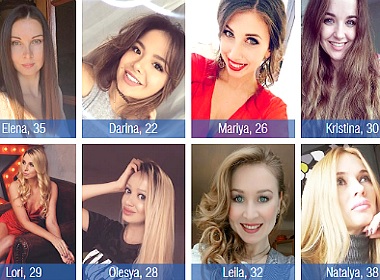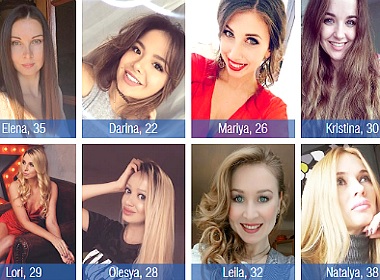 We asked Russian, Ukrainian women, which questions they would like to have answers to, in addition to the ones in men's online dating profiles. Now we can reveal the secret list of issues that are critically important to women seeking marriage abroad, but most often missing from men's profiles.
Use it to your advantage to connect with beautiful girls trying to find a partner for life.
What Russian, Ukrainian women REALLY want to know about you
Apart from pseudo-dating structures, Slavic women seeking marriage are really choosy about guys they are willing to start communicating with. They value their time and feel it's important to spend it only on the man who could become a future husband.
This is why they would love to have as much information about you as possible, as early as practical. Most often it means in your online dating profile.
Clearing these points in your profile or initial communication would help you to score higher, if your and her goals match.
It would also quickly cut off women who don't seek a partner like you, so that you don't spend time and efforts in vain. This means, you will have more time to communicate with women who are the most suitable for you.
Knowing answers to these questions creates a higher level of trust in your relationship than in her contacts with other guys. She will find it easier to open up to you.
The survey provides current data about preferences of females, who are listing profiles on international dating sites with the view of finding a long-term partner.
20 questions that ladies are scared to ask but would love to have answers to
First of all, women said they wanted men to answer all questions that are already included in the profile. In addition to the standard questionnaire, ladies would like to know the following.
How serious are the man's intentions on the site? Does he seek friendship, romantic meetings, or a serious relationship leading to marriage? (The only decent goal of contact for Russian women is "a serious relationship leading to marriage". Anything else qualifies as "not serious", which means you are viewed as either a "sex tourist" or an "online writer".)
Why is he seeking a life partner abroad? (This question you HAVE TO answer. Good answers are: "I was too busy with my career and now all lovely ladies are already married"; "I want to have kids in my future family and seek a younger woman, but in my country it's nearly impossible"; "I always liked Russian [Ukrainian, Belarusian, Slavic, Eastern European, etc.] women"; "I have a friend who is married to a Russian [Ukrainian, Belarusian, Slavic, Eastern European, etc.] woman, and they are very happy", and so on. Be careful with nationalities: A woman may live in Kazakhstan but be an ethnic Russian. In your profile, you can simply use "Eastern European". In personal communication, find out her background first. Calling a Belarus lady "Russian" could make her feel like you don't value her heritage.)
Who is he living with? (Do you live with your parents, roommates, kids, a former spouse? Don't laugh, people have all types of surprising living arrangements.)
Does he live in his own home or a rental accommodation? Is it a house or an apartment? (Simply explain where you live. You can also give a brief description of your home town: Population, the closest large city, what you love about living there.)
Does he have a full-time job? Does he run his own business? (The underlying question here: Can you provide for your future family?)
If he has kids, what are their ages, gender, and who they live with? In a shared custody arrangement, how often his children are staying with him? (You can include this information in the field "Children/Other". Simply list the actual living arrangements—without going into details about how much you love your kids or any problems with the ex.)
When the photos in his profile were made? (Include the dates when photos were made in captions to the images in your Gallery. Women want to see your most recent photos, at least 3-4 of them.)
Did he have any felonies or problems with the law in the past? (Including DIU, domestic violence orders.)
Is the personal data in his profile true and correct? (What she is worried about: Didn't he amend his age, marital status, etc.? Men fairly often make curious errors, particularly with their age. If you did fudge your profile details a bit, maybe it's time to correct it; girls really hate it. But if everything is bona fide, add a written statement that your profile information is true and correct. Girls do worry about it.)
How quickly is he going to meet in person? What factors does it depend upon? (If you are planning to correspond for 6+ months, forget it. She has learned already that the majority of men writing romantic letters online only email love confessions and make promises, but never do anything to meet in person and move forward with an actual love affair. She is looking for a man who seeks an actual relationship that will lead to a real marriage. Not some online chats or romantic meetings for pleasure. She wants a ring on her finger and to join her beloved in his country.)
What is his preferred way of meeting in person? The woman visits him, he visits her, or meeting somewhere else? (In most countries you need to first meet in person before you can apply for a fiancée or partner visa for your sweetheart. There is no wrong answer here, how do you want to meet. You just need to realize that women from Russia and Ukraine are unable to visit certain countries freely, and it will be an impossible task for her if you expect her to visit you. Usually women prefer you either: (1) visit her in her home town, (2) meet in the capital of her country, or (3) organize a vacation at a tropical resort to get to know each other better. Younger girls are usually scared to travel overseas, while ladies 30+ are open to meeting in a safe third country. Some women will be okay with visiting you, if you cover her travel expenses.)
Who will pay for the personal meeting? Is he going to cover the woman's expenses to meet him or require the lady to pay her own way? (Many men are a bit apprehensive about travelling to the woman's location, especially if she lives in a small town. So, if you are not planning to visit her, she wants to know, who will pay for the meeting. Normally, in international dating the man covers expenses for both people. If you expect the lady to pay her own way, you need to limit your search by the age gap not exceeding 5 years. Ladies who are desperate for a partner may agree to such an option, but the vast majority of women will not want to spend their time on you. Sorry. They simply do not earn enough to fly to foreign countries to entertain gentlemen who would love some affection.)
How is he going to help his fiancée's moving to his country and adaptation? (Possible answers: There is a Russian-speaking community in your location; you know other people who moved from countries of the former Soviet Union, who can help her; there are free courses of English available for new migrants, etc. Or simply say you will "do your best" to make your future wife's adaptation smooth and simple, if investigating these options right now seems like too much work.)
Does he realize what is involved in bringing a foreign wife to his country? (You will need to apply for a partner/fiancée visa for her, which will take several months. There are also application fees for visas and costs of plane tickets.)
Does he want the future wife to work? (There is no right or wrong answer here. Most women would be happy to hear something along the lines, "You can decide whether you want to work or not, I can provide for a family, but if you would like to make a career or assist me in my business, and it would make you happy, I will support you.")
Would he be willing to move to my country? (Women who seek foreign men for marriage do not expect them to move to her country. In general, all women on Elena's Models are prepared to immigrate. This is why they are on a website with listings of foreign men. But some ladies would love to meet a man who would be happy to marry her and live together in her home country. Besides, some girls would be interested to know whether the guy is willing to move within his country.)
How much is his yearly income? (This is the information any woman would love to have about a man, regardless of her nationality, and it's NOT gold digging. You also probably would love to know if she owns an apartment building or a large land holding. You don't need to provide this information, but this is the question that every girl wants to know an answer to.)
How much money does he plan to spend on his future family and wife? (Again, there is no need to answer this question, even though it's a valid curiosity. Simply stating, "I can provide for my future family", will be enough.)
How does he feel about women with kids? (If you absolutely do not consider a relationship with a woman who has kids, you can state in your profile, "I want to have my own family and prefer ladies without children." If you may consider a lady with kids, you can say, "I am open to meeting a woman who already has children.")
What are his plans for the future? (Any grand plans to sail around the world will mean to her that you are "not serious" about "creating a family". However, a world cruise may be attractive to a 40+ lady who no longer wants to have kids. A good answer, if you want to get married and start a family: "My plans include starting a family soon and enjoying life with my beautiful Slavic wife and kids.")
Methodology
Answers were collected through an online poll on Elenasmodels.com among logged in female members on 26 June 2017.
Users were asked an open question: "Men provide information about themselves in their profiles. Which questions (in addition to the ones that are already there) would you like to get answers to?"
Women's responses are cited in priority order: Most popular variants listed first.
Other surveys by Elenasmodels.com