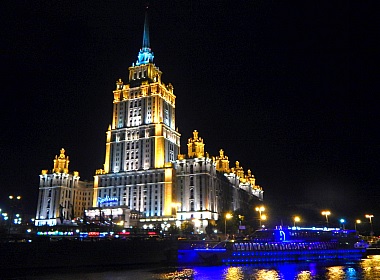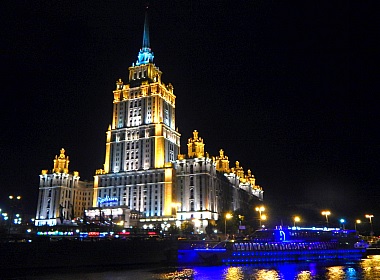 Thinking about going to Russia? No doubt, it will be an unforgettable adventure. Even experienced travelers admit that visiting Russia is something absolutely different and exciting. In general, Russian women living in regional cities will be happy to arrive to Moscow for a personal meeting. There are also plenty of attractions to see and visit, so you will always find what to do. Even local residents haven't seen everything the Russian capital has to offer, as you may find out. You can discover new sights together.
Let's check the list of the most popular accommodation choices in Moscow to find the right variant for you.
Best hotels in Moscow: Where to stay
There are several ratings updated yearly as rated by tourists themselves. Industry professionals used to define the top 10, now it's the consumers who have the upper hand. Even if the place managed to impress the assigned judge, slipping of customer service will soon see the rating reflect the problems. Thus, current votes by actual clients became #1 decision point for experienced adventurers.
What's more, at the moment prices in Russia are quite attractive as well. Your dollars and pounds go a long way. This is why you can afford there a better quality hotel than in a western country and impress your sweetheart.
Top-10 based on what travelers think
The list by TripAdvisor allows to see the highest rated establishments as well as the ones offering good value. If you can afford it, check the companies that got the largest number of 5-star reviews.
Lotte Hotel Moscow
Lotte received great reviews from foreign travelers and Russians themselves. It's a luxurious establishments located in the center of the city, only 10 minutes drive to Kremlin.
Lotte got praise for super comfortable rooms, excellent service, and delicious restaurant meals. It's been recognized as a hotel with the tastiest breakfasts in Europe.
For instance, claire_vin visited Lotte this March and described her stay as a fairy-tale weekend. The thing impressed her the most was the buffet breakfast. It features "everything starting from omelettes to Asian dim sims" and Russian pancakes with caviar. As she noted, the selection of fruit was amazing. Even yogurt was not just yogurt but a perfect granola with raspberries.
Besides, Lotte's spa received a long list of accolades from guests.
Andrew B from Canada summarized his review admitting that this is one of the best hotels he ever stayed at. The staff was friendly and spoke good English.
Prices vary varies from 22,500 to 60,000 rubles per night depending on the suite type (USD $399-1,066).
Images: Facebook Lotte Hotel Moscow
Ararat Park Hyatt
It is located right by the Bolshoi theater just behind the well-known department store TSUM in the very heart of the city.
The majority of travelers mentioned incredibly helpful and polite staff.
Constantin S. from Switzerland said, "nothing needs to be requested 2 times."
The price varies from 25,500 to 56,500 rubles ($453-1,003).
Pictures: hyatt.com.
Four Seasons
Four seasons is located a stone's throw from the Red Square and the Kremlin's wall.
Russian visitors, as well as foreigners, usually get impressed by the spa area.
If you are fond of relaxation, stay in Four Seasons. The wellness areas are huge and the pool under the glass ceiling looks fantastic at candle light, Konyashkin_AS wrote.
Prices range from 35,000 to 250,000 rubles per night ($621-4,442).
Photos: Fourseasons.com.
Mercure Baumanskaya
It's a cheap option admired by visitors for nice rooms and a city-center location (2 stops by subway from the Red Square).
Mercure Baumanskaya would be a nice choice for those who want to save time and money.
At the same time, some visitors were disappointed with the service.
Stuart_c_Taylor from the UK was unhappy about the absence of room service.
Sergey R from Tula (Russia) noted that he always chose to stay there but the last time he wasn't happy. A double charge for breakfast and absence of toothpaste in the bathroom upset him.
However, most travelers found it clean and nice.
Average prices are from 3,900 to 7,500 rubles per night ($69-133).
Images: Mercure.com.
Mercure Arbat
Mercure Arbat is rated high for its convenient location (2-minute walk to Arbat, the famous pedestrian-only street), flexible pricing, cleanliness, and comfort.
Zanna D, who enjoyed her family trip, talked about a great choice of meals in the restaurant. It never repeated during the 6 days they stayed there.
Mijai Z described it as a tiny place, which had everything for business trips.
On the whole, it will be a good variant for tourists. The subway station is across the road (1 stop to Kremlin) or just a short walk, if you find subway trips inconvenient. The rooms are fresh and comfortable. There are also lots of cafes and restaurants nearby.
The price for a standard double room is 6,900 rubles per night ($122).
Luxury suite is available for 17,900 rubles per night ($318).
Photos: Mercure.com.
Swissotel Krasnye Holmy
It's a beautiful place with superb rooms and attentive staff.
Besides, it has a restaurant on the top floor with amazing view. Tomas G from Slovakia said the sky bar is like a cherry on the top of the cake.
Prices range from 10,800 rubles ($191) for a business advantage room to 38,960 rubles ($692) for a residential suite.
Pictures: Swissotel.com.
St. Regis Nikolskaya
It's a great choice, according to the guests, who were impressed by the hotel's old-school spacious suites. The place provides everything one may need for comfortable business meetings. Each visitor is provided with a personal assistant who is at your disposal 24 hours a day.
Prices range from 15,580 to 201,580 rubles ($276-3,581).
Photos: Stregismoscow.com.
Ritz-Carlton
Ritz-Carlton is described as an excellent hotel with a good location, delicious food, and great service.
Many tourists recommend enjoying an amazing bird view of Kremlin from the building's rooftop lounge.
Prices vary from 20,732 to 107,664 rubles per night ($368-1,913).
Photos: Ritzcarlton.com.
Radisson Royal
It's a stylish hotel located in a historic Stalin era building in the centre, with the easy access to the main city's avenue, Tverskaya Street.
Travelers enjoyed its comfortable suites, friendly customer service, and tasty food.
If you're looking for a combination of history and high-standard service, this place is for you.
The minimum price is about 15,000 rubles per night ($266) with the maximum of 127,000 rubles ($2,256).
Pictures: Radissonblu.com.
DoubleTree by Hilton, Moscow Marina
It's a modern place with European kitchen and reasonable prices. The service is outstanding and many travelers were pleasantly surprised by the high standards.
Besides, the hotel offers modern conference rooms for business meetings.
It is quite far from the city center but close to a subway station and the international airport Sheremetyevo.
Prices vary between 8,000-17,100 rubles per night ($142-303).
Photos: hilton.com.
The 10 best value hotels in Moscow
TripAdvisor's rating by value slightly differs fron the list above.
Marriott Grand on Tverskaya Str (walking distance to the Kremlin). 7,056-49,000 ₽ ($125-870)
Radisson Blu Sheremetyevo near Sheremetyevo airport. It has the direct entrance to the airport which is convenient. 8,500-16,400 ₽ ($151-291)
Metropol on Teatralny Proezd near the Red Square. 8,200-16,240 ₽ ($145-288)
Mercure Arbat Moscow on Smolenskaya Square (2 minutes walk from Arbat, Moscow's most famous street ). 6,840-20,540 ₽ ($121-364)
Sheraton Palace on Pervaya Tverskaya-Yamskaya (city center). 6,490-41,890 ₽ ($115-744)
Sheraton Sheremetyevo Airport on Mezhdunarodnoye Hwy (close to the airport). 7,388-16,500 ₽ ($131-293)
DoubleTree by Hilton on Leningradskoye Hwy which is 15 minutes drive to the Red Square in good traffic. 8,000-17,100 ₽ ($142-302)
Aquamarine on Ozerkovskaya Embankment (half an hour walk from the Red square). 5,500-32,500 ₽ ($97-577)
Crowne Plaza World Trade Centre on Krasnopresnenskaya Embankment. 6,584-27,140 ₽ ($116-482)
Novotel Moscow City on Presnenskaya Naberezhnaya in the business center "Moscow city." 4,900-22,400 ₽ ($87-398)
Where Russians stay: Top 10
Trivago is the website often used by locals to book trips. One brand in particular seems to be the "go to" accommodation for Russians, obviously, due to affordability.
Here is what their rating looks like:
Crowne Plaza World Trade Centre on Krasnopresnenskaya Embankment. 6,584-27,140 ‎₽ ($116-482)
Slavyanka on Suvorovskaya Square (far from the city center but the metro station Dostoyevskaya is very close). 1,700-4,150 ₽ ($30-73)
InterContinental Tverskaya on Tverskaya Street (in the city center). 8,500-43,778 ₽ ($151-777)
Azimut Olympic on Olympiyskiy Avenue. 3,200-17,000 ₽ ($56-302)
Holiday Inn Sokolniki on Rusakovskaya Street (6 stops on the metro to the Red square). 3,540-12,390 ‎₽ ($62-220)
Holiday Inn Suschevsky on Sushhevskiy Val Street (close to Rizhskaya metro station providing easy access to city center). 2,832-8,869 ₽ ($50-157)
Holiday Inn Seligerskaya on Korovinskoye Hwy (15 minutes' drive from Sheremetyevo Airport). 3,193-10,620 ₽ ($56-188).
Holiday Inn Vinogradovo on Dmitrovskoye Hwy (quite far from the main attractions). 2,467-5,402 ₽ ($43-95)
Holiday Inn Lesnaya on Lesnaya Street (close to Belorusskaya metro station which gets to the city center in no time). 3,186-10,300 ₽ ($56-183)
Novotel Moscow City on Presnenskaya Naberezhnaya in the business center "Moscow city." 4,900-22,400 ₽ ($87-398)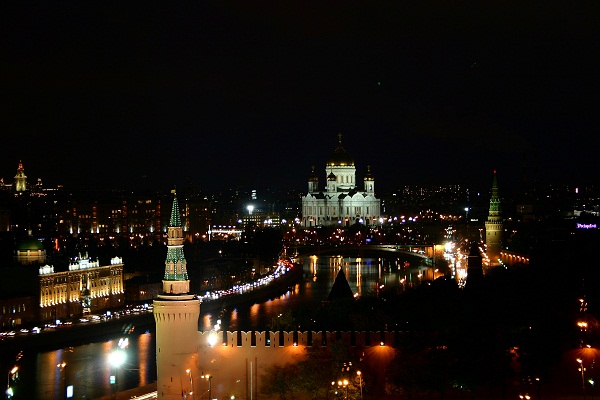 Read also: