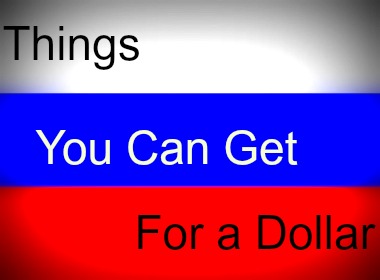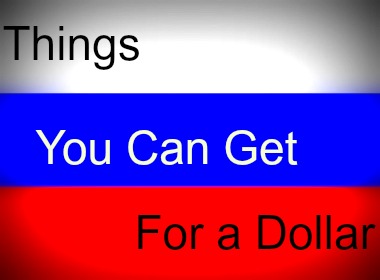 Statistics tell us that an average monthly wage in Russia is about 450-500 USD dollars (around 30,000 rubles). Expectedly, consumer prices match this level of income. That is why there is a lot you can purchase for just 1 US dollar in Russia.
Prices in Russia: Things you can buy for USD $1
As of today, 1 US dollar is 57 rubles. The exchange rate went up to 80 rubles per 1 US dollar in 2016 but it has been dropping during the last months.
Since 2014 prices in Russia have been rising consistently. But in dollar terms, there is almost no difference.
For example, if 1 liter of milk cost about 33 rubles in 2013 (equal to 1 dollar in 2013), today its price is about 58 rubles. The same 1 dollar but twice as expensive in the local currency.
Usually foreigners visiting Russian girls are pleasantly surprised by prices in local shops and supermarkets. The cost of public transport is also quite moderate.
Let's have a look at prices in Russia and see what you can afford for $1.
Public transport
In most cities, 1 ride in a bus or a "public taxi" mini-bus, regardless of the distance, costs 20 rubles ($0.35). Thus, you can make 3 trips by public transport for 1 dollar.
In Moscow, one subway ticket costs 55 rubles ($0.96). If you need to make several trips, it's recommended to buy a card for 20-40 trips, then it's cheaper per ride.
Russians also have a number of taxi services including app-based Uber and Yandex taxi. Taxi trips are rather cheap and their prices haven't changed significantly since 2013. For example, in my city for a 1.5-kilometer trip (0.93 miles), I pay about 60 rubles ($1.05).
Cafes
Having a couple of dollars in your pocket, you can have a cup of coffee with a tasty bun in a local café.
Shopping centre
Big cities have lots of shopping centres where tens of fashion and footwear stores are located next to home decor and electronics retail outlets. Restaurants and entertainment such as movie theaters and gaming are also at your disposal, just like in any other country. Some centres have ice-skating rinks and other types of activities.
This weekend I visited one such center to see what can you buy there for a dollar. And there isn't much actually.
The cheapest cinema ticket will cost you about 150 rubles ($2.60) for a morning session. In general, prices of movie tickets range from 300 to 500 rubles ($5-8).
Leaving kids in a recreation area (kids club) while you are shopping is 150 rubles ($2.60) for 30 minutes.
But what can we buy for just one dollar?
A flower for a beautiful lady or an ice cream. Sounds nice, doesn't it?
Supermarkets
The choice of cheap goods is much broader in local supermarkets. There you can find plenty of products that cost less than 60 rubles like water, milk, bread, toilet paper, sugar, yogurt, chocolates, etc.
Meat, fruit, and vegetables are more expensive. For instance, you can get just a couple of apples for $1. Tomatoes and cucumbers cost about 200 rubles ($3.5) per kilo in winter. The prices will go down to 50-80 rubles ($0.8-1.4) per kilo in the summer.
Prices for essential items in Russia
Below are the lowest prices for some products in the supermarket near my home:
1 loaf of bread (550 g) — 29.9 rubles ($0.53)
1 box of eggs (a dozen) — 54.4 rubles ($0.96)
1 liter of milk (2.5%) — 56.3 rubles ($1)
1 kg of sugar — 37 rubles ($0.66)
1 kg of salt — 8.7 rubles ($0.15)
2 kg of flour — 36 rubles ($0.64)
1 kg of potatoes — 24.9 rubles ($0.44)
1 kg of carrots — 22.9 rubles ($0.41)
1 kg of bananas — 65.9 rubles ($1.17)
1 kg of apples — 89.9 rubles ($1.60)
1 pack of butter (180 g) — 76 rubles ($1.35)
1 pack of margarine (200 g) — 22 rubles ($0.39)
1 packet of breakfast cereals (300 g) — 33 rubles ($0.59)
1 packet of macaroni (400 g) — 17 rubles ($0.30)
1 kg of chicken — 117 rubles ($2.07)
1 tin of canned fish (250 g) — 57.7 rubles ($1.02)
1 jar of jam (430 g) — 54.9 rubles ($0.97)
1 jar of chocolate & nuts spread (350 g) — 75 rubles ($1.33)
1 mini-yoghurt (110 g) — 18 rubles ($0.32)
These are the cheapest prices I could find. For example, a regular price for a packet of macaroni (400 g) is about 45 rubles ($0.80). The quality of pasta that you can purchase for 17 rubles leaves much to be desired.
Online shopping
By no means, Russians have many internet shops. I checked one of Moscow's online shops, which is quite cheap, and picked a few of items.
Residents of Russia also buy from overseas online stores. For example, goods offered by Aliexpress.com are delivered by mail free of charge.
Post office services
If you'd like to send a regular letter (20 grams or 2-4 pages of paper) internationally, you will need about 35 rubles ($0.61) for stamps and 9 rubles ($0.16) for an envelope. You can send it to any country in the world for just 44 rubles ($0.77). The delivery will take about 2-3 weeks. It's the cheapest option. For 54 rubles ($0.94), letters are delivered by air.
Other services like express delivery are more expensive and there are lots of companies that do it like DHL, TNT, etc.
Mobile phone
Of course, when you stay in Russia you may need to make some mobile phone calls.
I checked all local providers and found that no mobile plans for 60 rubles are available. The cheapest recharge option is 100 rubles ($1.75). For that money, you get a sim card and 50 rubles ($0.87) balance to make calls. Believe me, you will spend this allowance very quickly.
As the consultant told me, foreigners prefer buying a limitless plan for 250 rubles ($4.37) a month.
Most people in Russia use 300-ruble monthly plan ($5.20) with up to 600 minutes available plus 2-4 Gb of mobile internet.
Entertainment
Frankly speaking, it's much easier to find where you can go for free, than for the equivalent of $1.
Thus, visiting ice rink in Gorky park costs 200 rubles ($3.5) minimum. In the city where I live regular price (with your own ice skating shoes) is 80 rubles ($1.4) per hour.
But every city has ice skating rinks in parks where you can do it for free.
The same with museums, art galleries, and theaters. My searches showed that you need to have 100-150 rubles ($1.8-2.6) minimum to visit some small and simple gallery.
However, you can always find days when museums and galleries let the visitors in with no charge.
For example, this month, on 12th of April, you can listen to Beethoven, Sperger, and Rossini for free in Saint Petersburg's Mariinsky theatre (one of the best known opera and ballet theatres in the world). In 2017, the troop gives complimentary concerts each Wednesday.
The Stage Hermitage Museum welcomes everyone at no charge on the first Thursday of every month.
Here is a list of 40 Moscow museums that offer complimentary admission on the third Sunday of every month in 2017.
Moscow Metro (subway) launched a project called Muzykavmetro or Music in Metro. It provides special places for street musicians to perform for the public. Every day buskers give concerts at different metro stations and you can check the schedule online.
Russia's cultural life is always vibrant and offers innumerable events to consider.
Check our previous publications to find out where to go when you are in Moscow and Saint Petersburg.