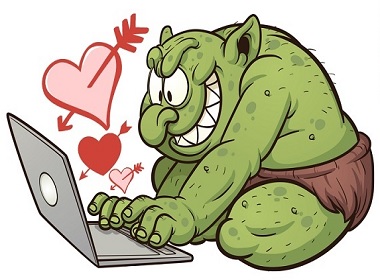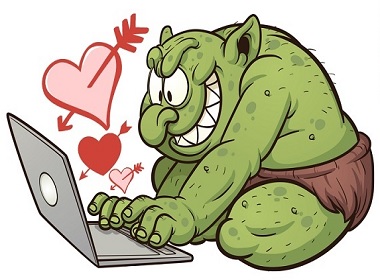 A quick update on Love Trolls from PPL farms: who they are, how they are trained, who pays them. Scroll down for examples of actual online ads with breakdown of responsibilities and earnings.
Learn more about PPL troll factories here.
Quick insight into PPL Internet troll factories
PPL Master Sites sign Partner Agreements with Agents, under which agents get paid commissions on communication of men with Brides. 
Agents hire Trolls (aka Translators) and Brides.
To manage Brides and Trolls, Agents hire Mentors.
To hire more Brides and Trolls, Agents hire Scouts.
To manage Agents, Master Sites hire Curators.
ALL THESE WORKERS ARE PAID FROM THE MONEY THAT MASTER SITES GET FROM AMERICANS WHO ARE LED TO BELIEVE "IT'S FOR REAL" AND THINK THEY ARE BUILDING A RELATIONSHIP. THE AMERICANS WHO PAY MONEY FOR COMMUNICATION ARE UNAWARE THAT CONTENT PROVIDERS ARE BEING PAID FOR LETTERS, CHATS, VIDEOS, AND PHOTOS. 
Here is the multi-layered structure of how scams are operated (click to enlarge).
How marriage agencies advertise to hire PPL Trolls, Brides, Scouts, Curators: Examples of ads
I retrieved these ads from Work.ua on 10-11 April 2018. Some of these companies advertise for years and hire multiple workers through each vacancy. Love trolls (aka 'Translators') are the workers who directly interact with male clients and such specialists are in the highest demand. See also how much the trolls earn by scamming Americans.
To make it easier to read for users who don't speak Russian, all ads are translated through Google Translate tool. The URL of original ads in Russian are highlighted in the picture. You can perform the same process yourself by typing in the URL of the vacancy in Google Translate and run the translation in the direction Russian to English. The automatic translations are not always perfect but understandable enough.
Ads to hire Love Trolls
There are more ads placed by Agents to hire Love Trolls (aka Translators) than for any other position in PPL marriage agencies. It is the Love Trolls who write letters and chats that do the work that brings actual money (men pay for communication).
Some ads offer 50% of the agency's income; others up to 75%. It depends whether the worker is writing under her own identity or uses a profile of a Fake Bride. Employees who write under their own identity are highly valued (they can also appear in video chats, proving that 'its for real') but such specialists are extremely hard to find. The majority of communication on websites is substituted: In other words, one person allows her data (photos, passport) to be used to set up a profile on the Master Site and another person communicates under this identity.
Trolls are required to work 4-8 hours daily, depending on the agent. Some agents require workers to attend office in order to login to the Master Site (obviously, it's easier to monitor what employees do). Others are happy with workers doing their job from home remotely.
Before hiring a new employee, agents check their pages in social networks, to ensure it's a real person and not someone sent by a competitor to ruin their business. There are reports online about newly hired workers who simply sent mails promoting a competing PPL Master Site to all male clients, causing the agent to be fined. And these fines can run into thousands of dollars.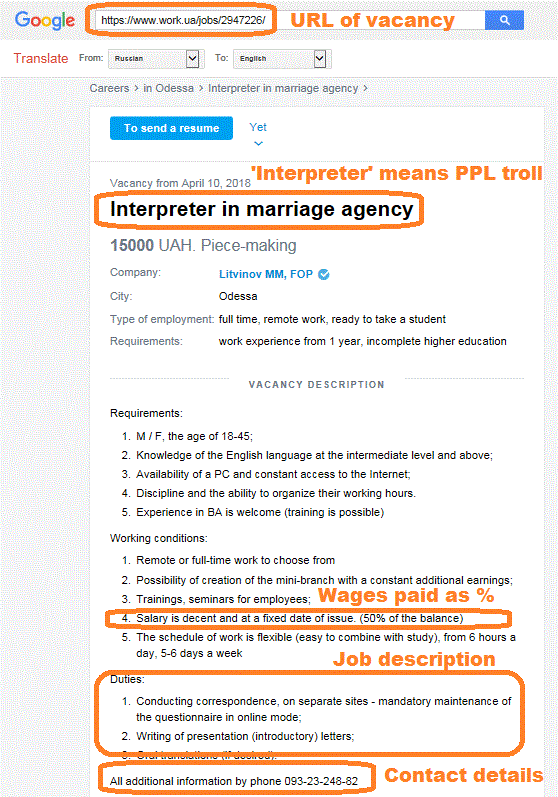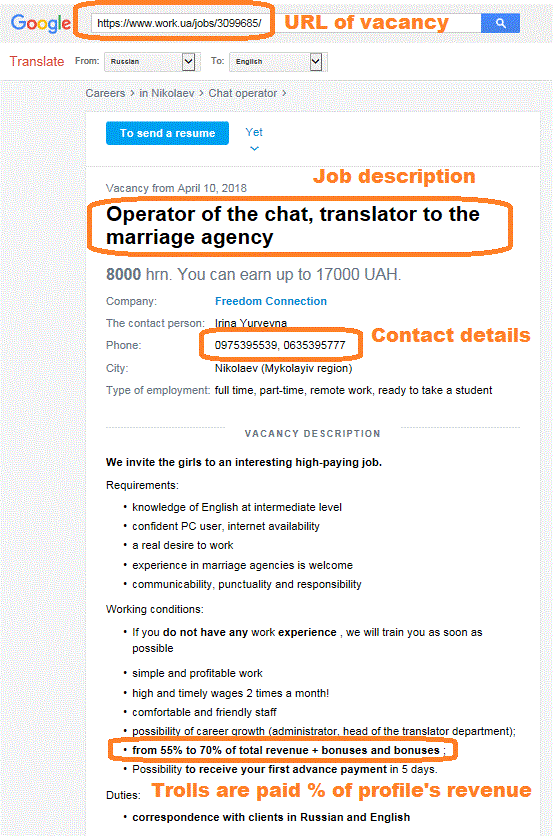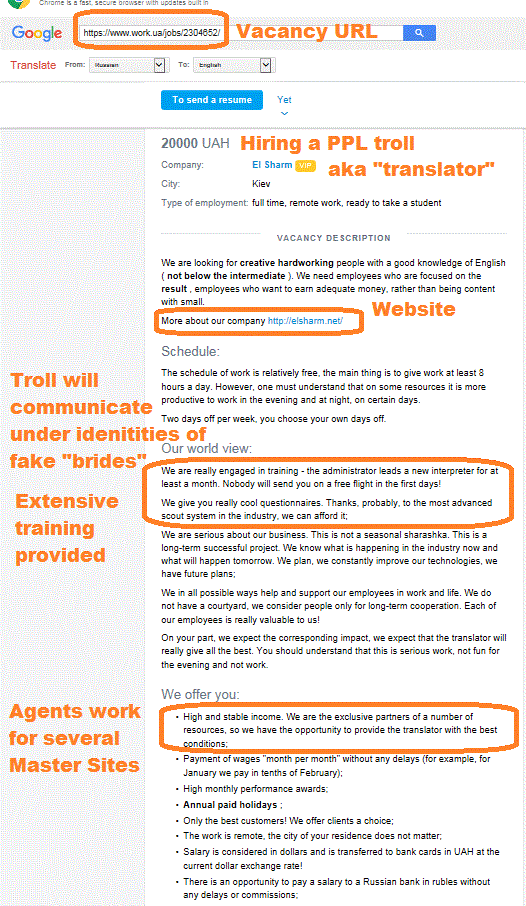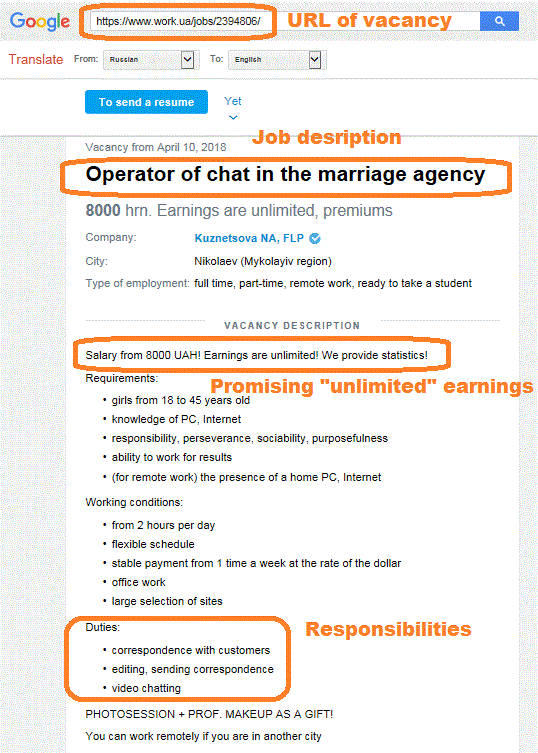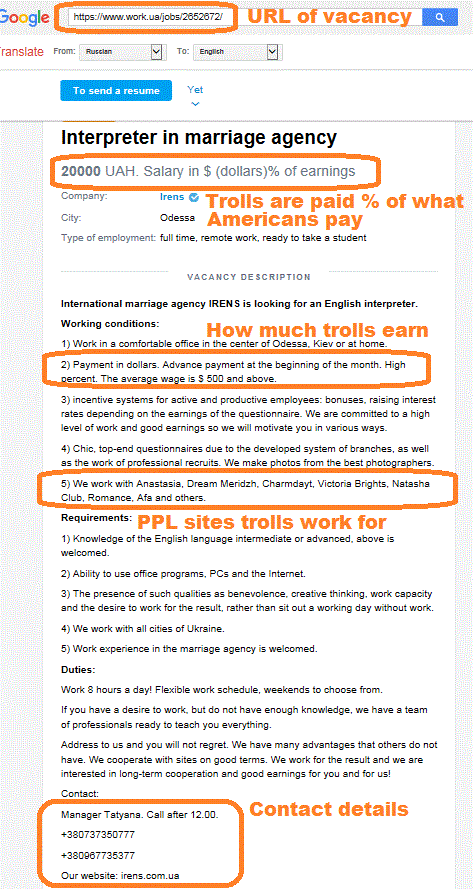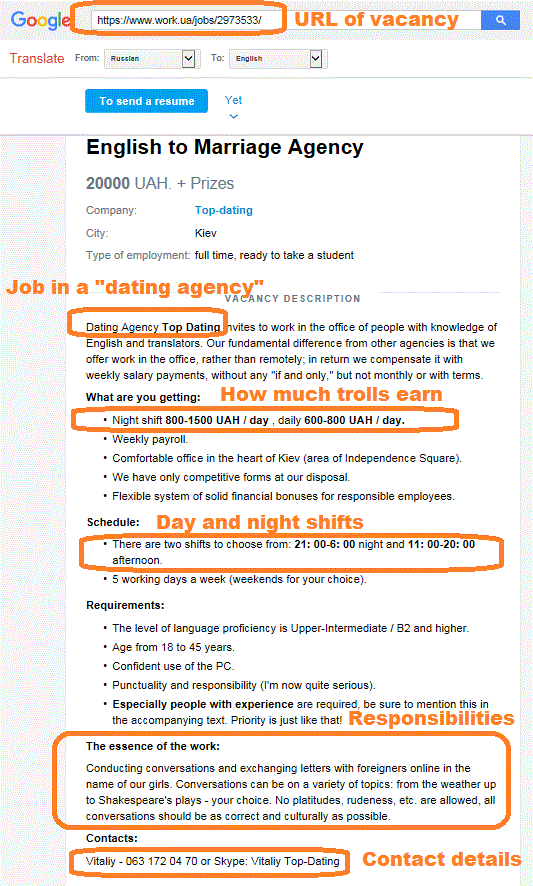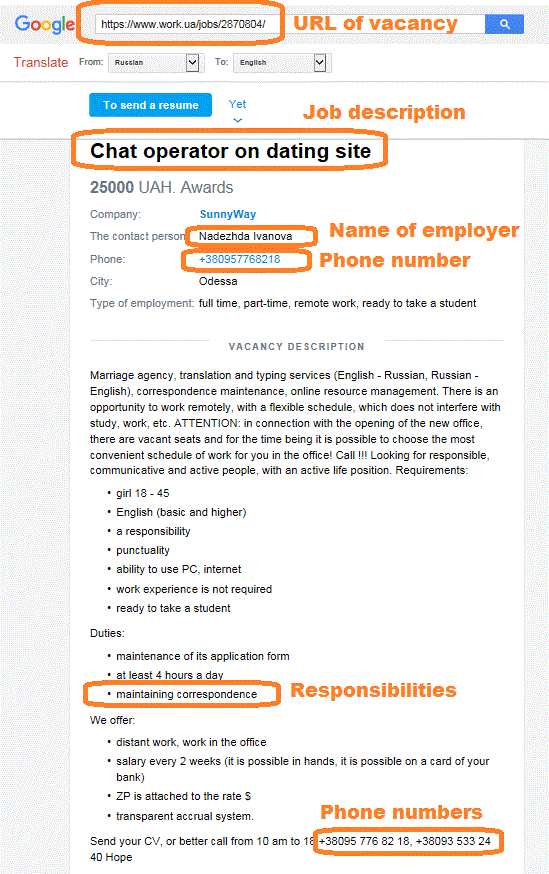 Ads to hire fake Brides
Pretty girls are recruited for the positions of Fake Brides with promises of gifts and 'money for doing nothing'. The girls who only allow their data to be used are usually offered about 10% of the profile earnings, as per Agent's statistics. PPL Master Sites encourage men to send gifts to 'women' they are talking to online, which provides income both for the agent and the Fake Bride (the money sent for purchasing the gift is split 50/50 between the Fake Bride and the Agent).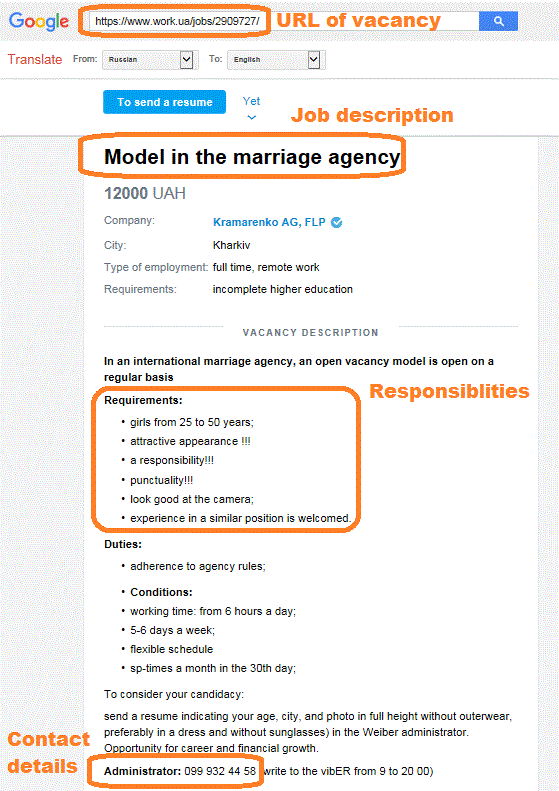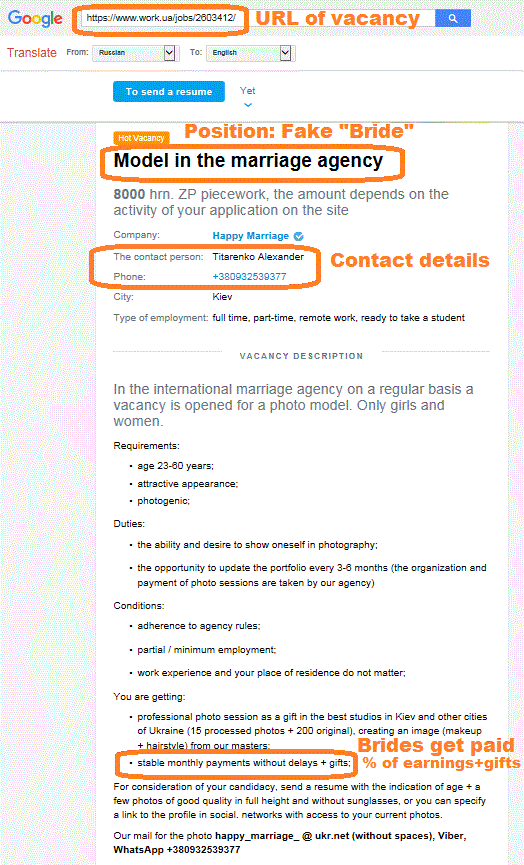 Scouts
Because PPL sites constantly expand and new Master Sites are launched, all Agents work with more than one Master Site and need a constant stream of new faces.
The amount of Fake Brides answering ads on employment portals  is not enough for Agents, so they hire Scouts to contact pretty girls in social networks offering them 'money for nothing' plus a professional photo session for free (including makeup and hair).
Young girls love pretty photos and agree to get something for free in exchange for allowing their data to be used in a dating profile on some foreign site (which is not accessible from Ukraine, by the way, so the Agents promise girls 'no one you know will see your photos there'). Of course, it's not true. It's possible to see photos by using a VPN service, where you can replace your actual IP address with another one from the USA. This is what Agents that are based in Ukraine do when checking how the things operate from the side of clients. (Agents try to scam their employers as well; in PPL system everyone is lying to each other.)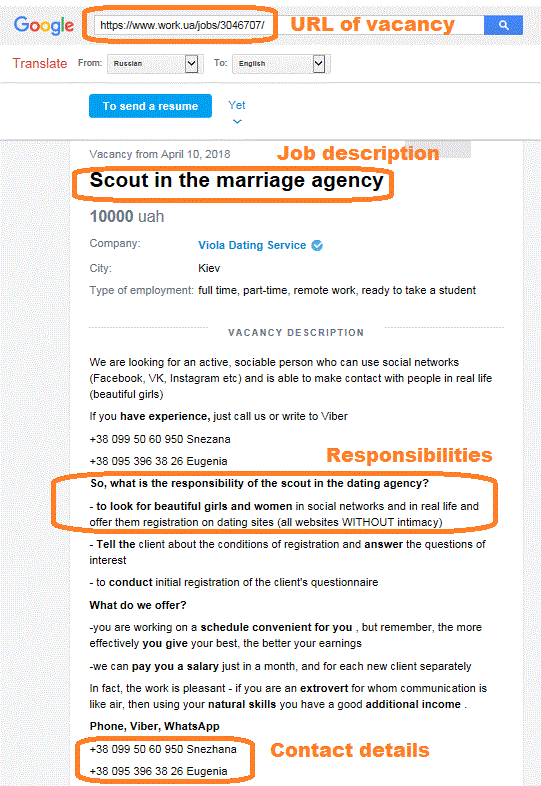 Curator
The ad is asking for someone with an experience of working as an administrator (Mentor) of a Marriage Agency to manage Agents from 'the other side of the barricades'. It's the first time I see that Master Sites directly hire personnel in Ukraine. It could be a new website that tries to get established in the lucrative PPL market. The name of the company that placed the ad is hidden and you can only use the button 'Send a resume'. However, to place ads a business should be properly registered; they check for fakes.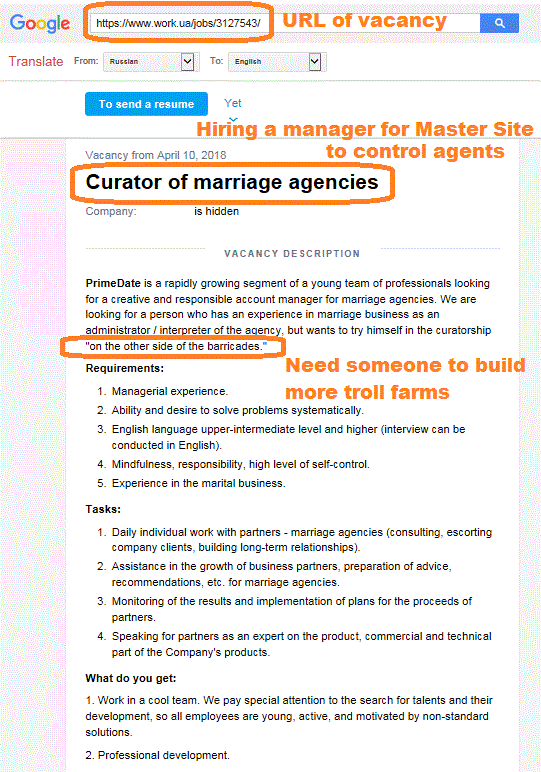 There are hundreds of vacancies like these that are currently active on online employment portals such as Work.ua. PPL troll factories are working and scamming Americans every day, and law enforcement agencies in the USA are doing nothing to stop it.

Share this information on social media with the tag: #LoveTrolls. 

You can send a message through Comments section below to contact Elena Petrova, the author of this article. 

Share this article