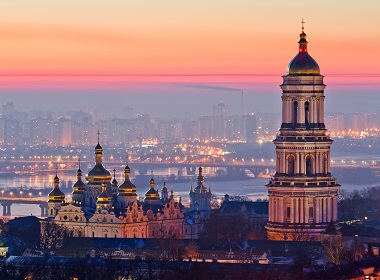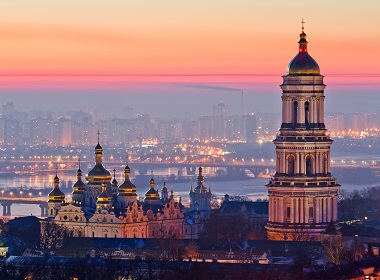 When people ask questions along the lines, "How much money do I need to visit Ukraine?" for a month, a week and so on, the best answer anyone can give you, "It depends". It's like asking, "How much money do I need to visit the USA?" (Or UK, Australia, Germany, Italy, or France.)
How much money you need to visit Ukraine depends on your plan
The amount of money you require per day depends on what you are planning to do:
Entertainment and activities
Where do you eat (restaurants, takeaways, or just buying bread and margarine in a supermarket)
Accommodation (hostels or 5-star hotels, or maybe your online Ukrainian girlfriend is happy to offer you a room in her apartment)
Transport (do you walk, take a bus or subway, or hire taxis), especially if you plan to visit several cities, then you need funds to travel between the cities.
In Ukraine, travelling by train can cost as little as US$10 from Kiev to Odessa. Flying will be more costly.
Europe Backpacker Index 2017 puts Kiev at 7th place among cheapest cities for a budget traveller, with only US$29 required (748 Ukrainian hryvnia) per day for the most basic accommodation, meals, transportation, entertainment and attractions package.
So, you could be able to visit Ukraine as a tourist for under $30 a day, if you are prepared to be frugal. That's the bare minimum when you travel solo.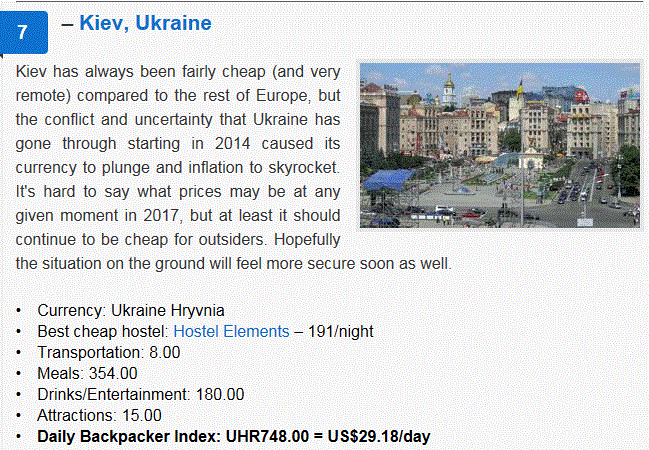 Visiting your Ukrainian girlfriend whom you met online
If you are dating a woman, of course, it's a different situation to travelling in Ukraine solo as a tourist.
You are able to visit Ukraine absolutely free of charge, just pay for the tickets to arrive, if your girlfriend is happy to offer you a place to stay and cook you breakfast, lunch, and dinner. This may not last long, but if you are dropping by for a weekend, it's possible. Just bring her some flowers and a little present like a perfume from the Duty Free, and these could be your only expenses to enjoy a weekend with a nice Ukrainian lady you met online on Elenasmodels.com.
However, this may only happen if your Ukrainian pen pal has her own apartment and an average job like a teacher at school or a nurse. And she is really, really desperate to find a man for a relationship (so, she is probably 35+).
In cases where a woman is younger or has a good career (or her own business), then she definitely expects more. Some entertainment, eating out, maybe going to clubs, transportation by taxi (not a bus), and so on.
If she lives well, she will expect you to spend some money on her.
If she lives modestly, she will be OK with your spending little or nothing.
So, if you are mindful of your budget, choose women with jobs like teachers, nurses, or government clerks, their wages in Ukraine are low (the average wage is only $275 a month). Women on low wages are not used to expensive things and do not expect them from men when dating.
Tips from foreign travellers to Ukraine
Normally, most guys who travelled to Ukraine to see their girlfriends whom they met through Elenasmodels.com comment that you need to plan for about $200/day for meals, taxis, and entertainment.
Your accommodation is extra and usually prepaid before your trip; choose a place that is within your budget. Most good hotels offer free pick up and drop off at the airport.
Americans, Canadians, and Europeans do not need a visa to enter Ukraine.
TIP: Visit your girlfriend for a short period when you come to see her the first time. Stay in a good hotel and go out a lot, be generous. It's easy to do for 3-4 days. When you visit her the next time, you could already stay at her place and things will become much cheaper. Or you can invite her to visit you.
Russ, a Elenasmodels user, recommends:
Buy a ticket.
Find a hotel or flat (I used booking.com, stayed with Luxrent both times).
Register for the STEP program (it offers travel advice and warnings from the government).
Take a couple grand in cash, not necessary, as there are banks, but useful because there are money changers on nearly every corner.
Let your credit card and phone company know you will be traveling. I use ATT and they have a decent program that allows unlimited call text and data for 10$ a day.
Download Google Translate app, it was sufficient for me.
I prefer to walk everywhere. If I took a cab, I would find one and show them on maps where I wanted to go.
Rides are about 20$ to-from the airport. Other than that, carry hryvnia.
You can eat at a great restaurant for about less than 20$, but if you drink expect to spend a lot more.
If you met a Ukrainian woman on a pay per letter (PPL) dating site
Met the woman you plan to visit through a website that charges for every message or minute of chat?
In this case, you are pretty screwed. PPL is known for endemic fakes. (Read: Leaks by agents expose endemic fakes in PPL dating.)
This is how your visit is likely to go:
You will be given instructions what to do and where to go, and you will have to pay for both your girlfriend's and a woman accompanying her ("translator").
You will be taken to certain expensive restaurants, where you have to pay for both of them plus your own meal.
In addition, you will also have to pay per hour to the translator, possibly around $20-55 per hour for her services.
Often the woman who poses as your "girlfriend" is paid $10/hour from this money to attend dates with hopeful suitors, while the "translator" gets around $5/hour. She may be just a hired "bride" who gets "passive income" from the communication her profile generates on a PPL site. (See such job ads here.)
Then, of course, there are kickbacks from the restaurants. You may also be required to purchase some spa packages for two (you have a massage in a spa centre while she has a beauty treatment), maybe asked to pay for her shopping once or twice, and so on.
Here they look how much they can get from you, and this is about "How long is the piece of string?" They just play it by the ear. If they see they can get more, they'll get as much as possible.
Most often, the following will happen if you come to visit a PPL girl:
You will be told what to do, where to go, and required to pay for 3 people: You, your "girlfriend" and the "translator".
This is regardless of whether your supposed girlfriend actually likes you or it's just a setup to make you spend lots of money, so that they get more as kickbacks from service providers. You anyway will be taken through the motions.
The minimum you can get away with in this case is probably $500/day, so you surely cannot spend a long time doing that.
Dating through PPL is a weird activity, but some guys still think they can get a woman of their dreams this way, so good luck.
You save tons of money by dating Ukrainian women directly without mediators and PPL agents
It's definitely much more straightforward and simple to date a Ukrainian woman through a non-PPL dating site like Elena's Models (or other places where you do not pay per letter).
In this case you organize your budget yourself, and depending on the quality and strength of your connection with your girlfriend, your visit to Ukraine will cost you much less, with a much higher chance to conclude in a long-term relationship with a good woman.
In fact, you save thousands on both dating (PPL costs much more over time than one-off membership fee) and your visiting Ukraine (no need to constantly cover expenses for 3 people and pay "translator" wages).
If you are meeting a woman through a non-PPL dating site, she wants to see you—and she is certainly not earning $10/hour through attending dates with you.
It's not just money you may be wasting, but also emotions and years of your life, by going the route of paying people for the time they spend with you. It seems pretty simple to choose between the two options, don't you think?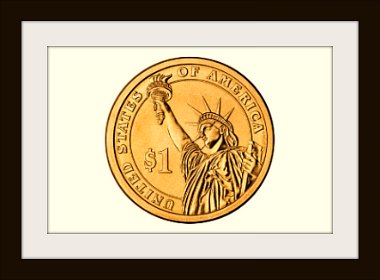 Read also: