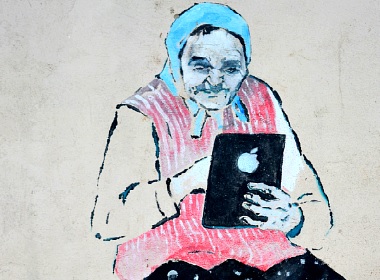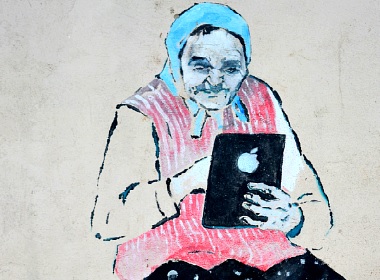 It's two years since I wrote my first article on the topic of PPL (pay per letter) Ukrainian dating sites (aka marriage agencies) offering introductions to beautiful mail order brides.
The detailed investigation titled "The ugly truth about PPL dating sites for Ukrainian women" was quoted by multiple sources online and offline.
However, even today I still get comments from American guys who for some unexplainable reason think they have "found a genuine woman" through PPL sites.
But why not? What's wrong with this notion?
Why is this not possible?
Because women get recruited into pay-per-letter schemes through employment portals in response to jobs ads offering to earn "easy" money.
It's like starting to use services of a prostitute and then hope that she will fall in love with you.
Is it possible? — Yes, in movies like "Pretty Woman" (if you are a handsome billionaire driving around in a Ferrari, Lamborghini, or Lotus).
Is it probable? — Not in real life.
But wait, am I saying that nothing has changed in the beautiful world of "paid correspondence" in 2 years?
Yes, some things changed. They are now better at hiding the truth.
What changed in the Ukrainian dating scam in 2 years
Two years ago the ads of marriage agencies were brazenly direct about the essence of "work responsibilities" of brides and writers employed on commission basis by PPL dating sites from Ukraine.
Today the majority of ads are rather vague, hiding behind the job requirement to "comply with the rules of the agency".
What does it mean?
The woman is not allowed to give her direct contact details to suitors.
Communication can only go through the PPL site.
There is a minimum size of letters (usually 1000 characters).
Must respond promptly and keep suitors happy.
Not allowed to use "copy and paste" letters, messages must be unique.
Prohibited to admit she gets paid to write letters.
Not allowed to disclose these conditions to suitors.
In cases where women only provide photos as "brides" and a "writer" is working under her alias, requirements are more direct:
Answer all incoming mails to get men to write more and send gifts.
Initiate communication as much as possible — with any person who logs into the site.
Have to work "graveyard shifts" from 9 pm to 5 am (Ukrainian time), when Americans come home from work. Weekends are the highest intensity work for PPL writers.
The "brides" (Ukrainian girls who only provided photos for listings) have to supply new selfies and videos every 2-4 weeks. Those are sent to suitors to ensure them "it's all genuine".
Pre-recorded videos are also used as proxy for direct video chats: Men often describe how a girl "agreed to chat on video" — but then the sound wasn't working correctly (her lip movements and sound didn't match) and it was cut short due to "connection problems".
Guys, it's such an old trick: Nigerian scammers have been using it for years.
What Ukrainians say
Here are 4 articles in Russian that explain what happens in these "marriage agencies". They are written by Ukrainian journalists who went undercover to work for PPL agents and this is what they uncovered.
Those are "the agency rules" that are supposed to be complied with, as the job ads state. The requirements are provided as verbal instructions by the agents; you won't find them in writing. They are much more outrageous than the rules above.
In short, any male participant of PPL marriage schemes is painted to writers as an abuser and an idiot by default. Writers are told to have no pity as all these men are bottom-feeders and imbeciles. In fact, writers are basically doing a community service by protecting good Ukrainian women from these horrible creeps seeking weird sex.
(Use an online translator to understand what the articles say. We are not making it up — read these stories and then decide if it's possible to meet an honest girl through pay-per-letter marriage agencies.)
Stories like this are published by major media outlets for years. Locally, it's common knowledge what happens in these schemes.
Besides, the "paid dating chats" industry employs, in our estimates, around 35 thousand people. It's the size of 1/5 of Ukraine's police force. Students and even lecturers of departments of foreign languages in universities (and they have a lot of them to train enough teachers, since studying English is compulsory in Grades 5 to 11) often moonlight as dating chat writers under aliases of pretty girls whose photos used under promises of "stable passive income".
If you still doubt that every participant of PPL agencies knows precisely how the scheme operates, and wants her own share of the virtual money pie, then you are more naive than a person of your age should be.
Reports by our sources
Our sources in Ukraine state that girls get paid USD $200 just for coming to a free photo shoot. They get professional and beautiful photos and also $200 cash — this is what the ads mean when stating, "An advance payment is made immediately after the registration." It means the woman needs to undergo a photo and video shot, then her data is uploaded by the agent to the "mother" PPL site, and once it's approved, then she is "registered" and gets the money.
All of that for a couple of hours of fun (free makeup, hair styling, and professional photographs), so why not? In a country where a monthly salary of a teacher is around $200, that's a lot of hryvnia.
But marriage agencies (agents) grab any photo sets they can get their hands on. They need new faces constantly. One girl, an aspiring model, went to a local photographer to get pictures for her portfolio (she paid to get the photos taken); he then sold her photos to a "marriage agency" without her knowing. The result — her boyfriend dumped her after finding the photos on an international dating site, accusing her in being dishonest and trying to find a husband abroad.
How these $200 sets of pretty pictures are used?
You may be "talking" to one of these girls though PPL sites with Ukrainian brides.
Besides, the agent can simply grab new pictures of girls from social networks. Then you are regularly getting new pics and think you have a relationship with a pretty girl.
This is why agents now request girls to give them names of their accounts in social networks. They promise to pay young ladies "passive income" and commissions but in reality, they don't need to share any earnings with "brides". Usually this is exactly what happens. Who is she going to complain to?
In the meantime, the girl may have a boyfriend and absolutely no desire to talk to single men, local or foreign.
What about Ukrainian women who are happy to move to a free communication platform from PPL sites?
I got this message from a guy in response to the post titled "Hilarious ads of marriage agencies in Ukraine".
Here is the complete text.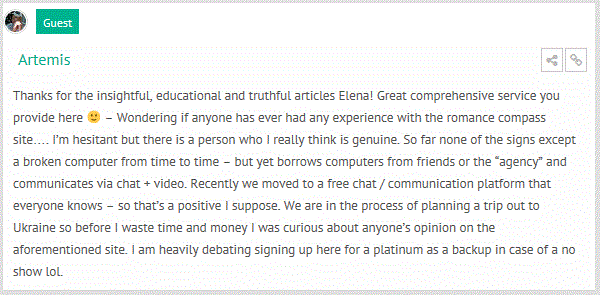 So, he thinks that there are NO red flags — except for the "broken computer" story — which happened several times?
Hello! You are talking to a woman who applied for a job as a "bride" in a commission-based scheme.
And you know for sure she is lying about a "broken computer" because all Ukrainian girls simply use mobile phones with lots of places where they get free Wi-Fi: Shopping centers, cafes, even on buses and trains. Every woman under 45 has a smart phone, every school kid over 14.
You think she suddenly changed her mind and instead of looking for money decided that nothing is more important than starting a family with you? While still lying to you outright?
(This is the type of person you want to be with for life? Good luck with such a bride.)
But he reckons, he has "a person who I really think is genuine".
Why?
Because they "moved to a free chat/communication platform that everyone knows".
Now they are discussing his visit to Ukraine. Happy ending? Not so fast.
Bad things that happen in Ukraine
The "paid correspondence" culture and a decade of never-ending job listings for writers and brides created a new breed of opportunists.
They decided, "screw agents, I can earn more money from these fools myself".
How the brides earn money without an agency?
Commissions on services. It can be an apartment she "recommended", a taxi that picked you from the airport (arranged by her), taxi rides to places during your visit, meals in restaurants, etc.
Shopping. The man is taken to a shopping centre and requested to pay for her purchases. It can be clothes or groceries. Usually it starts small and with every day higher amounts of spending are required.
Cash refunds. You may be asked to buy a dress (to go out, because "she has nothing to wear"). She shows you the dress in a certain shop, you pay, attend the event (she wears the dress), she returns the dress to the store (sharing cash with the person who processes the refund, usually a friend of hers).
Engagement. You may be even asked to buy a ring "to get engaged". She may keep the ring or take it back to the store. Or you could be offered to buy a ring "on a huge discount" because she knows the owner. For example, an 8-thousand-dollar ring for $3,000. What a saving! You give her cash, she shows you the ring, which actually belongs to her or borrowed from someone else. Or the store can be used without their knowledge: The person comes to the store one day and chats to shop assistants, looks at various jewellery pieces. The next day the person takes you there and behaves as if she knows the people in the shop. You will never know.
Can you avoid these scams?
If the points above sound awful, don't despair.
There is a surefire way to avoid Ukraine's dating scams: Simply do everything yourself.
Don't use recommended apartments: No one will get commissions.
Book a reputable, branded hotel: They offer free pick up from the airport. There is also better security.
Pick restaurants and activities yourself: Use TripAdvisor reviews. In a good hotel you will meet some experienced expats; they will help you. Or ask administrators.
Find a driver: Taxi drivers will be happy to offer you an hourly rate. You will be able to ring them when you need a pick up. Your hotel probably has drivers that usually serve guests.
Bring presents from abroad: Buy a perfume at Duty Free, flowers and chocolates locally. Give her money instead of going shopping — as much as you don't mind to lose — in case she doesn't ever want to see you again (but not more than $500 — $100 is already a great gesture). Or simply give her all the local money you have left on the last day. Let her spend it how she wants.
Buy an inexpensive ring at home. Tell her you will buy her a really nice ring in your country, because the quality of stones is not good enough in Ukraine; she deserves better. (Seriously, get a ring — if you want a wife, you will find one. Guaranteed.)
So, as you can see, it's easy to protect yourself from scams.
Sure, the girl can still take the gifts your brought, the ring, and simply keep them. There is nothing you can do, except avoiding like a plague girls from PPL sites with the mindset, "I need to get something".
How to ensure the woman you are dating is genuine and will move to live with you in your country?
I am talking about it in length in my VIP Coaching program for men dating Russian, Ukrainian women.
The subtitle for it, "How to find a woman who will stick with you through thick and thin."
Get this material and it's basically impossible not to find a nice girl who will be excited to get your ring (see the previous point) — if you follow the correct steps.
The steps indeed are important because how you search for the right woman is absolutely crucial.
It's like selecting the right candidate for a job — start looking in a centre for recovering drug addicts or ex criminals, and the chance of hiring a crook is way too high.
Even if you read an article here and there, there are certainly things that you are missing in your knowledge about Eastern European women seeking men for marriage. I am sure some things from the paragraphs above were an eye opener. Imagine 200 pages of the content like this. I work in this industry for 18 years — and even I come across new tricks now and then.
Not only that, we have thousands of success stories from men who used our system and met a genuine Ukrainian woman. We know it works.
So, if you want a step-by-step information what to do and what to avoid, get the program.
But if you think you can "do it all yourself", it's OK, too. It's your life and your money. You can spend it as you want.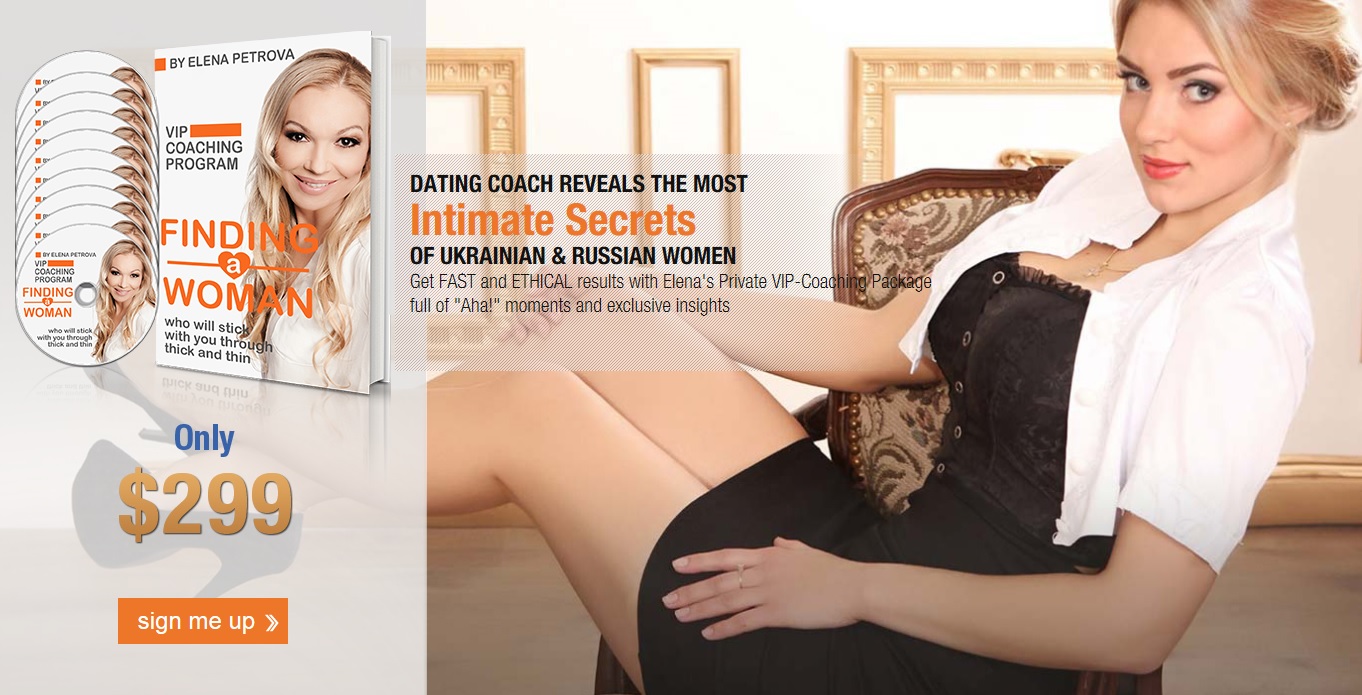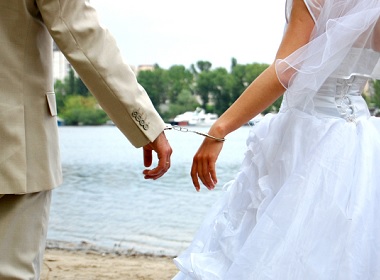 Read also: