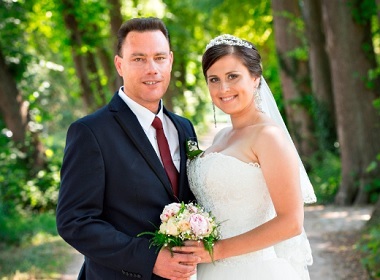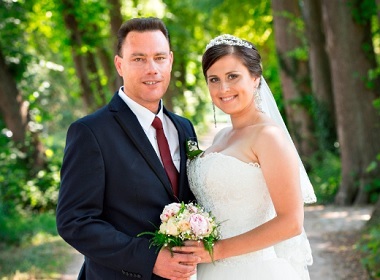 Robert from Netherlands and Zinaida from Ukraine are now married, and they sent us their story and tips for love-seekers who are still searching for their special someone in this big world.
Hundreds of people join Elena's Models every week, men and women, from different countries of the globe: USA, Australia, Europe, Canada, Russia, Ukraine, Belarus, Kazakstan, and many others.
All of them find someone that they can converse with and exchange opinions, photos, and news, and some of them are lucky enough to discover that special person that they have been seeking for their whole lives, fall in love and get married.
Our latest couple, Robert and Zinaida, are the lucky ones: After connecting on Elenasmodels.com they continued to communicate and later arranged a personal meeting in Kiev, Ukraine.
It didn't take long for the handsome Hollander to realize that the sweet Ukrainian woman that he met online was the right one for him.
He wrote, "On the second day I already knew that she would be my future wife!"
The wedding photo shows the couple in their wedding outfits, gorgeous and elegant, with the bride opting for a traditional white gown and a veil with a shiny tiara, and a cute bridal bouquet of light-pink and ivory roses. The radiant sunny day makes their happy smiles even brighter.
"We are very happy to have found each other on this site," the newlyweds wrote in their letter to EM.
Every person who registers on our site today has the same chance of finding the right partner for life. It is an event of utmost rarity and importance, and it would be idealistic to expect that things are going to work with the speed of light, however, if you put enough effort in your profile and communication, meeting someone who thinks you are amazing is nothing unusual. International dating is another exciting facet of the world growing closer.
Elena's Models offers users the modern communication model that is transparent and simple: You can freely share your email address and Skype, mobile phone number, social networking accounts, and after connecting on the site move your communication to any platform that you feel the most comfortable with. A built-in free multi-language software translator makes it even easier to connect for the ones not sharing the common language.
Even today as you are reading these words, dozens of women and girls from Russia and Ukraine are talking to men they met on EM, exchanging email addresses and opening Skype video chats, where they instantly see each other face to face, and are able to communicate directly without mediators. It works.
"For all the men that still have doubts: this site is 100% REAL! No fake profiles here!" Robert wrote in his account of finding love on EM.
It may happen that your special one is reading this post in Russian right now, and decides to register. You have an opportunity to meet someone, too — all you need is to give it a go.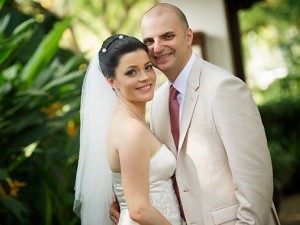 Read also: