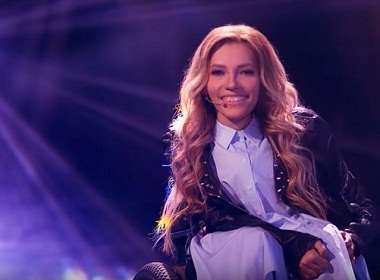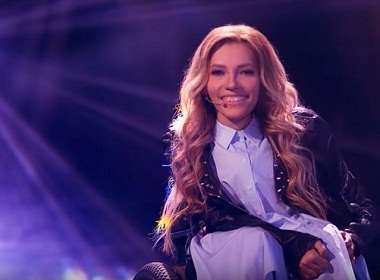 Russia selected Julia Samoylova, a wheelchair bound singer, to represent the country at Eurovision 2017 contest in Kiev, Ukraine. In the video on the competition's website, Samoylova performs a love song titled Flame Is Burning. The festival is scheduled for May 9-13.
However, the lovely girl with a beautiful voice may not have a chance to fulfil the dream of defending her country's colours in Ukraine's capital this year. In fact, the situation is getting so tight, Britain's pop star Robbie Williams became the centre of attention as a potential replacement for the pretty Russian blonde in the singing tournament in Kiev.
Eurovision 2017: Why Russia picked Julia Samoylova
The 27-year old singer comes from Ukhta, The Autonomous Komi Republic of the Russian Federation. The girl is a talented vocalist and songwriter. She turns 28 on 7 April.
Since childhood Julia suffers from spinal muscular atrophy, a genetic disease, which affects a person's physical ability to move, although she was born seemingly healthy.
Samoylova took part in multiple music festivals and competitions in Russia and abroad, Eurovision.tv reported.
When the singer was 14, she won the local musical contest On the wings of dream and later created her own band named Terranova.
In 2013 the vocalist impressed judges of the Russian version of X-factor ("Faktor A") and was among the finalists of the popular TV show.
In 2014 Samoylova performed at the Grand opening of Sochi Paralympic games.
Yuri Aksyuta, music director of the government-sponsored Russian TV "Channel 1", stated that this year they were looking for a singer "with a history", "not widely promoted", not "a big star" but "an individuality," according to 1tv.ru.
The Grand Final of Eurovision will take place on Saturday 13 May 2017. Typically the winner is announced in the early hours of Sunday after Saturday finals are completed and all votes counted. Russia is currently #9 favourite among bookies to win this year's finals. The host country Ukraine with its group O.Torvald singing Time is #26 on the list.
In an interview Samoylova stated that she was preparing for the contest since the end of 2016 and it was hard to keep it under wraps. But Russian organizers only made the announcement of their candidate at the last minute before the deadline on 13 March.
Kiev's Eurovision 2017
For months Russian viewers had speculated who would be picked to represent the country at Eurovision 2017 in Kiev. The reason why it was such a hot topic stems from 2016 results of the most loved European singing festival.
The last year grand final of the popular singing contest was highly controversial, with Ukrainian singer Jamala's win attributed to "politics". Jamala sang a ballade titled "1944" about deportation of Crimean Tatars by Stalin's troops during the World War II. However, in the context of Russia's takeover of the Crimean peninsula in 2014, not many believed in the "apolitical" message of the winner's emotional anthem—at least, among Russian viewers.
At the end, the strong favourite Russia's Sergey Lazarev topped the popular vote by viewers, but Ukraine's entrant Jamala became the overall winner. Professional juries among Europe gave #1 to Dami Im, Australian contestant with flawless vocals. However, by combining two scores Ukraine's singer collected more points than either Im or Lazarev. While Im was delighted to get a warm reception (it was Australia's first real entry into the competition), Lazarev and the whole of Russia were heartbroken and blamed politics for missing on the prize.
The dramatic final sparked huge outrage among Russian viewers, with a petition launched to Eurovision's governing body to reconsider the results. The officials had to state more than once that the results would not be changed.
With the population of 146 million Russia is Eurovision's largest audience. The country's representative is habitually in the Grand Final.
Ukraine is European's largest country geographically (Russia is transcontinental, with territory in both Europe and Asia). Ukraine is #6 state by population (44 million) after Germany, France, UK, Italy, and Spain.
Controversy of the Russian selection
Rumors had it that Russia might boycott Kiev's Eurovision. Multiple stories about an alleged inability of Ukraine's organizers to find a suitable venue and funding to host the contest kept popping up in the Russian media during 2016. Expectedly, Kiev's failing to organize a decent festival would be a nice payback for Moscow's loss in 2016.
The situation is exacerbated by the fact that plenty of Russian stars are banned from entering Ukraine due to performing in Crimea, which Kiev considers "temporarily occupied".
While Ukraine and other countries run competition-based selection processes, Russia simply picks a singer to send to Eurovision battles. The selected entrant is basically appointed by the powers in charge.
The reason why Samoylova was selected may not be only her cute smile and unusual voice, or her alignment with this year's theme (#CelebrateDiversity), some commentators allege. Certain authors view it as a PR stunt and challenge to Ukrainian authorities, since the singer also visited Crimea in 2015. Therefore, by Ukrainian laws she is ineligible to enter the country.
What is going to happen if the sweet girl in a wheelchair is refused the entry to compete?
Ukraine could look bad either way: By allowing it might seem like officials don't take their own rules seriously, and a denial will certainly spark a public outcry about the poor treatment of a disabled young girl.
However, Ukraine had given some leeway to banned Russians in the past. For example, Ukrainian-born pop-star Natasha Koroleva, who lives in Russia, was granted entry to attend her grandmother's funeral.
A singer in a wheelchair had performed in Eurovision previously. Partially paralysed Polish contestant Monika Kuszynska took part in 2015 event. However, her entry was met with suspicion in "playing sympathies". She finished at #23 with only 10 points.
Latest developments
On 20 March the Head of the Security Service of Ukraine (SBU) Vasyl Hrytsak indicated the decision on Samoylova' entry had been reached and it wasn't going to be positive. The official announcement should be made in the coming days.
In response Dmitry Peskov, Russian president's press secretary, stated there was no such an option as a replacement of a participant. On 21 March Peskov confirmed the government was monitoring the situation with the country's entry into the pop singing contest.
British singer Robbie Williams immediately offered to represent Russia in Kiev during a broadcast on Channel One's show "Pust govoryat" ("Let them say it"), stating he was a big fun of Eurovision. Unfortunately, Russian officials don't seem to be on board with this idea. Maybe they still keep grudges because of Williams' recent hit Party Like a Russian?
Several prominent Russian officials called to boycott Kiev's festival again.
Right now the news on Russia's Eurovision entry dominate local talk shows and media. Undoubtedly, it's not political this time.
Official Video: Flame Is Burning by Julia Samoylova
Listen to the beautiful love ballad created by the same team who assembled Polina Gagarina's "Million Voices" in 2015.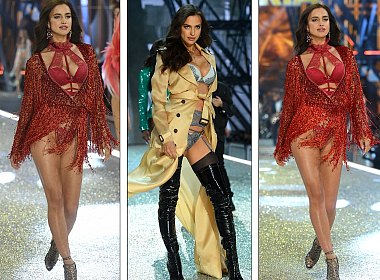 Read also: