Jamala from Ukraine won the singing contest Eurovision 2016.
Dami Im from Australia was leading half way, after the points by professional jurors. However, the public gave more votes to Jamala and she easily surpassed the giant lead that Dami Im had. The early favourite Sergey Lazarev took the third place. Lazarev scored the highest with the public but didn't get enough points from professionals.
In total, Ukraine got 534 points, Australia 511 points, Russia 491 points.
Ukraine wins Eurovision 2016
Even by getting 361 points from the public, the highest score, Russian Sergey Lazarev couldn't catch up to Jamala, who scored high both with professional judges and the viewers. The runner up is Australia's Dami Im with the song "Sound of Silence", who was professional judges' favourite.
3 hours before the announcement of the winner…
So, here am I. 5 o'clock in the morning in Australia, and I am up watching Eurovision 2016 winner deciding finals on SBS. Wouldn't you, if you personally knew the singer who was one of the top favorites to win?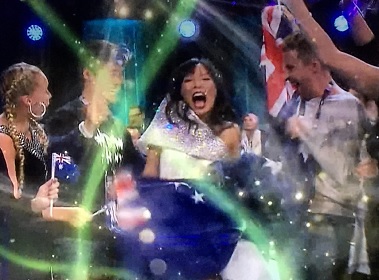 Of course, I am talking about Australia's Dami Im. She is amazing and lives just around the corner from me, but we met in Melbourne in 2013. I am posting her picture here, her happy face when she found out she made the grand final. Albeit I am not 100% convinced she is the one to win Eurovision 2016. After all, it's a European competition. And Australia is… not in Europe, the last time I checked.
Yesterday I re-watched the second semi-final of Eurovision 2016, and the singers who got into the finals looked amazing. I think the second semi-final was way up from the first one.
So, who is going to win Eurovision 2016? 26 amazing acts, 26 hopes. My heart is obviously with the "Dami Army" (I am officially an Australian, so it's reasonable), but my heart is also beating for Russia, Ukraine, Armenia, Azerbaijan, Georgia, and Latvia — all the former USSR. Of course, my two home counties — Australia and Russia — are very special for me.
Unfortunately, the naked singer Ivan from Belarus got knocked out in semi-final. I thought he was cute.
So, who is going to make it all the way to the top? Just 26 performances to find out. Keep up!
When I looked up last night (12 hours before the show, 9 am in Sweden), bookies had my favourite girl Dami (who I have predicted to be a hit 12 days ago) as #2. It's a huge rise from the odds she had before. I knew she was a crowd pleaser. Her voice is amazing. She's magic.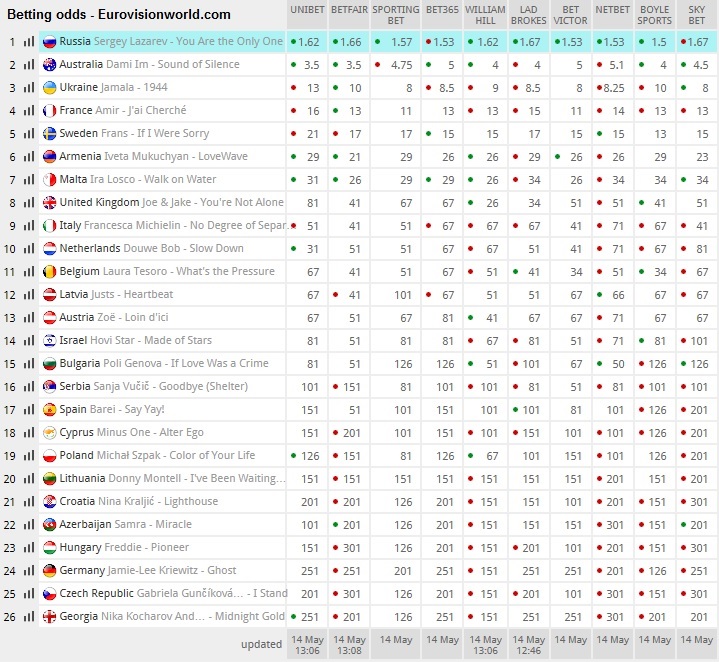 Russia was still a favourite to win but there is a lot of spill off from the previous bidding. The smart guys wait until closer to the end. I was, actually, not as taken with Russia's Sergey Lazarev as I was watching the videos, when observing life performances on stage. He is so much like Eurovision 2015 winner Mons Selmerlev, it's uncanny. Hot, sexy, male… Do we need a girl this year?
Ukraine, surprisingly, came way up to #3 in the betting ratings. Jamala's song "1944" is so different from others, it's so dark and soulful, it is an advantage in the sea of similar upbeat anthems. Good news for Ukraine.
Who did I like? My surprise bet is Belgium's Laura Tesoro with "What's the Pressure", what a great dancing song! She opens the finals, so she will be noticed, no doubt about it. I absolutely loved it. She is cute and actually can dance. Unfortunately, bookies disagree with me placing her at #11.
I still liked France's entry. He has not properly performed yet, so I am looking forward to his stage entrance in the finals. Amir is #4 in the bookies ratings.
So, pals… just a few more hours to find out who wins. My best wishes to Dami, Sergey, and Jamala — I actually cannot believe my 3 favourite countries in the world are this year's hot bets in Eurovision.
Good luck to finalists, they are all amazing!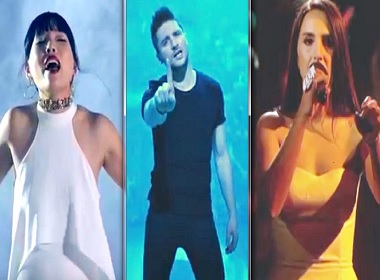 Read also:

Share this article