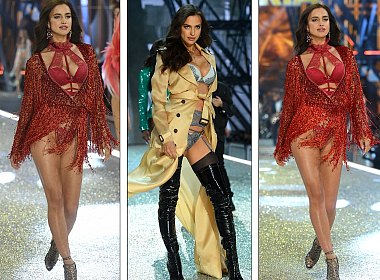 ---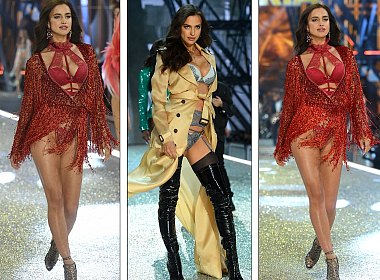 The most attention-grabbing fashion show on the planet, Victoria's Secret lingerie collection, prepared one more surprise in 2016. Apparently, 30-year-old Russian model Irina Shayk took part in the catwalk extravaganza pregnant with her first child with boyfriend Bradley Cooper.
Russian model Irina Shayk stuns on the catwalk in 2016 Victoria's Secret fashion show
Irina's debut as a Victoria's Secret Angel on the stage of Grand Palais in the French capital allowed her to showcase a hot red number and a grey lingerie set, despite her reportedly being in her second trimester. The Russian model looked amazing although both outfits featured a jacket or coat over the pretty underwear on display.
The sweet duo started dating about 1.5 years ago. Irina told in a recent interview to a British tabloid that she was ready to start a family. She stated that it was more important to be with the right person than trying to find a perfect time for having a child. Irina mentioned the fact that her Russian sister had a baby at 22 and it was the right thing for her.
Shayk turns 31 in January 2017. She and her famous boyfriend have moved in together, Daily Mail reported.
It is obviously going to become a stronger bond as the pair prepares to become parents. Just like many new couples, they must be looking forward to the first Christmas together as a family.
As you may know, Russians and Ukrainians celebrate Christmas on 7 January. The Orthodox Christmas is 13 days apart from the Catholic celebration on 25 December.
If you are planning to start a family one day with a model-like Russian beauty, why not start contacting women on Elena's Models today?
Read also: