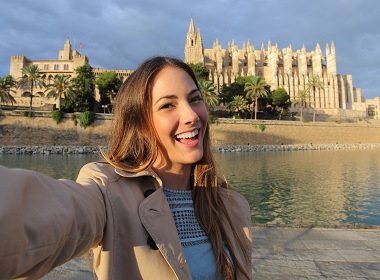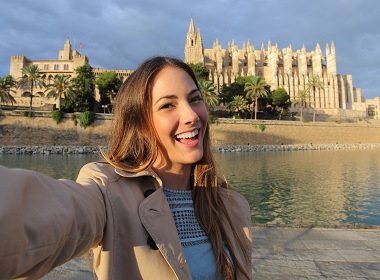 Couchsurfing is the new trend of the shared economy that allows people to travel the world for free. The largest network unites over 7 million people in 246 countries. Users provide each other with accommodation and assistance while they travel and also organize joint trips.
Young Ukrainian women are using the trend to their advantage. Since June 2017 they can travel to the countries of the European Union without a visa. Having a place where they can stay for free makes it so much easier.
Couchsurfing: How Ukrainian women travel through Europe without money
Popular media outlet Segodnya.ua revealed stories of brave Ukrainian women who travel through Europe via couchsurfing websites, enjoying international trips for a couple of hundred dollars a pop. The ladies find hosts, deal with urgent situations, engage with locals and build long-lasting friendships.
Couchsurfing is more than just a way of traveling, it's rather a lifestyle. If you are open, generous and can easily get along with people, you can do it, too!
Natalia: Spent only 100 euros on visiting 3 countries
Natalia Korzh, a travel fan and copywriter based in Kyiv, has already visited 13 countries.
Her most exciting experience so far was visiting 3 countries in 5 days on a 100-euro budget. The Ukrainian woman spent 53 euros on tickets and 47 euros on everything else.
A small backpack was all the baggage she had. Natalie used Couchsurfing.com when she needed a place to stay, although it wasn't without hiccups. For instance, her host in Krakow backed out because of an urgent business trip.
Luckily, another guy from the website quickly responded. But he lived far away from the city.
"I took a train to get there and the station was basically in the middle of nowhere. Darkness, an unfamiliar village and not a soul around! I only had a picture of the house that he sent me. I barely found it! David had a beautiful family – a sister, mom with her boyfriend and 2 dogs. We became friends right away, they host people from all over the world very often and are very open and friendly", the Ukrainian girl explained.
In France, Natalia traveled to 4 large cities. One of her hosts saved her from missing a train. She had almost no time left before the departure. Her bag was still in the train station's luggage storage. Her host ran to find the right platform, while Nat was getting her stuff. She made it just in time. If it weren't for her host, Natalia would have to buy a new ticket.
Natalia recommends all solo-travelers to be alert and never hesitate to ask questions. If there are no English-speaking people, use gestures or draw a picture to explain what you need. She also found it to be a good idea to take all the necessary medication from home, since in Europe you can only buy painkillers without prescription. Another lifehack to cheap traveling is buying food in grocery stores, rather than eating out. It saves a lot of money.
According to Natalia, traveling solo is the best way of discovering the world – you are able do what you want and get to know the country not by tourist maps, but through locals. Many of the locals became her close friends and visited Kyiv later. Then it was time for her to be the hospitable host!
However, nobody will be offended if you can't offer them a place to stay, the girl explained. The main thing is to spend time with your guests and show them the best sights of your city.
Anna: Considers Turkey to be her favorite place
For Anna Dikovskaya, another Ukrainian woman who took advantage of the couchsurfing trend, solo trips are similar to meditation.
"I am much more comfortable by myself," Anna explains.
"I get to know myself during trips. I never book a house, I find everything once I am there, I can change my mind and go to a different city. I like to wander around the streets for hours, thinking, enjoying, absorbing the culture and the scent of another country. I adore Turkey — I lived there for a month or two, in non-tourist places. I can walk 10 km to another city, have a dinner at a local cafe, ask the owner to teach me how to bake the local bread – they never say no! Once I came to a Turkish vegetarian cafe 5 days in a row and helped the cook. I love to go to markets — those ones for the locals. I learned Turkish before I learned English, I speak it fluently. I lived not far from Bodrum for 2 months — this is my place of power. I adore walking in the mountains and every time I discover Turkey again."
Maria said that one trip she remembered was when she arrived to Italy on the same day as the U.S. President Donald Trump. It had proven to be a challenge of the highest level, because all rooms in hotels were booked, she also couldn't find any accommodation though couchsurfing sites, given the fact she loves to travel without pre-booking.
So, what did she do? When having a meal at the local restaurant, she shared her dilemma with the owner. In just a few hours, with the help of the owner, she had the most amazing place to stay! This shows you, it's not about money, it's about who you are and your communication skills. People will be happy to help you if you let them.
"In June I traveled within Northern Italy. So, to Sicily, Trump and I arrived at the same time! (Laughs.) There were no rooms at the hotels, everything was booked for policemen. I went to a restaurant, ordered a cup of coffee, met the owner, shared my problem with him. He called his friends right away and in an hour, I settled in a historic apartment in the heart of Catania!
"Nearby lived a couple from Bulgaria, we often dined together, now they have invited me to stay in their big house. In Rome, I was lucky enough to live with a family: the Italian mother made me some real pasta by hand, with a pasta machine. We cooked together. For several hours of communication with this family, I learned more about Italy than during all of my previous visits there."
Ekaterina: Once had to walk to the border at night
Ekaterina Egorova thinks that solo trips are more about yourself than about traveling as such. Getting out of the comfort zone, one starts to realize what he or she truly wants or is capable of. It changes the way people view the world.
When you travel with a group of friends or even one friend, you have no need to meet new people and speak English. However, when you are alone, you try to get along with the locals and experience their life from the inside.
Generally, she plans her trips carefully, leaving plenty of room for a change.
"I was going to Italy for a week but stayed there for a month. I traveled to 12 cities! In Florence, for example, it is customary to visit some events in the evening. With my new friends, I visited wine tasting, had a dinner in a closed private club, went to a live music concert in a park. That's why I like to live with local people — you get to visit unique events for a discount or free of charge."
She has also experienced some solo traveling problems, which only made her stronger, she believes.
"Once I arrived at a station in Zahony (Hungary). I look and see no people, no taxis, no trains… And the station is closed until the next morning. And I went to look for the border… by foot! At night! Navigator in such wilderness did not work, I was going on a hunch. I got lost. I started to halt cars to find the way. Polish people stopped, a family, by  words "Ukraine" and "Chop", they understood where I needed to go and offered to take me to the border! There are good people anywhere, it's true. Then a car with Ukrainian numbers gave me a ride — the guys went to Uzhgorod. From there I took a train to Lviv. Voilà!"
Low budget travel
That's how low-budget traveling works. These ladies are just a few examples how people today manage to discover the world for free. All of them used couchsurfing websites to find accommodation in places they traveled to and you can do it as well!
One great way to discover countries like Ukraine or Russia, if you are looking for love, could be meeting women who, too, want to find a mate. They certainly do not expect intimacy, but would rather prefer to make friends first, if a man wanted to visit to get to know them better. It's not couchsurfing as such (you can also use the websites for couchsurfers when seeking accommodation, if your lady is not keen on your staying at her place), but you definitely will have a helpful local guide to take you around. And who knows, you could find love as well! It's possible — see stories of our happy couples.
Simply register today and start chatting! It doesn't mean you have to start a relationship straight away.
Couchsurfing rules
Here are 10 unofficial couchsurfing rules that will help you find the best host and be a nice guest, as shared by Tochka.net. These tips are for finding accommodation through dedicated couchsurfing websites.
1.   Send original messages.
It's obvious when all you do is copy and paste. It is important for your host-to-be to know that you are truly interested. A couple of original phrases may draw their attention. Explain why and how you would like to spend a few days with him or her. Wish them a good day and make sure they know you look forward to their reply. (Doesn't it sound like online dating tips?)
2.   Rely on yourself.
Couchsurfing is about help, but do not expect it to be a solution to all your problems. Do not ask to pick you up from the airport, call you a taxi, feed you and spend time with you. A good host will offer you all he or she can provide without your asking.
3.   Be interested.
Don't be selfish. You already know your own stories; if you listen to what other people have to say, you may learn something. Ask the host about his life, show interest in his personality. Do not talk about yourself too much – if people are interested, they will ask you first.
4.   Be generous and humble.
There is no need to buy your host a weekly supply of groceries, but also do not empty her refrigerator. Bring something tasty to share and cook a breakfast together. Even when the host offers you to take any food in her house, take only a little. Better still, purchase all you need in a store. However, if your host decides to give you a present or pay for your meal, let her. If she wants to do something nice for you, say "Thank you" and accept it.
5.   Stay for 3 days.
The optimal time of stay through couchsurfing is 3-4 nights. A day is not enough, more than 4 nights is too long. 3 nights is the perfect period, time-tested by many hosts and surfers. It is enough to make friends and sincerely say "I miss you" afterwards.
6.   Be proactive.
If you see that your couchsurfer is not too busy, offer him or her to do something together. This applies to both the host and the guest. You can see a movie or have a cuppa at a cafe, make dinner or just take a walk in a park. Do not be afraid to offer ideas, because, perhaps, both of you would like to spend time together, but think that the other one has different plans.
7.   Share your knowledge.
You probably look for couchsurfers you have a lot in common with. Do not be afraid of not knowing something, ask about things that make you curious. Make a list of movies and songs, share your favorite ones and the couchsurfer will always remember you as the person who told him about a new group or filmmaker.
8.   Respect people's views.
Do not discuss politics and religion. The same applies to drugs, being a vegetarian, etc. People may have strong views about things, so it's better to respect opinions of others and not impose your own.
9.   Don't cause problems.
Hosts are not guides, friends, or relatives. Do not expect them to solve your problems and adjust to your plans. Ask  about their schedules in advance and adjust your own plans as much as possible to fit in. Never ask for the house keys; if the host wants to give keys to you, he or she will do it himself.
10.   Clarify concerns.
Always ask about everyday things: when it's better to turn off the light and what hygiene products can be used. Also explain to the couchsurfer these things yourself, if you are the host. Otherwise, you could be upset that the person did something wrong.
These tips will help you to organize your next trip through couchsurfing websites while staying in new cities for free. If you want to travel, you are not limited by staying in expensive hotels. Budget travel is easy and simple!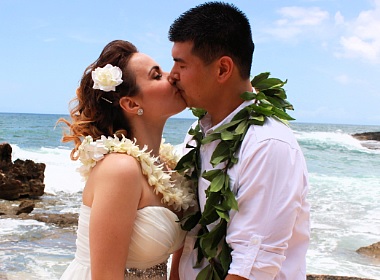 Read also:

Share this article