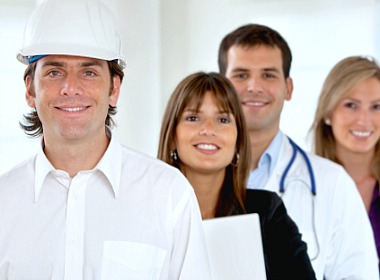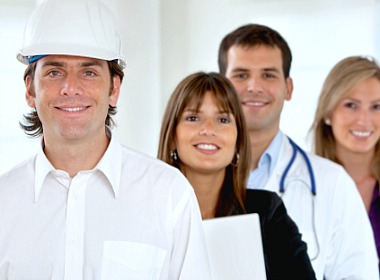 The average income of an employed person in Ukraine is about USD $200-300/month (as of February 2016).
According to the government's statistics portal Ukrstat, the average salary country-wide was 4362 hryvnia ($164). In Kiev the average level of wages was higher: 7126 hryvnia ($268), Finance.ua reported.
Average Wages by Industry
Statistics by the employment portal Work.ua demonstrate that job vacancies across all sectors offer on average 6390 hryvnia/month (about USD $237). These figures of average wages include vacancies in top managerial positions and IT.
The average monthly income sought by job applicants is 6607 hryvnia (about $245).
The numbers are calculated based on over 61 thousand listed vacancies and 1,6 million resumes in the database.
The current exchange rate of hryvnia to USD is 26.90 Ukrainian hryvnia for 1 US Dollar.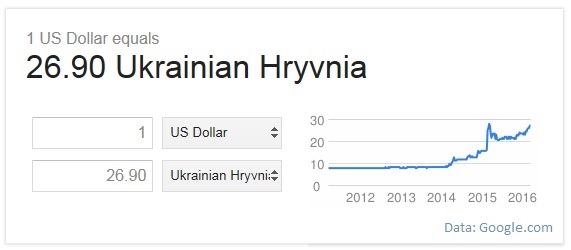 The minimum wage in Ukraine equals 1318 hryvnia/month ($49). This income level still attracts taxes. The after tax take home monthly income derived from the minimum salary is 1109 hryvnia ($41). See our earlier report on living on minimum wage in Ukraine.
Minimum wage is used to calculate social security payments and pensions. In fact, there is a sizable proportion of Ukrainians forced to live on such incomes.
Positions in top management, real estate, and IT sectors offer the highest income, which is still under $600/month.
Junior and casual positions pay less than $200/month.
Average Wages by City
Large Ukrainian cities offer higher wages. Smaller regional towns have fewer vacancies and lower salaries listed in the job ads.
It is not rare in Ukraine for employees to receive wages in two portions: the official part, on which taxes are paid, and a non-official ingredient, which is remunerated in cash.
Officials estimate that about 40% of Ukrainian GDP is in the shadow, i.e. goes through cash channels, which are unaccounted for taxes. Experts believe that the share of Ukrainian shadow economy may be substantially higher.
Average wages offered by city (hryvnia/USD):
Kiev: 7285 ($270); desired: 8315 ($309)
Odessa: 6367 ($236); desired: 8504 ($316)
Kharkiv: 6667 ($247); desired: 8206 ($305)
Zaporizhia: 5053 ($187); desired: 7467 ($277)
Dnipropetrovsk: 5770 ($214); desired: 7786 ($290)
Ukraine-wide: 6390 ($237); desired: 6607 ($245).
Gender pay gap: Women in Ukraine earn 28-41% lower wages than men for comparable positions.
How Average Wages in Ukraine Changed in 2015
On 6 January 2015 the average salary sought in Ukraine was 5120 hryvnia/month.
On 1 December 2015 the average remuneration job seekers listed as desired was 6400 hryvnia, or 25% higher.
However, during the same period the exchange rate of hryvnia to USD changed from 15.77 to 23.94 hryvnia per 1 US Dollar (51% higher).
In other words, even if people could get the jobs with the monthly wages they desired, their actual income (in USD) would have dropped by 26% from January to December.
The galloping inflation in Ukraine in 2014-2015 diminished actual take home incomes of employees, despite growth of incomes in hryvnia.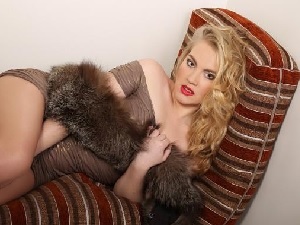 Read also:

Share this article