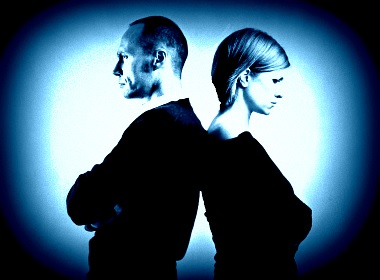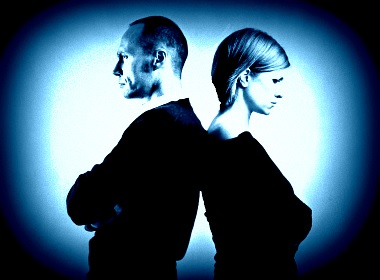 The divorce rate in Russia may shock you. In January-May 2017 there were 829 divorces per 1000 marriages in the country, official statistics by Rosstat revealed. But these numbers show a strong improvement compared to the same period of 2016, when 895 marriages broke per 1000 registrations.
Divorce rate in Russia
The government data shows a significant improvement in marriage breakdown rates in Russia this year as compared to 2016: 7.4% fewer pairs called it quits in 2017.
But the absolute number of collapsing nuptials in the Russian Federation is still extremely high. Especially when compared with only 145 broken families per 1000 weddings in Chechnya, which is also a part of RF. Russian Federation consists of 85 regions.
Number of divorces per 1000 marriages
2017: 829
2016: 895
% to the previous year: 92.6%
In 7 regions people file split-up papers faster than new couples are registered (2017 data).
Leningrad (St. Petersburg) region: 1119
Altai: 1063
Republic Komi: 1033
Kirov: 1031
Bryansk: 1028
Kalmykia: 1028
Vladimir: 1006
The lowest family break up rates are in predominantly Muslim national republics of Northern Caucasus and other national autonomies. Large metropolises of Sevastopol (Crimea), Moscow and St. Petersburg have the lowest divorce rates among non-national regions.
Chechnya: 158
Ingushetia: 186
Tuva: 282
Dagestan: 324
Kabardino-Balkar Republic: 632
North Ossetia-Alania: 635
Crimea: 648
City of Sevastopol: 658
City of St. Petersburg: 711
City of Moscow: 716
The official data is included below (click to enlarge images).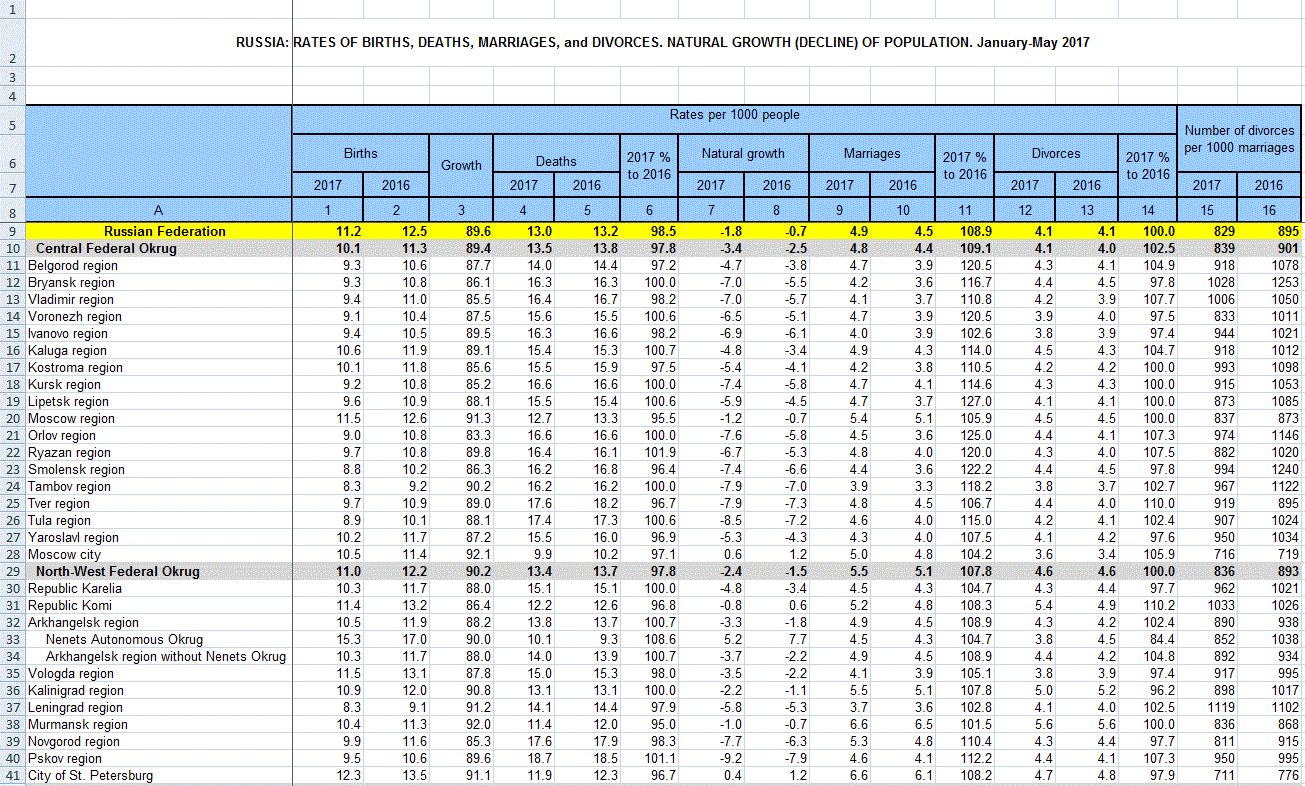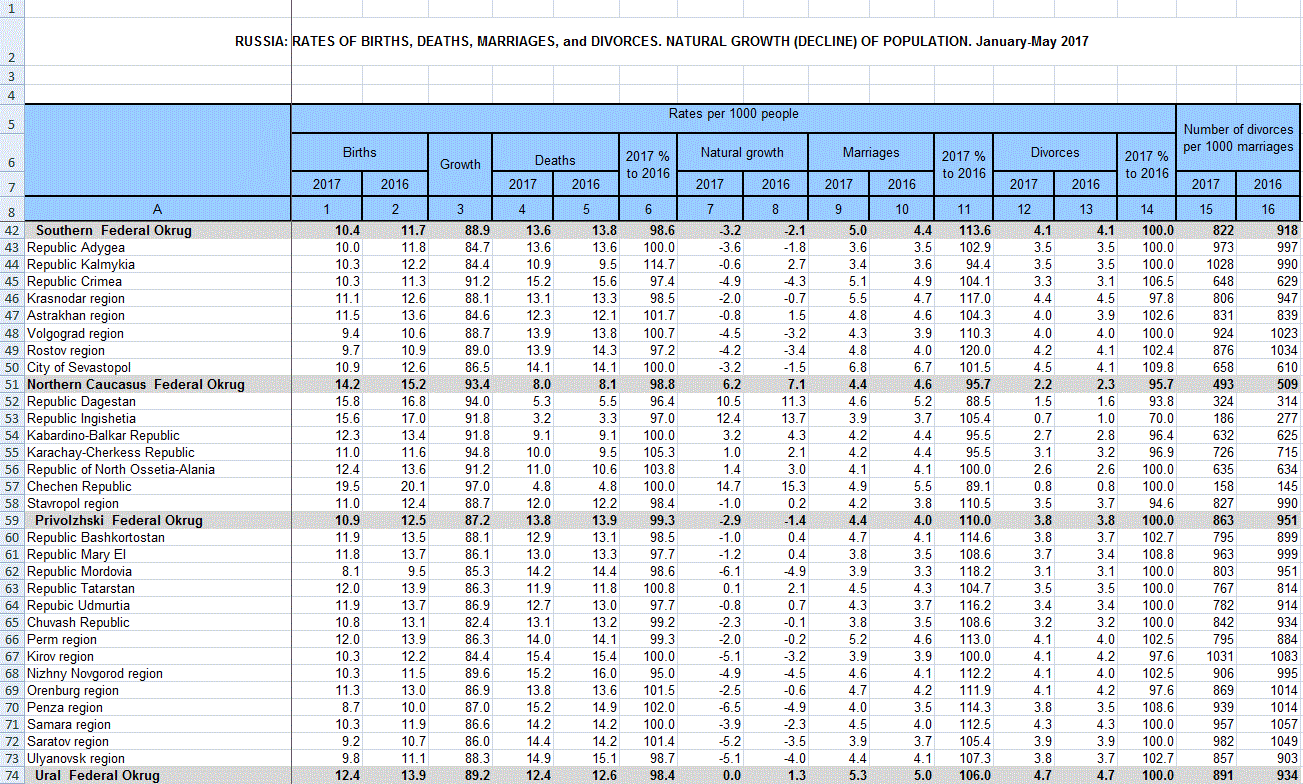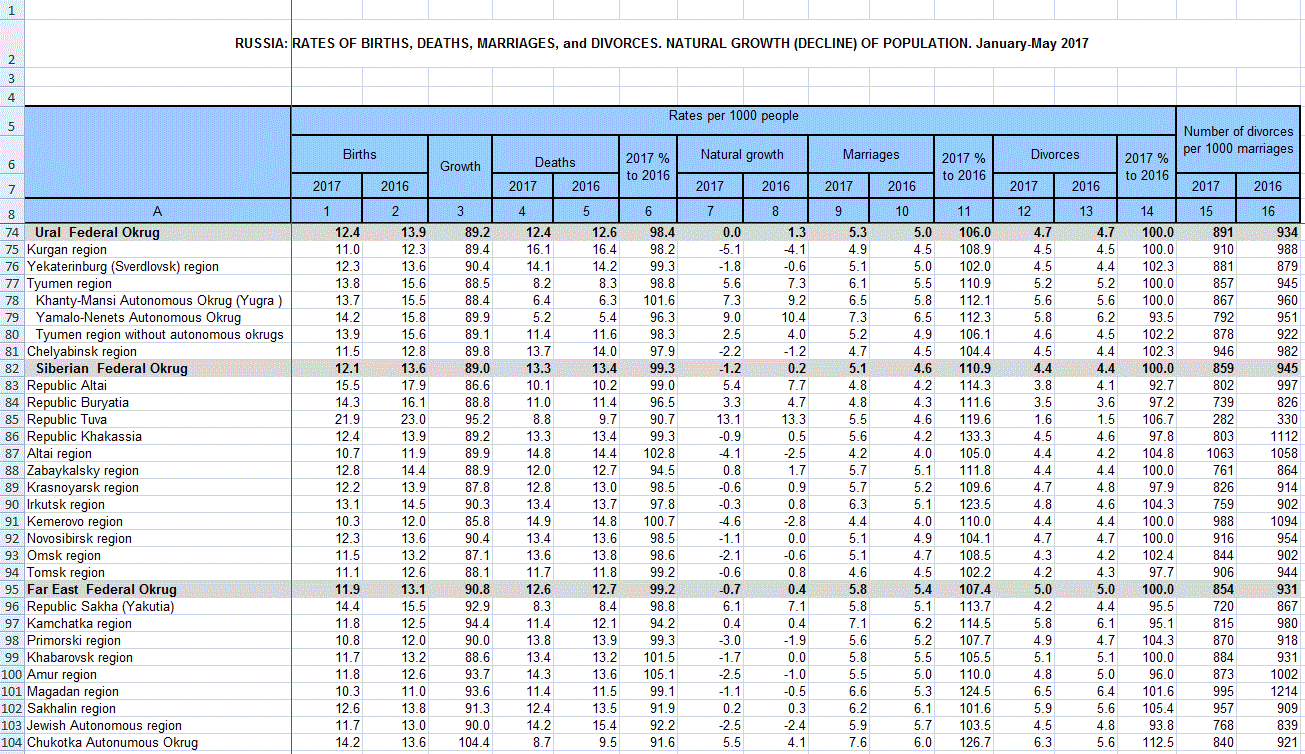 Demographics of Russia: Deaths, births, marriages, and divorces—official statistics (January-May 2017)
More nuptials had been registered in Russia this year but fewer kids were born.
The data shows a significant drop in the number of births (11%) as well as a slight decrease in deaths (1.6%).
Natural growth of the population, once again, was negative (111,866 more deaths than births). It's nearly 170% rise compared to 2016 numbers. Thus, the rate of natural decline in population of Russia sped up in 2017.
At the same time, there were 23.5 thousand more marriages registered in 2017 as compared to the previous year—8.5% increase.
The number of divorces remained virtually the same: only 0.4% more couples called it quits this year.
Births
2017: 679,182
2016: 762,505
Decrease: 83,323
% to the previous year: 89.1%
The number of newborns dropped in every region of the Russian Federation, except scarcely populated Chukotka, where 9 more newborns were registered in 2017 (293 in total).
Deaths
2017: 791,048
2016: 804,055
Decrease: 13,007
% to the previous year: 98.4%
Republic of Kalmykia recorded 13.7% more deaths than last year. Also a substantial rise was recorded in Nenets Autonomous Okrug (7.6%).
Deaths to births ratio
2017: 116.5%
2016: 105.4%
Population decline
2017: 111,866
2016: 41,550
Absolute increase in trend: 70,316
% to the previous year: 269.2%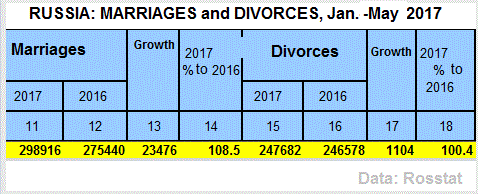 Marriages
2017: 298,916
2016: 275,440
Increase: 23,476
% to the previous year: 108.5%
Certain areas recorded sizable increase in nuptials:
Khakassia (34.2%)
Chukotka (23.8%).
Irkutsk (23.2%)
Oryol (23.2%)
Magadan (23%)
Smolensk (21.6%)
Belgorod (21.3%)
Tuva (21.1%)
Voronezh (20.4%)
Divorces
2017: 247,682
2016: 246,578
Increase: 1104
% to the previous year: 100.4%
Areas that recorded high increases in family breakdowns:
Tver (7.6%).
Komi Republic (7.5%)
Crimea (7.1%)
Penza (6.4%)
Sakhalin (6.3%)
Pskov (5.8%)
Vladimir (5.8%)
Muslim republics of Dagestan and Ingushetia showed a substantial drop in marriage splits (8.5% and 21.1% accordingly). These autonomous republics have some of the lowest divorce rates per 1000 people already.

Data by regions
These charts include data by region. (Click to enlarge)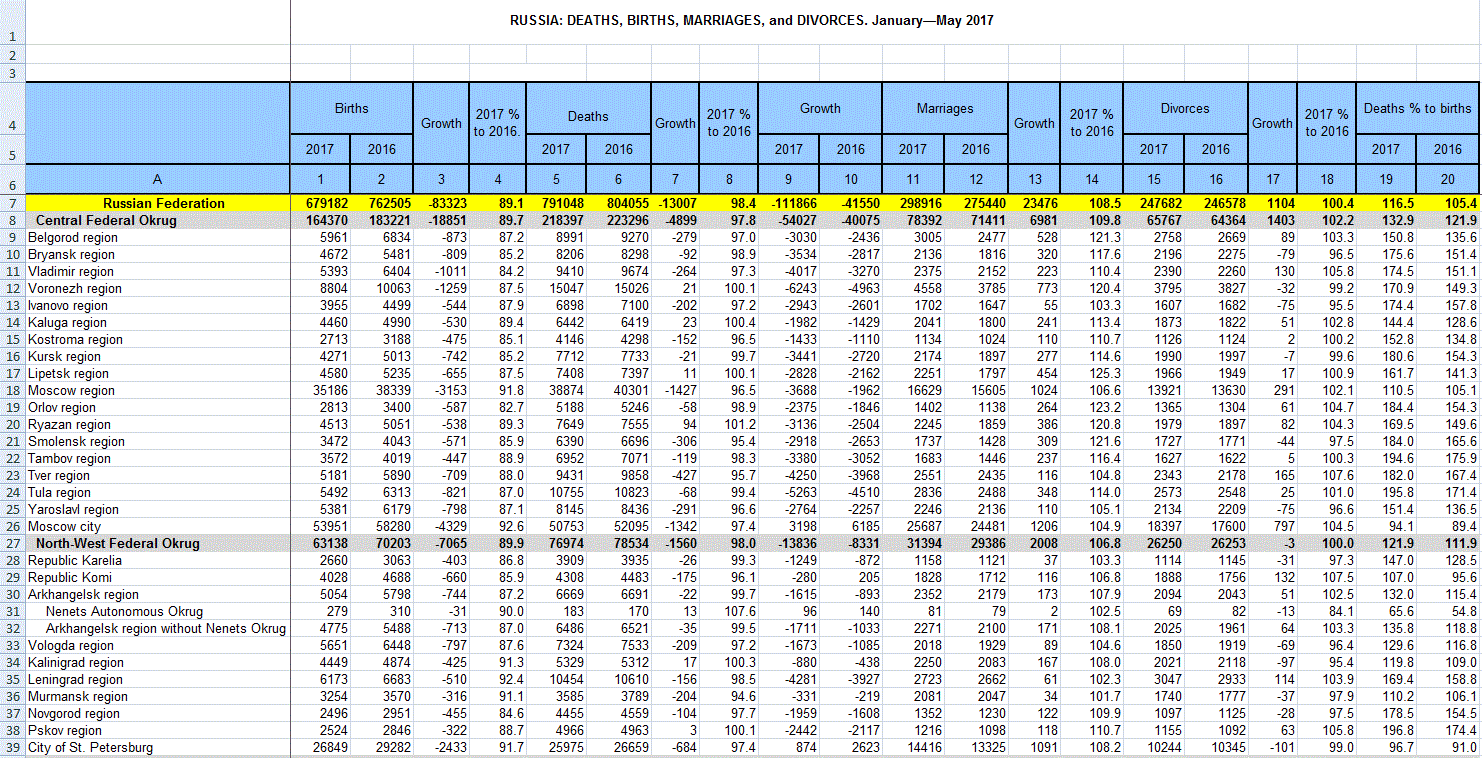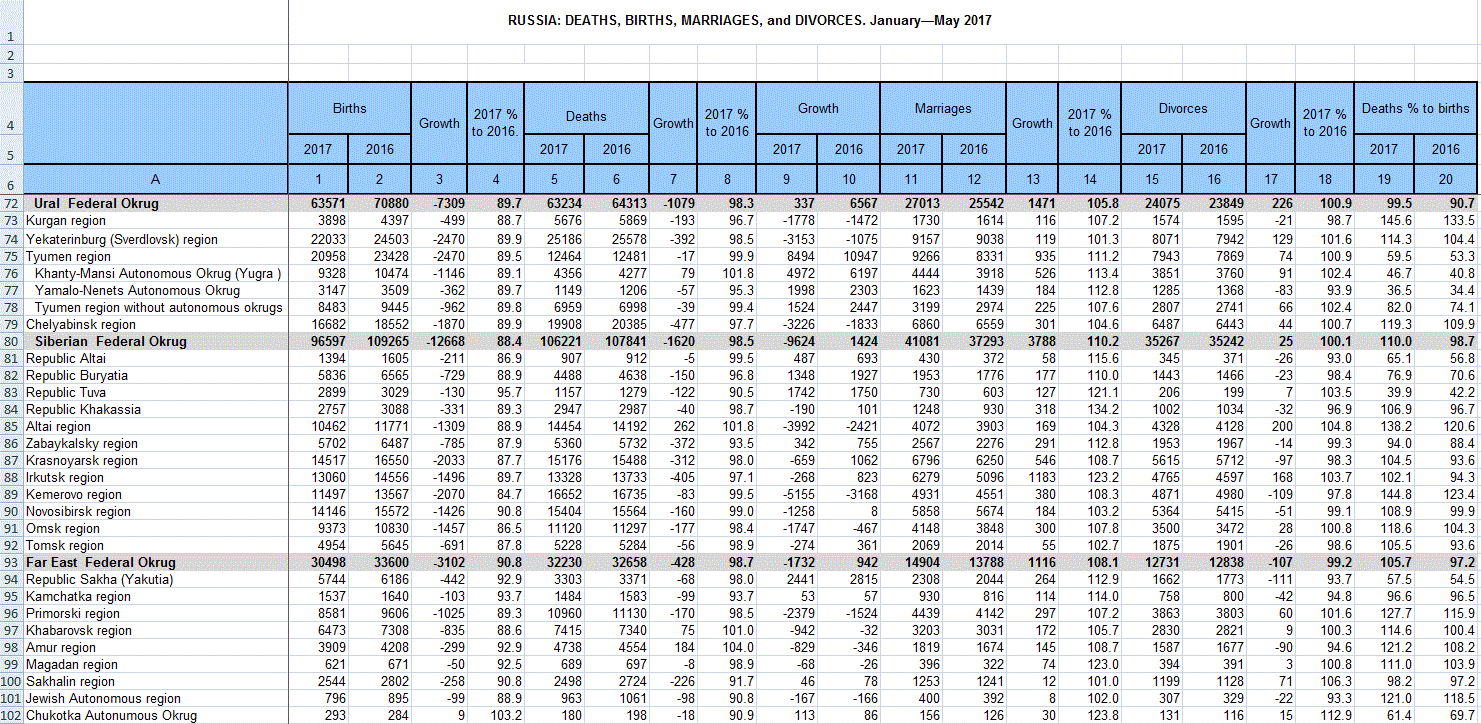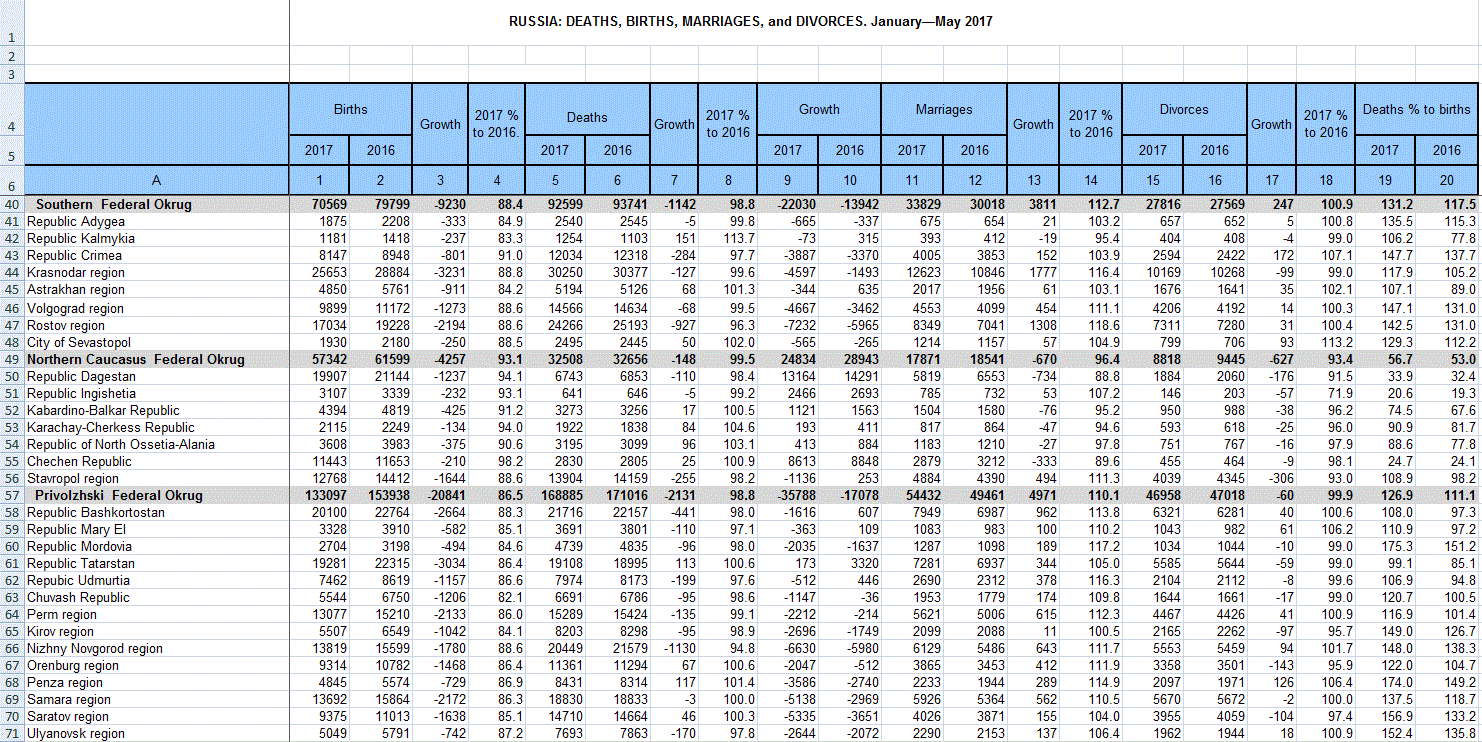 Data: Rosstat
Read also: