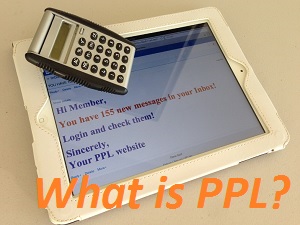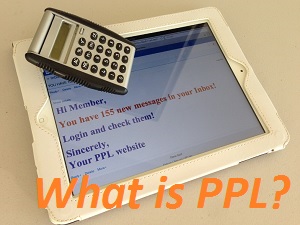 PPL means "pay-per-letter", which is the way of operation of most dating sites offering introductions to Russian and Ukrainian women today. Companies using PPL charge their users for each letter or chat message they send or receive, and per minute of video chat. If you became curious about meeting Russian and Ukrainian women, most services you come across will be PPL dating sites.
Non-PPL websites offer a different approach: pre-paid memberships where all following communication with ladies is free of charge. In both cases you pay in advance (purchasing "credits" in bulk or paying for a membership), however, these two approaches are very different.
PPL dating sites
Features
Men have to pay for each letter they receive from a woman or send to her
Usually they are required to pre-purchase "credits" in bulk in advance
1 letter or chat message typically cost 1-10 credits to send or receive
Credits can be also used to pay-per-minute of video chat
Advantages
You will be receiving hundreds of messages daily
The quality of your profile and photos is not important – you will get tons of mails anyway
No need to sign up for membership — pay as you go
Women's photos are professionally done
If you decide to start exchanging letters with someone, usually all letters will be answered every time — responses are virtually guaranteed
Typically, men using PPL websites receive hundreds of messages that appear to be sent by female users daily, regardless of quality of their profiles and photos. As soon as a man registers, he may be bombarded by mails and chats. The messages seem to arrive from very beautiful and young women, which is extremely flattering.
Problems
Messages may not be sent by women themselves
No exchange of direct contact details is allowed — you have to continue paying-per-letter
Exchanging just 10-20 messages may cost more than a 3-month membership elsewhere
You are actually paying to someone to talk to you — hard to establish how genuine is that relationship
Even if everything is per service description, each of your letters is being censored to remove personal contact information — your communication is never private
Women cannot load or remove their profiles themselves — the agent controls the profile, the photos, and the text
Relationships are hard to move from letter-writing to the real world
Many PPL dating sites explicitly state in their terms and conditions that not all mails are sent by actual users but by "agents", who are trying to match their clients with men. In other words, letters that men receive on PPL sites can be prewritten and sent in bulk by the agent, or even software-generated.
In a way, it's similar to pay-per-minute phone services that are happy to discuss your wildest love fantasies, as long as you are paying. If you stop paying, the "relationship" will stop. You have no way of talking to this "person" directly, except for paying to PPL site.
Some PPL websites insist they are charging for "translations". While women's command of English may differ, there are free online translators that do the job pretty well, making such interruptions unnecessary.
Read also: The men who go to Ukraine looking for a wife then fly home alone and broke (Guardian, UK)
Membership dating sites
Features
After purchasing a membership, communication is free and unrestricted with all your contacts for the duration of your subscription
Various membership levels
Free use of online translators make communication easy
No pay-per-letter or pay-per-minute – all messaging and chats are unlimited
Advantages
Women are contacting you directly without agents
You are allowed to share your contact details, and move your relationship off the site at any time
Women include many unprofessional photos in their profiles, where you can see how they look in real life
If someone keeps talking to you, they are not being paid for that — women are obviously doing that because they want to talk to you
Ladies can load and manage their profiles, photos, and texts themselves, and able to delete their profile at any time
Relationships develop faster
While it's best to still maintain communication through the dating site until you feel completely comfortable to share your personal contact information, you can do it at any time. You are able to chat and talk through the video link for as long as you wish, at your own pace. You are 100% confident that if a woman keeps talking to you, she is doing it because she wants to do it, and not because she is being paid.
Some membership sites (such as elenasmodels.com) also allow you to download direct email addresses and phone numbers of women, so you don't have to go through the website at all, and have the ability to communicate directly.
Problems
You will not be getting as many messages as on PPL sites
Not all women will answer positively
Your results strongly depend on the quality of your profile — photos and texts
Some girls have poor quality photos and texts
No guaranteed answers to your letters and messages
You actually have to contact women yourself
Because there are no agents trying to "match" their clients with you (and receive commissions for letters), you will not be getting hundreds of mails and chat requests a day, as on PPL dating sites. Some women may answer positively and then disappear without telling you why they decided to stop communication.
Not all women will be perfectly reasonable or answer on time. You actually have to build your own relationship, think what you write and say, nothing is guaranteed. It's not as easy as reading and writing through PPL, where you only have to keep paying.
PPL dating sites vs. membership sites
For obvious reasons, I cannot claim that I am totally unbiased towards PPL dating sites (Elenas Models is a membership website). I tried to be as objective as I could, however, in today's world I do not see the need for the PPL model.
Translations: various online translators do a great job and will be a better option when you are establishing a personal relationship, especially if you chat in real time.
Protection: having the ability to use video chat without being billed per minute is a better protection than any other from people who are not who they say they are.
Costs: it's hard to establish a relationship when you are billed for every piece of information sent or received, and have to always go through the agency. With membership sites all communication is unlimited.
Reality: moving relationships from online to the real world is seamless and straightforward with the membership model, and can be done immediately. PPL sites only make money for as long as you cannot connect directly, thus they have a vested interest in keeping you as a paying customer for as long as they can.
Meeting options: usually PPL sites expect you to purchase an expensive tour through them, if you ever decide to visit your romantic interest. With membership sites you choose your own accommodation, plane tickets, dates etc, which allows you to organize your trip 3-4 times cheaper and with a greater flexibility time-wise.
Reliability: have you ever wondered what are you going to do if the PPL site went down tomorrow? How will you continue the relationship, if you have no direct contact details of your "love interest"? When you have direct contact information, you don't have to rely on the dating websites.
I believe that generally people who want to find a real relationship prefer direct, uncensored communication. PPL sites, to me, are more suited to dreamers who like to believe they are in a relationship by simply typing letters.

Read also:

>> All articles (in English)

Share this article