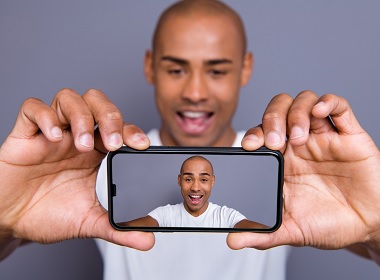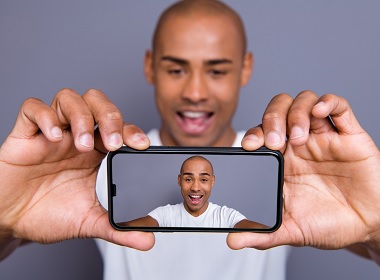 Selfies are here to stay, sources hold. The art of taking a great picture of oneself is becoming accessible to any of us, so, if you are not 100% happy with the photo in your profile, this is always an option: Just take a selfie.
How to take a great selfie
You are definitely able to take a picture that will catch an eye of a beautiful Ukrainian woman who will be so much taken by it that she will forfeit her upbringing of modesty and send you an Expression of Interest (EOI) first.
Yes, ladies from Ukraine are taught by female magazines and their mothers to stay modest and never approach a male first. It is the job of a man to win her heart, according to the local dating customs.
However, with the right picture and correct wording of the profile, you are able to change this notion and have beautiful ladies contacting you. Not all of them will do it, but some might. You just need the right photo, text and profile!
(All the steps are listed here, if you are curious.)
But for now, let's concentrate on the selfie part.
Taking a perfect selfie in 4 easy steps
Clothes. The simplest way to a Ukrainian woman's heart is to wear a long-sleeved shirt with a jacket in the picture (tie or no tie, your choice). It makes you look stable and more attractive.
Smile. When you genuinely smile, you appear more appealing. By taking a selfie you have the chance to take as many shots as necessary, until you are satisfied your smile looks heart-warming. It doesn't matter how many pictures you need to 'delete' — one good one is all you need!
Lighting. The professional photographers know it's all about the light. Find a place that is well-lit and there are no shadows on your face. Photos taken outdoors have the natural lighting and it's usually enough for the picture to look good.
Background. Messy backgrounds create a poor impression about your ability to manage your life. Vice versa, beautiful backgrounds make you look good. If both you and the background look great, then you found the best combination possible! It's hard to get the picture wrong when you look good on a good background in a good lighting.
That's it!
How easy is that?
Just a little bit of thought put into taking a selfie and you are able to boost your positive response rate by threefold!
By the way, you know how to take a selfie, right?
There is a time delay button on your phone. Usually it's 3 and 10 seconds. Pick one option, press the button and get yourself into a position, while the camera is in your hand or firmly fixed against a book or another object. You can also use the reverse camera. Just click on all the icons on the screen where the camera is located; you will find all the options.
Take a shot and check the result. Try again and compare.
Keep going until you get the photo you really love!
Girls have learned this art of taking selfies long time ago and this is why they look so pretty in the pictures you see.
On the other hand, guys' photos usually suck. So, if you put a bit of effort, it's easy to outdo your competition and steal hearts of beautiful women!
Good luck.