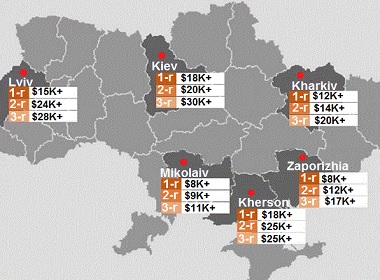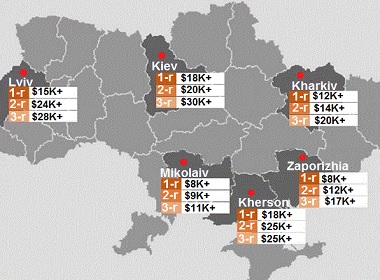 Apartment prices in Ukraine have been steadily decreasing. In regional centers, the prices for real estate now start at $8,000 per unit and go up to 2-3 hundred thousand US dollars in Kiev for luxury apartments.
How much does an apartment cost in Ukraine?
In 2017 real estate prices in Ukraine dropped by 10-15% as compared to the previous year. This decrease began in 2008 and by 2014 the cost of housing was declining at a rate of 2% per month.
Realtor Alexander Grishko believes that over the past 10 years property prices dropped by 3 times. Grishko named several reasons: hryvnia devaluation, decline in the purchasing power of Ukrainians and the conflict in the East with separatists. At the same time, experts believe that in 2018 prices for apartments in Ukraine are unlikely to grow. The prices may drop by approximately 10%, but the situation is not going to be critical, Finance.ua reports.
The graphics below explain property prices for flats and units in the largest Ukrainian cities.
Remember that 1-room unit means a flat with 1 room, a kitchen, and a bathroom. 2-room unit means there are 2 rooms in the flat, and so on. Ukrainians don't talk about the number of bedrooms but count the actual number of rooms.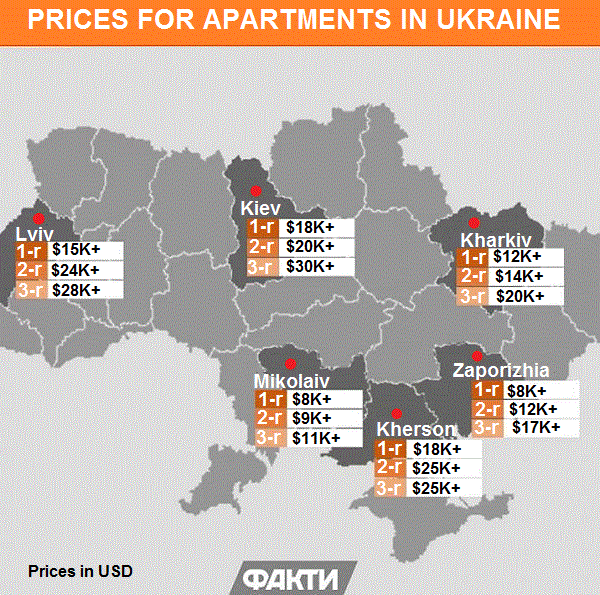 Kiev
Housing cost starts at 18 thousand and goes up to several million dollars. The most affordable areas are Desnyanskiy and Svyatoshinsky, while Pechersky and Shevchenkovsky being the most expensive ones.
Zaporizhia
Prices are in the range from 8 to 30 thousand dollars. The cheapest districts are Avodskoy, Pavlo-Kichkas, Khortitsky and Osipenkovsky. The most expensive ones are Aleksandrovsky and Voznesenovsky.
Kharkiv
Costs wary from 12 to 170 thousand dollars and above. The least you will pay in Obrada, HTZ, Rogan, Airport, while Nagorny, Center and Sosnovaya Gorka will be pricey.
Lviv
Prices range from 15 to 200 thousand dollars and above. Affordable flats you will find in Shevchenkovsky (Ryasne) and Sykhovsky, while the center and Lychakivsky district (Pogulyanka Park) will require a larger investment.
Kherson
The cost per unit ranges from 18 to 100 thousand dollars and above. The cheapest district is Shumen, while the center being the most expensive.
Mykolaiv
Costs vary from 8 to 37 thousand dollars and above. The list of cheapest districts includes Ternovka, Matveyevka, Varvarovka and Zavodskoy ones. The most expensive is the center – Sobornaya street and Central Avenue.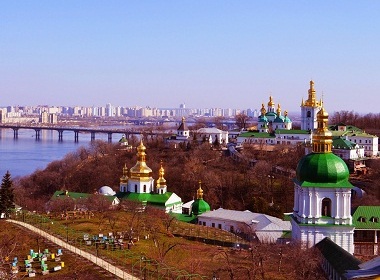 Read also: