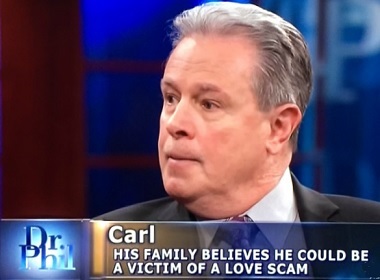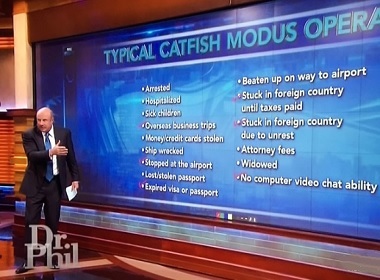 Our research into hidden mechanics of pay-per-letter (PPL) dating scams in Ukraine uncovered how widespread was the problem. No surprise it's now reaching the major media outlets — a recent Dr. Phil TV show depicts Carl, a father of two adult daughters, who believes he has been dating a Ukrainian woman from Odessa for 2 years, although he has never met "Natalie" in person or even spoke to her on camera, video, Skype, or phone.
During this time, the grey-haired suitor even flew to Ukraine to meet his prospective bride but precisely during his visit, his sweetheart who loves talking to him and intends to spend the rest of her life with him had to go away to Turkey on a business trip for the whole 2 weeks he was there.
Despite all pointers that it's a scam as highlighted by Dr. Phil during the program, Carl still insists that he is going to prove everyone wrong, that Natalie exists and they will be together.
See also:
Is the American groom-to-be being scammed by the Ukrainian dating site or his "bride"?
For two years Carl has been paying to PPL dating sites for letters. He spent over $6,000 on his trip to Ukraine, but never managed to meet the mysterious Natalie, who is supposed to be a business owner in Odessa, Ukraine. Unfortunately, she cannot speak English and her notes have to be translated. According to the eager admirer, his virtual girlfriend has been taking English lessons and intends to fly to him to the USA very soon. Letters alone cost him in excess of $1,000.
Dr. Phil lists on the screen pointers, typical of online dating scams, with Carl's love interest scoring multiple ticks. Why does he still believe his love is genuine and real?
After his unsuccessful visit to Ukraine to meet his "mail order bride", Carl decided he should be the one making the rules. He wrote to his prospective fiancée that she would have to purchase tickets herself and fly to the USA if she wanted to be with him. His Ukrainian bride obliged, agreeing to pay her own way. In the meantime, he keeps sending her $5 messages several times a week.
"It's not a scam, and I will prove it to everyone"
The screenshots show memos in perfect English telling how "Nat" thinks of life with her American beau, although she doesn't wish to hear any more of his "sex stories", because they make her "feel jealous". The Ukrainian bride is 30 years younger than her aging, daily drinking groom with 3 DIY's under his belt.
Nat's visit to the USA, to which she easily agreed, has been already delayed twice: first she had problems with tax, which she hadn't paid, and then she couldn't go to Kiev to collect her visa because of unrest. She doesn't have a computer with Internet access and cannot chat to him online or on the phone, the only thing she can do is to send letters through a translator. This is how these online lovers who are thinking of life together have been communicating for 2 years. (Are we supposed to presume that business people in Ukraine have no mobile phones?)
Come on, do you still believe it is for real?
Yes, for our champion, it is. He is convinced that despite all odds, he will prove to everyone that they are wrong about his Ukrainian love affair being a scam. "I am not stupid", he insists. He agrees that things seem a bit unusual with him unable to talk to his online date other than through a mediator, but since he hasn't been asked to transfer any large sums by "Nat", he feels confident his relationship is bona fide, despite his family being furious about his spending the money he inherited on pursuing this obsessive passion.
Daughter Lisa believes that the Ukrainian mail order bride is simply seeking a ticket to the USA.

Carl says his Ukrainian sweetheart is genuine, because she agreed to sign a prenuptial agreement, which means she is not after his money.
I say: The answer is right here in a plain sight!
Remember the story about a guy who was making daily trips from the Mexican side of border to the USA with a wheelbarrow full of stuff? Border patrol officers were convinced he was smuggling something. They checked his wheelbarrow and the load carefully multiple times but couldn't find anything. Years later the smuggler came clear: he was smuggling wheelbarrows. Yet the officers failed to see the obvious.
Our fervent heartthrob is paying $5 per letter for 2 years. How much money has he already spent in fees to the dating site? How many Carls are out there?
Is this entirely possible that the girl whose photos he fell in love with left the agency years ago and never even heard about our Romeo? This would explain why she "suddenly had to go away" when he visited Ukraine.
For all we know, he could be corresponding with a young dude from Odessa, someone like the one reporting his earnings as $350-500/month for writing letters on behalf of girls in photos on Ukrainian PPL dating sites.
Conclusions
Guys, wake up. Watch the video of the TV show and see how it looks when a person refuses to see the facts for what they are.
Genuine women who want to meet a partner do not correspond with you for years talking about hoping to be together one day.
They don't go on a "business trip" when you travel half way around the world to meet them.
They want to see you on Skype, chat to you daily, and they are there when you visit, holding your hand and vigorously opposing your meeting any other girls.
And by the way, they all know how to use online translators. Besides, all women study English at school for 5 years and then for another 3 years at university or college. And I can assure you, even women who don't speak the language, can find a way to check you on Skype to see your face and hear your voice — before agreeing to become your bride.
There are American and European men who meet Ukrainian women online and get married. But things work very differently in these relationships.
Tips for a successful relationship:
Choose someone closer to your age.
Talk to women directly on email, mobile, video chat, Skype, and apps.
Talk to multiple people and see whom you like more, and who likes you more.
Don't use mediators — direct contact is the key.
Share this article