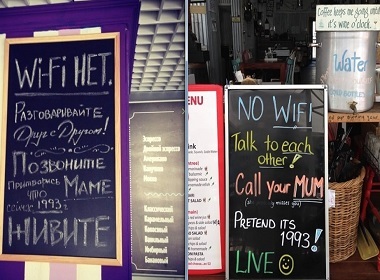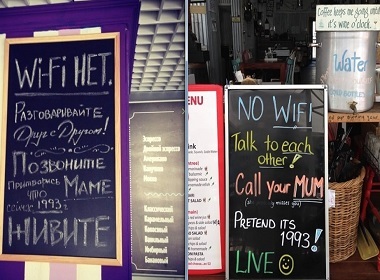 It was a few months ago that I snapped a picture in a local cafe, which said:
"No Wi-Fi. Talk to each other! Ring your mom (she surely misses you). Pretend it's 1993. Live! 🙂 "
We posted it on our Facebook page, and forgot about it.
Last week during the preparation of our newly launched newsletter for members with jokes, funny videos, and pictures from Russian and Ukrainian media which had been posted over the weekend to selected 500 male EM members under the code name, "Elena's Models weekend insider" (we are still thinking of a better title for it — open to your suggestions!) I discovered a picture from a Ukrainian cafe with a message in Russian that said exactly the same basically word to word!
We have quite a large Ukrainian and Russian readership base on Facebook (please like us, too!), so my thinking is that somehow the picture has gone viral, or maybe I wasn't the only one who took a shot of this board in the cafe and posted it on the Internet, or it's an epidemic. I have been told multiple times by different people that generally all cafes in Russia offer free Wi Fi internet connection — obviously, to the point that the ones that do not have it are forced to announce it on entrance in giant letters.
Anyway, it just proves one more time that Russia and Ukraine are living online, just like the rest of the civilized world. And by the way, if you haven't done it lately, get off your computer or mobile device, and call your mom! She surely misses you. 😉
Did you get the newsletter with Russian and Ukrainian funny videos and jokes over the weekend? Did you enjoy it? Let us know your thoughts! If you have a better name for this issue, please send in your ideas as well. It will become a regular service for our male clients, and hopefully become more familiar with the cultural landscape.
Read also:
Original pictures: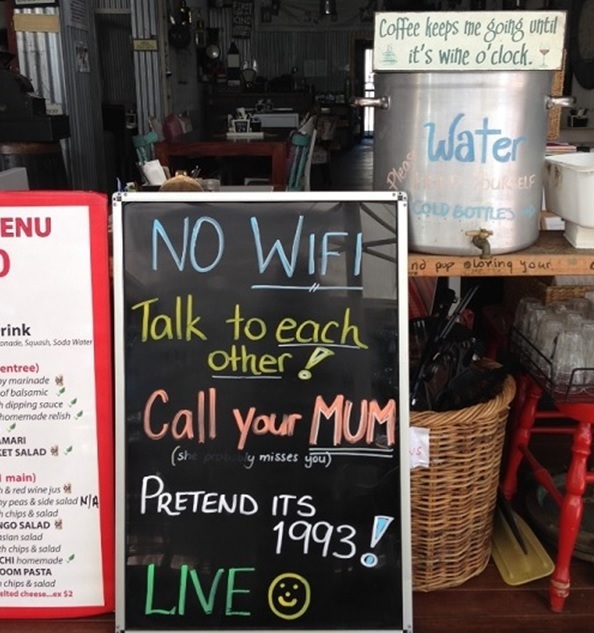 Share this article