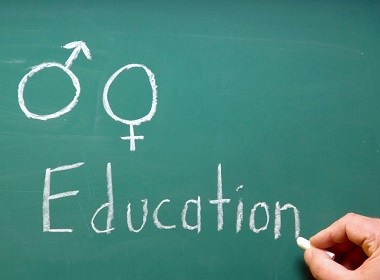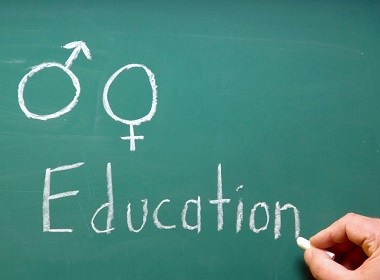 Sex education became a usual subject in high schools in western countries, but Ukraine has only minor mentions in the course of human health concerning gender differences and sexuality. There used to be lessons of sex education in schools in 1990s and early 2000s but because of protests on religious grounds they were cancelled, Segodnya reports. It was the time when religion in countries of the former USSR became more popular.
Ukrainian parents are ready for sex education lessons at schools
Teenage pregnancies are one of the issues that could be prevented, adepts of lessons on human sexuality believe. There were nearly 5,000 cased of birth to mothers under 18 in Ukraine in 2016 (4,890 cases), including 118 mothers under 14.
911 young girls who fell pregnant chose to have an abortion.
Even though there is a lot of information online, teenagers often has no knowledge of basic things, doctors report.
The current curriculum at schools includes little practical advice, except for tips to avoid wearing short skirts for girls.
There are no programs on these topics on Ukrainian TV channels.
Psychotherapist Lisa Gotfrik believes that the first information about sexuality kids should be getting from parents in the family.
Even now in families of gipsies girls are getting married at 13-14. It's normal for a gipsy woman to have 5 kids by the age of 25.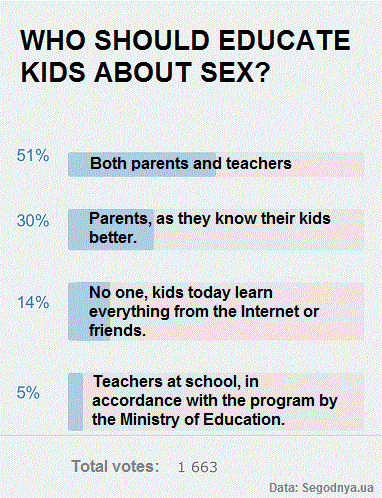 Poll: Who should educate kids about sexuality?
An online poll by Segodnya shows that over half of respondents (51%) believe both parents and schools should educate kids about the science of love making.
5% of respondents would like schools to do all the work on sexual education of the young generation.
30% think the job of explaining the intricacies of human sexuality should be left to parents, since they know their children better.
14% of survey participants think there is no need for parents or teachers to bother with explaining sexuality to children, since they are able to learn everything they need from Internet or friends.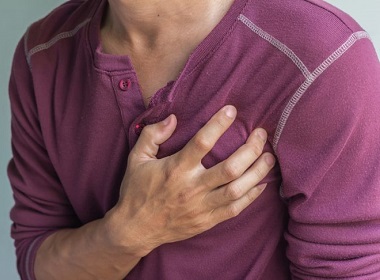 Read also: