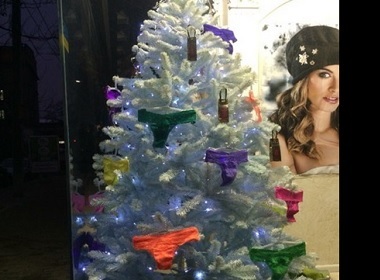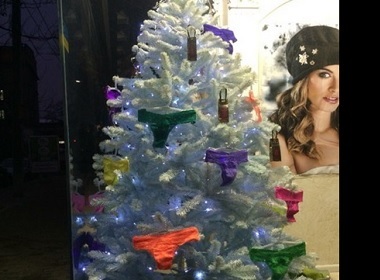 Ukrainians are amazed about a Christmas tree decorated with women's underwear, which appeared in a window of one of Kharkov's stores on the main street.
The shop on Nauka ("Science") Avenue decided to either save on decorations or attract attention of potential buyers by putting up a frosted tree sporting colourful female undies among Christmas lights in the stop window, Depo.ua reported.
The appearance of the tree caused an avalanche of reposts in social networks and a flood of comments, which are surprising given the innocent nature of the display.
Comments on The Christmas Tree of Undies
Pavel Pershin commented, "This is Kharkov, baby."
Rostislav Mironenko asked, "Why there are no socks?"
Others complained that the undies were too plain, and should be more eccentric, demanding lace. The third pointed out that adding bras might make the display more lively.
In fact, a Christmas tree decorated in undies is not a novel idea. The Thrifty Mom website posted it with a great success a while ago under the heading, "Elf on The Shelf". Their tree is decorated in colourful kids underwear.
The tree in Kharkov appears to be decorated in a balanced and colour-coordinated fashion.
What is surprising is the avid reaction to a differently adorned ultimate Christmas symbol.
Read also: