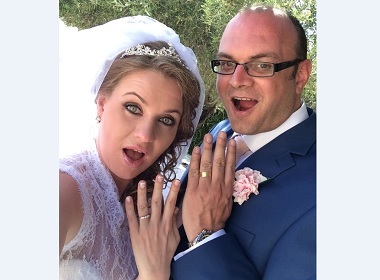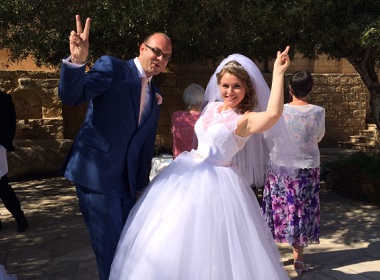 Summer season brought us long days and short nights, moonlight walks, and garden bench cuddles for new lovers. It also brought us the first summer love story of our clients, Elena from Russia and Darran from UK, who sent us their striking and energetic wedding photos, and a genuinely romantic story of their meeting.
The lucky couple men on EM in August 2013, and they quickly fell into the pattern of daily chats and Skype calls. It was later in November that Darran asked Helen if she would become his girlfriend, to which she said, "Yes!"
Bonfire hearts
After a couple of real life meetings, Darran proposed and Helen accepted. This was just a day before her birthday a year ago in June 2014. Wedding planning and preparations, New Year celebrations in Belgorod, Russia, and holidays in London, UK, how the months fly!
Finally, the day of the wedding came on 21 April 2015. Gorgeous Cyprus was selected as the backdrop for this marvelous occasion, where a lady registrar from the municipality pronounced our sweethearts as husband and wife.
In Helen's words, "If you want to know how do we really feel, just listen to the song Bonfire Heart. This is the song about us and our love."
Darran admits, "It was the best £60 odd pounds I have ever spent." With Elena's Models memberships including unlimited chat and emails at no extra cost, it's quite easy to build a great connection. The ability to share contact details freely adds to the simplicity of direct and uncensored contact.
The newlyweds plan to live together in London, UK.
Meeting someone online
Hunky James Blunt states in his love anthem:
"Everybody wants a flame, but they don't want to get burnt."
These words resonate with dreams and aspirations of many love seekers. We all want to find love but we are afraid that we might fail. Truth is, if you don't try, you'll never have the chance for a spark. Dating online you may meet more people than simply hoping that love may find you. Falling in love with a special person who treasures you for who you are is the greatest adventure and reward. Dating sites give this opportunity to thousands of people worldwide.
In the words of Blunt himself, the message is simple, "People like us, we don't need that much. Just someone to light the spark in our bonfire heart."
If you "have been putting out fires all your life", might be it's time to open your mind and let new discoveries unveil?
(Read the complete story of Helen and Darran)
James Blunt – Bonfire Heart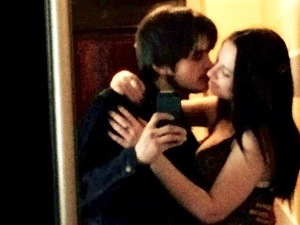 Read also:

>> All blog articles

Share this article