You are definitely aware that today is Valentine's Day. Even though in Russia it has been somewhat pushed back (they have their own romantic holiday — "The Day of Family, Love and Fidelity" on 8 July), people still remember about Valentine's day and if you have a lady friend whom you met on Elenasmodels.com, she is certainly expecting something special from you, her valued admirer.
Top-5 Valentine's Day tips for long distance relationships
Even if you have nothing prepared, don't despair. With these tips, you will be able to pass the test with flying colors. You don't even have to spend a cent, if you don't wish! Here are our best tips for free (or almost no cost) Valentine's Day surprises for your online sweetheart.
1. It's not the cost but the effort that counts.
The sentiment above is an actual Russian proverb, so if you have not given any thought as to what to design for special ladies you've been talking to, you have all the time in the world to deliver something amazing that will meet their expectations. It's not hard!
2. Flowers are a must.
Not only it's Valentine's Day staple, but Russian and Ukrainian girls are totally in love with the idea of a man giving them flowers. They have been trained by the whole cultural paradigm that a man who gives flowers is a generous gentleman by default.
Naturally, you have no time to arrange a flower delivery now. But it's OK. There is another date coming, 8 March—International Women's Day, which is a public holiday in Russia. If you still wish to make up for the lost time, order gift delivery for your special lady now for that date.
But what to do with today's celebration and her expectation of a bunch of pretty blooms from her favorite admirer?
Follow the trick of PPL brides: Go to a florist and take a photo with the best bunch of flowers you can find. You can also grab some red hearts or slogans to put in the picture. This can be also done in any large supermarket, as they stock this type of stuff for today's celebrations.
If you feel bad about borrowing props for the picture, buy the flowers. Then take a picture at home. Then you can send the picture of "her" bouquet every day (with your face in the frame), how it's doing. It will be rather cute.
3. Get the most stunning greeting card.
Pick a card at a store or look up online. You can take a photo of the card on your mobile and then put some words on top of it in a graphic editor (there is one even on your smart phone), if you don't wish to spend any money. Alternatively, you can create one from scratch, using your own photos. Write something personal just for her.
TIP: If you are running flat on ideas, Elena's Models has a lot of Valentine's Day cards for you to pick from.
4. Surprise her with something personal.
Remembering that it's the effort that counts, how about some video greeting from you?
Dress up in suit and tie (this is why), and record some sweet words from your heart, ending your short film with her favorite love song. If you don't know her favorite love song, it's OK; use your own preferred romance track. Make sure there is enough light when you make the video and also the background looks cool.
You may want to make it in a supermarket full of flowers, for example. All you need is just someone to help you, who will play the song on their mobile phone once you finish speaking. Or maybe you can sing? This will be even more appreciated.
Get creative. Read her profile once again and review your correspondence. You will find some ideas, what she likes and dislikes. Don't worry that it may look like you are trying too hard. You cannot overdo romance with Slavic girls!
5. Invite her for a romantic dinner.
Sure, you are miles away from each other, but it doesn't mean that you cannot have a dinner together. Which means, of course, having a meal at the same time, although you are in different countries.
Cook something really nice and dish up 2 portions.
Light candles.
Pour 2 glasses of red wine.
Put on some romantic music.
Now ring her on Skype and tell her you wish she was there with you, and you hope to repeat it again one day when you are together.
If you think it's goofy, you are right. But she will love it! And another advantage, you'll have a nice dinner and some leftovers.
Just don't forget to do something to make her feel special on Valentine's Day. Remember, it's all about the effort you put in!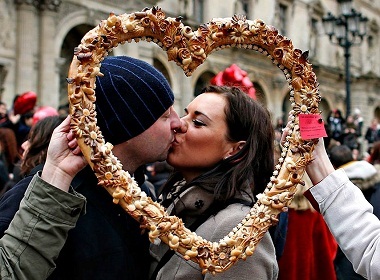 Read also: