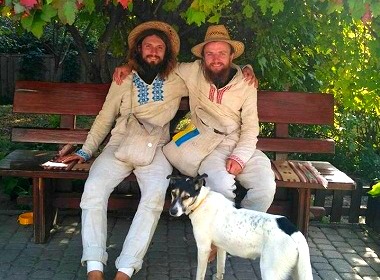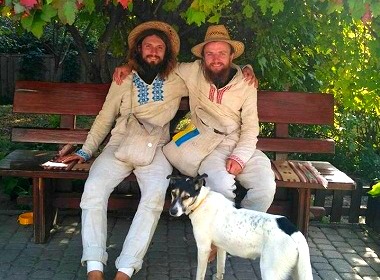 2 Ukrainian guys walked 2,000 km (1,242 miles) across the country barefoot. It took Ivan Onysko and Yuri Reglis 100 days to cover the distance.
Barefoot through Ukraine
The route ran through countless beautiful places of Ukraine.
The guys started their incredible adventure in Uzhhorod in western Ukraine. Kharkiv in the eastern part of the country was the final point of the trip.
As Ivan and Yuri noted, they wanted to promote internal tourism and encourage people to learn more about their own country.
The guys didn't pack any luggage. The only things the two Ukrainians took were:
Mobile phones
Toothbrushes
Passports
And that's all. No clothes, pills or medicine, and no footwear. They didn't even take any money!
The trip
The first two weeks were quite hard—men's feet were not used to barefoot walking. Luckily, it was the only trouble they had to endure.
The whole adventure developed successfully. Lots of people followed walkers on Facebook and sent their best wishes.
What is more interesting, the guys always had a place to stay for the night. Every day they managed to meet someone who offered them a place to sleep and a tasty dinner, Kp.ua reports.
"We have never spent a night in the street and never went hungry—and if we had to ask people to stay the night at their homes, we never had to ask for food. Our country is really cool!" Ivan said.
During the trip, the guys even found a new friend—a cheerful dog they called Bosa. However, the dog was twice as happy. Her new owners happened to be vegetarians. All the meat they were offered the travellers gave to the dog.
From time to time the men met a passersby who joined their trip for a couple of hours or days.
Now that the trip is over, Ivan and Yuri feel a bit tired of instability. But they are filled with new emotions and ideas. One of them is to make a film about their trip and, perhaps, to write a book.
Top 6 places in Ukraine recommended for visiting by Yuri and Ivan
St. Miklos castle located in the village of Chinadievo in Transcarpathian region
An old timber church in Drohobych
St. Michael`s Cathedral in the city of Zhytomyr
The Steep banks of the Dnieper river
Oposhnya village—a pottery capital of Ukraine
Vladimirovka village, Slobozhanskiy National Park in Kharkiv region
Photos: Facebook Prostoboso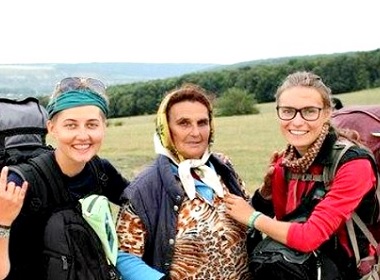 Read also:

Share this article