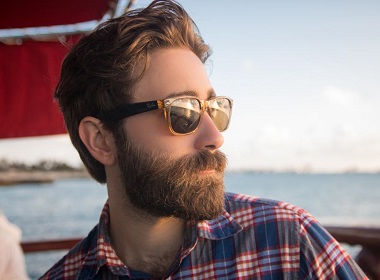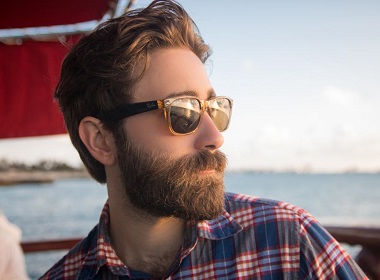 What qualities Russian women find attractive in men? Russia's centre for studies of people's opinions VCIOM asked women from 138 towns what they liked in men the most. Ladies could list as many traits as they wanted. As the result, researches formed the "must have" list of attributes for a guy seeking to conquer a woman's heart.
9 things Russian women find attractive in men
To understand the answers to the survey, one needs to emphasize with the demographic situation of Russia: 86 men for 100 women (11 million more females than males).
The gender disbalance is even sharper in large cities like Moscow or St. Petersburg, where ladies complain about having only 1 eligible bachelor to 10 single females.
This makes it hard for girls to find a committed partner and build a solid relationship. 60% of top-5 qualities (including reliability, decency, and honesty) point to the same characteristic: Integrity.
In the country, where people still believe in wedlock by the age of 25, it's not unusual that single women 24+ feel pressure to pair up. To ensure the marriage will survive, first of all, they want a reliable gentleman.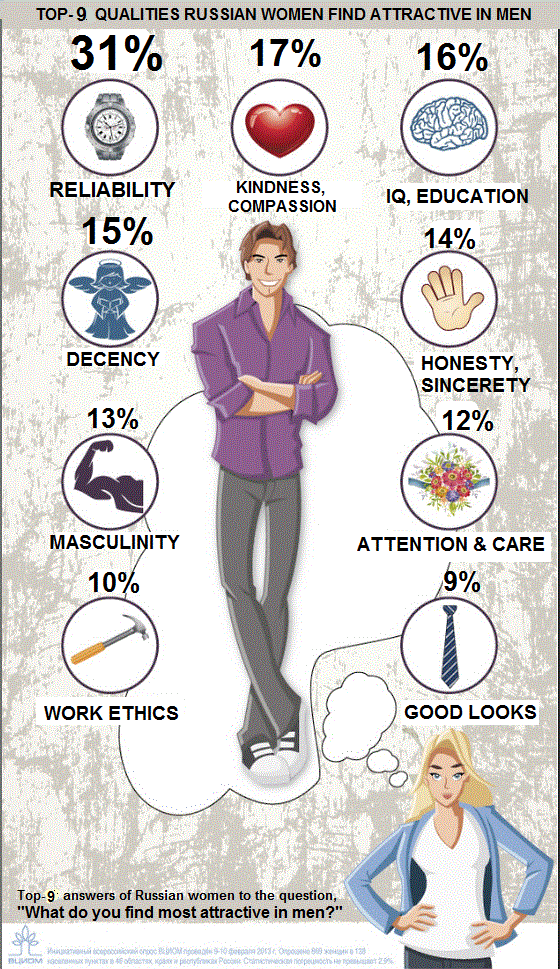 Top-9 qualities that melt hearts of Russian girls
Reliability (31%):

The #1 thing a Russian woman wants to see in a partner is reliability. During courtship, it means persistence.

Kindness & compassion (17%):

Females from Russia highly value kindness, compassion, and responsiveness in a potential boyfriend or husband.

IQ, intelligence, & education (16%):

It's important for ladies to meet a guy who is educated and smart.

Decency (15%):

This is another quality closely related to reliability (#1). In Russia, decency means faithfulness and loyalty to a partner. Most of all, wives are afraid of a husband's

cheating

. In a marriage, a wife is most scared that the husband will divorce her and leave her alone with kids, after finding a younger replacement. There is no lack of willing female contenders.

Honesty, sincerity (14%):

One more dimension of not wanting to be lied to, whether it's about intentions (every Russian girl dreams to "create a family" with a worthy man; they believe a woman can have no other life purpose) or limiting passions to his relationship partner.

Masculinity (13%):

By masculinity Russians mean not only looks but mostly the personality type—decisive, strong willed, a leader. It's the opposite of effeminate.

Attentive, caring attitude (12%)

: The infographics creators selected a picture of flower bouquet to illustrate this point. Attention in Russia inevitably includes gifts and presents that are expected during the early courtship phase, which is officially called "the period of flowers and candies".

Being hardworking and having strong work ethics (10%):

Girls seek an admirer who is able and willing to provide for a family, thus the focus on career building capabilities.

Appearance and good looks (9%): Looks are still important for ladies from Russia but scored only #9 position on the list. Interestingly, the illustrators picked a tie as the symbol of "attractive appearance". Just as masculinity means decisiveness and leadership qualities for a Russian girl, a man is considered good looking if he dresses elegantly. (This is why Slavic women are crazy about men in suits.)
In the research by VCIOM, 869 women from 138 cities and towns of 46 regions of Russia provided answers to the open question, "What do you like in men most of all?"
Conclusions
With this type of fundamental values revealed by the statistics, you can see how the way you approach the courting process has to be different in case of Russian women, as compared to dating western girls. Whatever you thought you knew about dating, could not only be useless here, but hurt your chances.
The dating terrain changed dramatically in the last 10 years with the arrival of smart phones and advancement of apps and social networks.
Old rules of dating Russian women no longer work.
It's a completely different environment and ways of relating to each other that we face today. Letter-writing is out; video calls and chat apps, staying in constant contact is in. You need to know what to do to follow this secure path to success.
Get private insights how to win hearts of Russian beauties in the most up-to-date VIP Dating Coaching Manual for Men by Elena Petrova.

With this information, you will be able to get the girl you always dreamed about, who will stick with you through thick and thin. Save time and money, and get a better quality partner in your search for The Love of Your Life
Read also: