Ukrainians are eating less, according to the report published by the government statistics website. Overall food consumption in Ukraine dropped significantly in 2015 as compared to the previous year.
Food consumption in Ukraine: People are eating less
The experts estimated that an average person in Ukraine consumed 1,049 kg (2,312 lbs) of food in 2015, which is 5.6% less than in 2014. This applies to all major food groups including vegetables, fruit, grains, and proteins, Finance.ua reports.
Per capita consumption of fish fell by 22.5%, from 11.1 kg (24.2 lbs) to 8.6 kg (17.6%).
The amount of eggs consumed decreased by 9.68%, from 310 eggs per person a year to 280.
In 2015, a regular Ukrainian citizen consumed around 50.9 kg (110 lbs) of meat—5.9% less than in 2014.
Vegetable consumption, meanwhile, fell by 1,47%: 160 kg (352 lbs).
The intake of fruit and berries dropped by 2.7% to 50.9 kg (110 lbs).
Per capita daily amount of calories has fallen together with food consumption. The energy supply declined to 2,799 kcal, which is 4.8% less than in 2014.
Thus, in 2015, the intake of iron, which is necessary for the body's growth processes and correct work of the immune system, decreased by 6%.
The consumption of retinol fell by 6.1%. Retinol helps in increasing the body's immunity to fight infections and ensuring healthy eyes and bone development.
Ukrainians received less Vitamin B-2 (riboflavin), which is responsible for maintaining healthy blood cells, protecting skin, maintaining a healthy metabolism, etc.
Unfortunately, it means that people in Ukraine receive fewer vitamins and other nutrients that play essential roles in maintaining good health.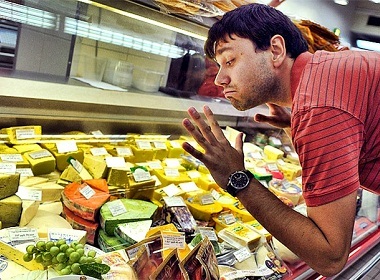 Read also: