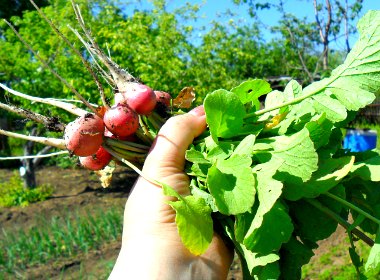 Staff author: Adilia S.
Economic crisis in Russia hasn't reached the bottom yet. Russians seem to have lost faith in a better future as they see that the situation keeps getting worse. Russian people always had a penchant for growing their own food but today even the folk that don't find gardening particularly attractive are forced to do it, in order to supplement their needs. 46% of Russians reported to have been growing their own vegetables, berries, and fruit.
After conducting an extensive study sociologists arrived at the conclusion that more Russians are affected by the crisis today than before. Olga Grekova who wrote the report for MK.ru is rather pessimistic about prospects of a speedy recovery of the Russian economics.
Economic Crisis in Russia
55% of people say that the crisis had a negative impact on their lives (45% of respondents stated that in November 2015).
16% of respondents experienced pay cuts.
12% of people say that employers were late in paying wages.
Almost one third of Russians dramatically lost their earnings, the director of the International Institute of Market Research Alexander Demidov says.
Price rises push people to spend more on food. It is estimated that people in Russia spend up to 46% of their income on food.
Other things that people have to buy despite the rise in prices are:
Medicines
Electricity, water bills
Internet and other types of communication
Pet food
To save money and cut expenses, more Russians started growing their own vegetables and fruit than in the years before. According to the research, the number of people growing their own food increased from 39% in 2014 to 46% in 2015.
It is expected that even more Russians will grow fresh produce for their own consumption this year.
Their ration includes potatoes, carrots, beetroots, cabbage — the set of products for Russian favourite soup, borscht.
Because of the short Russian summer, people grow seedlings at home first and then plant them at their countryside plots, once the soil warms up enough. Right now windowsills of many Russian apartments are packed with pots full of seedlings. Others prefer to simply purchase seedlings in season. Plots of land in so called "gardening communities" are relatively inexpensive. Plots wary in size from 400 (about 0.1 acre) to 1000 square meters (0.25 acre). Some people only have small sheds on the plots, others build a house that can be lived in. Gardening communities are located within 1-3 hour drive from cities. Most Russians don't own cars, especially the ones on the bottom of the social ladder. They reach their countryside homes (called "dacha" in Russian) by trains.
Sales of cereals, sugar, flour, pasta have increased. At the same time, fewer people are able to afford more expensive food such as meat, fish, seafood, and hard cheese. Russians are forced to purchase cheaper food.
For instance, sales of white and yellow cheeses dropped by 8%. However, sales of cheaper cheese spreads increased by 10%.
The experts of All-Russian Center for Study of Public Opinion have been monitoring behaviour of the population since autumn 2014. The experts believe that Russia is still in crisis. They state that only now people realize the true scope of the crisis. The emotional state of people in Russia is characterized by depression and pessimism.
55% of those interviewed confessed that they do not believe that the government has a plan for the economic recovery. People have little trust in authorities after years of false promises about a speedy economic recovery.
Analytics came to a troubling conclusion. People do not make large purchases, do not borrow money and withdraw savings from banks. It may lead to decrease in sales, weaker manufacturing, pay cuts, job cuts, etc.
The author Olga Grekova believes that the level of poverty in Russia will be increasing during the next 3-4 years.