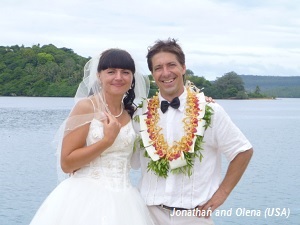 You probably have heard about blogging and bloggers. Well, we start having our own "top bloggers" on Elenas Models — people who make others laugh and smile with their ideas and posts. Posting a blog is very easy: just type a message and it will become instantly available to all your contacts, i.e. people that you have exchanged mails or chats with, or had a positive answer to an expression of interest. These people are your "Contacts", and all of them will see your new blogs.
At first there were more women blogging but now guys are starting to realize the advantages of a personal blog, too:
It's instant;
You don't have to type 10-20-100 messages with the same content, just post a blog;
It helps women to remember you and get used to you;
You can put quite a lot of content within the 300-character limit but it's not too much and easy to read.
(Here is more information about posting your own blogs on EM.)
Here are some cool posts we have picked up this week from guys and girls.
Cool blog posts from guys
Patrick:
Today is my birthday – I have always been older than my teeth, and I am still the same age as my tongue!!!
Patrick:
"If music is the food of love, then I will play so that you are never hungry".
Alex:
The future gives us no guarantees. All we can do is to prepare and hope. That is all that we have and it has to be good enough.
Jay:
A person that believes building a relationship without constant communication is one that that will never find a true loving relationship.
Jason:
I am happy, I was able to read through the full Russian alphabet without looking up the letters for the first time! Now I intend to learn it in reverse!
Cool blog posts from girls
Ekaterina:

It takes a strong man to pursue a successful relationship with a foreign lady. It's hard enough to build a good relationship even in your own country. Even harder to do it when you and I are thousands miles apart. You need to be strong, serious, kind, honest, gentle, caring and so many things.

Katia:

the world is still on fire and no one still could save me but you 🙂

Margarita:

Always remember that in one night you can not change your life. But for one night you can change the thoughts that will change your life forever

Alla:

Just find a source of inspiration for yourself and make her happy.

Lidiya:

People are like window glass. They sparkle and shine when the sun is shining, but when darkness reigns, their true beauty is revealed only by the light coming from inside. You'll always be the only one and warmed by the gentle light of my love.

Lora:

I have Aloha spirit and would like to share with my partner a lot of warmth and tender sweet moments.

Read also:

>> All blog posts (in English)

Share this article