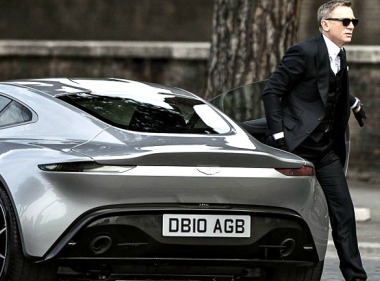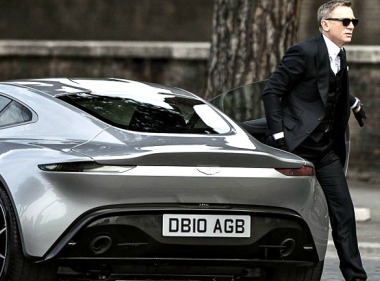 James Bond's Aston Martin DB10 from the movie Spectre may become the most expensive car in the world, when the unique vehicle is sold at the auction in 2016.
James Bond is the epitome of a gentleman that every lady dreams to meet, and the agent 007 has dated his fair share of Russian and Ukrainian women over the years, while driving amazing cars. Ukrainian Olga Kurylenko was the main female lead in 2008 James Bond film, Quantum of Solace, playing Camille Montes along Daniel Craig's character. Bond franchise acquired a long list of Russian and Eastern European female protagonists since its inception.
Aston Martin produced 10 specially designed vehicles for the latest 007 movie Spectre. It is not a serial production, and the cars don't even have the roadworthy certification, which means the lucky owner of the only Aston Martin "Spectre" DB10 that is to be sold will not be able to drive it on motorways, but only show it off to friends.
An international auction will be hosted in order to find a new owner for the iconic car, which was driven by Bond himself.
James Bond's Aston Martin DB10
Aston Martin DB10, driven by Daniel Craig in the movie Spectre, is tipped to beat records of previously sold luxury one-off vehicles.
One of the ten cars that were used in the movie was put on display in Dubai last week. Apparently, the organizers believe it may be just the location for the future owner. The exemplar on show, unfortunately, is not at the best condition after a dip in a channel during the movie shooting. 4 other DB10 vehicles were written off. It is not the one that will be auctioned, though.
Spectre is the first movie production that had a car specially designed for Bond by Aston Martin.
There is no official reserve price for the auction, funds from which would go to a charity.
Neil Slade, Aston Martin's general manager for the Middle East, stated that he would be able to sell 50 cars like this for £1 million ($1,52 million US Dollars) each, The International reported.
According to Slade, the figure of £5 million ($7.8 million USD) is not out of the question. Just a little bit over that number, and James Bond's DB10 may become the new most expensive car sold.
Previous record sales of luxury street-legal vehicles include:
Mayerbach Exelero: $8 million
Bugatti Veron: $2.4 million
Collectors cars were sold previously for much more than that, with some Ferraris fetching staggering $30 million plus at auctions, which some eager admirers of rare vehicles were happy to pay.
Future Models
Aston Martin's DB11 will be sold commercially, available from the next year.
150 special DB9 models with Bond branding are offered for sale. The price for the DB9 GT Bond Edition is £165,000 ($253,000), and in contrast to the "Spectre" model, it is roadworthy.
History of Bond Cars
James Bond has driven the most luxury cars over the years in the films by the successful franchise. Bond has driven BMWs, a Lotus Esprit which was bought by Tesla Motors CEO Elon Musk, a Toyota 2000GT sports car, and even an AMC Hornet.
However, it is the Aston Martin that become synonymous with James Bond. The previous Bond film, Skyfall, featured DB5 model.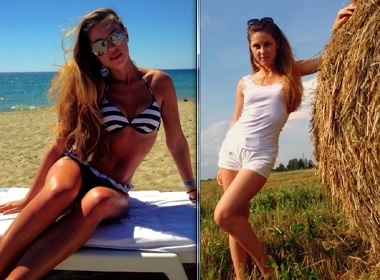 Read also: