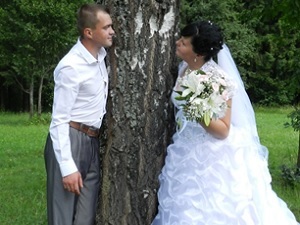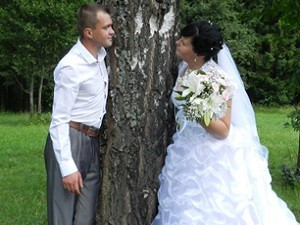 Guest author: Kira Arsenieva (Russia), married 2 years
Within a few days my boring and uneventful life came to a screeching halt. Just a few days ago I had a job I hated, and a man I stopped loving, but out of a habit kept living with.
The initial infatuation dissipated quickly, but living together was convenient. At that time I had been working in Moscow, Russia, and rarely visited my home town in Smolensk region.
The wind of change
As fate would have it, the change came on my infrequent visit to home. I got a call from a girl who told me that she had been sleeping with my boyfriend for more than a year, and she didn't want to live a lie anymore, and asked me to let him go.
Surprisingly, I didn't feel anything. I had no desire to find out what happened. I simply packed my bags and left. This is how I found myself in my home town, without a job, things, or money.
I arrived in my home town with nowhere to go. To ring my parents, and try to explain to them what happened, and ask to stay at their place was beyond my wits, but I had nowhere to go. I was sitting on a hard wooden bench at the train station, as I got another phone call.
It was my childhood girlfriend, who I have not heard from for a few years. I told her what happened, and she offered me to stay with her.
It was late at night as I turned up at her place. We talked the night through, and she suggested me to begin working at her father's company, starting tomorrow, as they needed someone to fill in. I used to work there before leaving for the bright lights of the capital. I thought of the other variants I didn't have, and said, "Sure".
After staying with my friend for a few weeks, I rented a cute studio apartment with a large balcony, encouraging deep thoughts and soulful conversations.
The meeting
Maxim came for a job interview at the department I managed. I had such a strong feeling about him straight away… I totally hated the guy. I am not talking about his appearance. It was his conversational manner, his walk, his gestures, the way he carried himself, and so on.
It's possible I hated the whole male gender at the time. Unfortunately, he was offered the job, and it was my duty to teach him all the intricacies of his new position.
As we started working together, we had to converse, and this is where I discovered the great number of similarities between us. Our taste in music, literature, and, of course, movies. I must say, before I met him, I never came across a guy who would talk for hours about art-house movies of Renata Litvinova or Kira Muratova.
But talking was all we did. I had no desire to have any relationships whatsoever. I was enjoying my new found freedom, made tons of new friends, re-connected with the old ones, and for the first time in years I was doing what I wanted.
The big disaster, and the beginning of happiness
Things took an unexpected turn one fateful night. I came home after spending about 24 hours straight at work, finishing the quarterly report.
I arrived just in time for the start of a flood in my apartment. If you have ever been a renter, you know what giant problems it can cause. My plumbing knowledge was close to zero, and it was close to 12:00 midnight, so calling a plumber was anything but hopeless.
In the haze of desperation, I called the only man on my radar who might be feeling obliged to assist at this time of the night — my subordinate, Maxim. I hoped he would be able to help, or at least find someone who could be useful in mitigating this total plumbing disaster.
He arrived in 15 minutes. All the time waiting for him, I was trying to cover the hole in the pipe with towels. I had been so mentally exhausted that the simple idea of turning off the water escaped my consciousness.
The break had been quickly liquidated, and Maxim, swimming in my boundless gratitude mixed with the unusual for me sensation of my own foolishness, started helping me to fix the consequences. At 3 am we realized that we were extremely hungry, and ordered a takeaway sushi.
That night I didn't get to sleep. We talked, watched some silly movie. And when he left in the early hours of the morning, I realized that this was MY man. To comprehend this strange feeling is only for the ones who experienced it.
The time of flowers and candies
The dating-courting period followed. We were strongly attracted to each other. We were spending together all the spare time we had — walking, talking on the phone for hours, or just hanging out together.
The first kiss, which we both were looking forward to but didn't want to act upon too hastily, happened on a cool autumn evening in a park. We were arguing about something at work, something totally silly and pointless, and out of nowhere my future husband, in the middle of a heated argument, grabbed my shoulders and kissed me. This was the moment I understood the expression, "feeling weak at my knees".
After that, things developed with a super-sonic speed. In a few days he moved in with me. I was simply put on the spot when he arrived with his bags on my doorstep.
I loved living with him! We were doing everything together, and didn't want to part for a minute.
The marriage proposal
I was not thinking about a marriage at the time. I simply enjoyed being with Maxim. But he had his own opinion on the matter.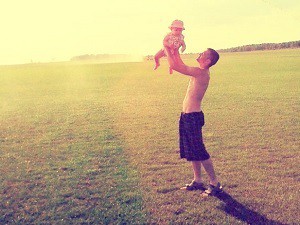 The long weekend in May we decided to spend with friends by a lake in the country side. It was our usual weekend routine, to set up a camp site some place beautiful for a few days. We would sit by the campfire, singing songs and playing guitar. These moments took us away from the worries of the world.
Maxim woke me up early in the morning and asked me to get out of the tent. He obviously had been preparing for that moment, as he had 2 wreaths made of wild flowers in his hands. We walked barefoot on the wet grass, and wandered quite far away from our camp site. He got on one knee and gave me the ring. Just silently gave me the ring. My future husband was so nervous that he forgot the grand speech he had been working on for many days. So, in fact, he didn't even ask me to be his wife.
Of course, I said, "Yes". It was the most romantic event of my life.
The wedding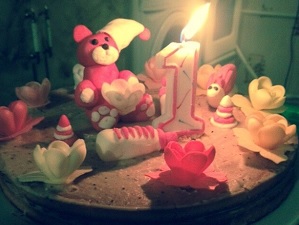 We had no desire to show off, so our wedding was very simple. We booked a small cafe and invited only the closest family and friends.
After the wedding we went for a honeymoon on Lake Seliger, Russia. This is where we found out that we were going to start a family. I really wanted to have a son, and my husband dreamed of a baby girl. The whole 9 months we didn't know the gender of our future child, as the tricky thing was turning away from the ultra sound, and didn't want to reveal it.
P. S. St. Valentine day update. Our daughter is now 1,5 years old. We have bought a small aged house, and we are busy renovating it. We are happy, and still love each other, and try to spend as much time together as possible.
More St. Valentine stories by real Russian and Ukrainian women:

Share this article