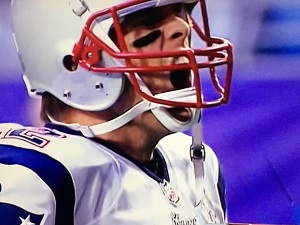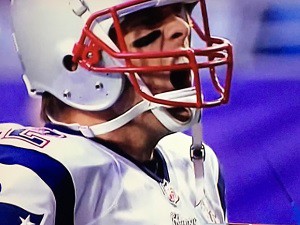 For 2015 Super Bowl New England Patriots were picked as a favorite over Seattle Seahawks by a slight majority of sport commentators, expecting them to fight fiercely to end the dry spell. But overall, it was considered anybody's game. Seahawks had 3 players with injuries: Richard Sherman, Earl Thomas and Kam Chancellor.
9-time Grammy awards winner John Legend opened the pre-game performance, with Idina Menzel following with a perfect National Anthem score, visibly happy at her successful completion without the proverbial forgotten verses or pitchy notes, typically pursuing singers on the biggest night of the year.
Before the game, Pete Carroll of Seahawks in his 5th season as the head coach, said he didn't give any extra guidance to his players for the Super ABowl game, telling them to simply give it their best, as for any other game of the year. "My word to them is always the same", insisted Carroll.
This guidance is probably what any of us could take on board: give every performance your very best, every day, training or competition. In communication with women, remember that, too. Don't be lazy to change into your nice shirt or shave before talking to your lady on Skype. Small things make a big difference. The common reason why guys dating Russian and Ukrainian women online are successful is that they simply think through their dating game better than others.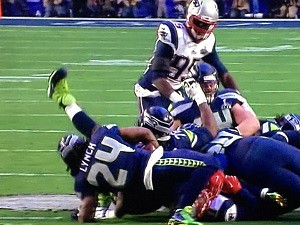 With the first quarter ending in 0:0 score, Patriots were the first to score in the second quarter of the game. With the injured players visibly distressed, Seahawks' errors allowed New England team to break their defence and dart to success, leading 7:0. However, by the end of the second quarter, Seahawks managed to equal the score to 7:7. But the on the very last minute, the brilliant touchdown and the following precise throw by Rob Gronkowski brought the score to 14:7 with Patriots confidently leading once again. They did, in fact, maintain the overall advantage through the first half.

Not so fast though. With just 6 seconds left on the clock, and after a long instructional break by the trainer Pete Carroll, Seahawks managed to perform an impossible trick, scoring a perfect touchdown just 2 seconds before the end, with the boards shining 14:14 into the faces of Patriots fans. This last minute of the second quarter was truly sensational, and demonstrated, once again, how important is the game plan to score. (Pay attention guys: the game plan. Yes, you need it, too, when dating women. 🙂 )

With this, the teams retired, and beautiful, talented, amazing Katy Perry took the centre stage, entering atop a shiny mythical creature singing her award-winning "Roar". Bringing tunes from her all-time favorites such as "I kiss a girl", Katy was excellent. I was lucky enough to see Katy performing live during her Prismatic world tour, so when Perry was announced as the centre stage act for Super Bowl, it wasn't surprising — she is at the top of her singing and acting form right now, a real shooting star, just as one of her acts during the Super Bowl half time. Missy Elliott and Lenny Kravitz supported the brilliant show.

After the magnificent entertainment and fireworks, the two teams returned refreshed to their glorious fight for Super Bowl 2015. Within the first 4 minutes of the 3rd quarter, Seattle Seahawks scored once again, for the first time in the game leading the scoreboard 14:17. Another mistake by Tom Brady saw him leaving the field, and Seahawks took advantage with a touchdown and an extra point 4 minutes before the end of the third quarter, 14:24.

The pretty equal fight continued until Patriots scored a touchdown plus an extra point just 8 minutes before the end of the fourth quarter, 21:24. Most Super Bowl games in the last 10 years were 3-4 point wins. With 2 minutes left on the clock, New England jumped ahead with a beautiful touchdown and a calmly gained extra point, 28:24. What a great game! What a great comeback!

Seattle's Carroll called for a 30-second timeout. After short instructions by the coach, Seattle astoundingly managed to end in the 1 yard zone, with a sure-fire touchdown seconds away, after a player on the ground picked the ball.

Seahawks, for the moment, seemed to be unstoppable. Being so close and only needing a second to complete their attack, only a miracle could prevent a touchdown.

However, the miracle it was: Malcolm Butler of Patriots, spectacularly picked the ball from Russell Wilson on the goal line, ending Seattle's hope to score and effectively securing his team's crown. With only 18 seconds on the clock and Patriots possessing the ball, emotions took over and spectators witnessed a few punches thrown by Seahawks, the brawl as unglamorous as remarkable the overall game was.

So many players ordered off the field as a penalty, the final seconds couldn't change anything. Patriots took the prized title of the world champions 28:24. So many last minute losses, so many last minute gains. A great game and some great lessons to be learned.

The biggest lesson is probably that one small thing can change the course of multiple victories. Tables turn. Even if you are not a star, you can become one in a second with just one right move at the right time. The game plan matters.

Thinking of today's game, imagine yourself on a winning streak: met a great girl, talked to her for 2 months online, set up a meeting in Ukraine to meet her… and decided to "check" on her just before your visit, making her to feel like a criminal, blowing it off. This can happen. This is why, in any event when dating women online, a mistake can be crucial. One wrong turn, and a carefully mastered victory can slip out.

Within a few of weeks, we are releasing the much anticipated VIP coaching package on Elenas Models, which can become your very own winning game plan. Keep an eye on announcements, and remember: one small thing done well can make a big difference in the game of love!

Read also:

>> All articles (in English)

Share this article