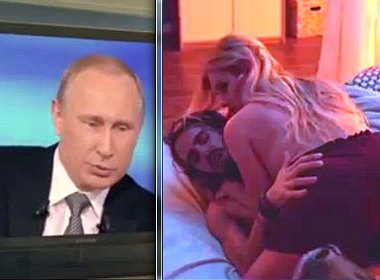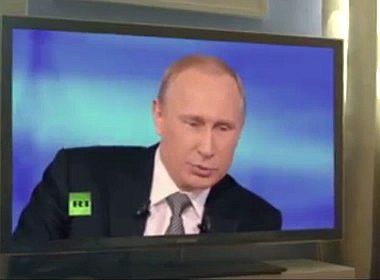 President of Russia made an appearance in the new viral music video named "Siski" (Boobs). The new single by the group Leningrad surfaced online on 1 September but has already attracted over 3 million views on YouTube.
Russia is in full swing towards parliamentary elections on 18 September 2016. The appearance of the most prominent Russian politician in the video became an instant topic for debates in the media. Russians love their President and some authors complain about the use of his image in a short film about scandals and drinking.
Recently we reported about Donald Trump in a Soviet comedy. Famous politicians in comedic performances seem to attract public attention.
How Putin ended up in the video about boobs, booze, and butts
In the video, a young woman arrives home to find her boyfriend in bed with another girl. The betrayed lady believes that the reason why her boyfriend cheated on her is because of her small breasts.
After being consoled by her female friends, the girl goes into a spiral of partying, which brings her no relief. Crying her heart out to various listeners doesn't help either. But when she watches president Putin on TV making a speech, it makes an impact.
"If we are going to expect miracles from the Golden Fish, then we can find ourselves, like in the Pushkin's fairy tale, in front of a broken trough at the end. Better we roll up our sleeves and work, by ourselves," Russian president states on screen.
"Thank you, Vladimir Vladimirovich," the heroine whispers.
After that her transformation begins. She signs up for gym classes, colours her hair dark and gets a stylish cut. After meeting a handsome young guy at a restaurant, she wakes up next to him in the morning. He tries to get affectionate with her but she is shy. She asks him about her breast size, whether he thinks it's too small. The guy offers to pay for her breast enlargement surgery, and the girl looks at the scissors by her bedside, Basic Instinct style. Then he adds, "But you have a great butt", which makes the girl happy.
Leningrad
The founder of the group, Shnur (aka Sergey Vladimirovich Shnurov) became a household name in Russia with the recent hit "Exponat" (The Exhibit). The video was released on 13 January 2016 and collected over 87 million views on YouTube.
The new music video features the main heroine of Exponat, now heavily pregnant but still drinking champagne by bottles, while trying to comfort her heartbroken girlfriend.
Another creation by the group depicting the infamous Russian habit of heavy drinking, "In Piter—drink", scored only 20 million views since April 2016.
Shnur's critics complain that he only shows the bottom of the society and real life in Russia is not like this.
Fair use
According to the Russian legislation, it's allowed to use up to 15 seconds of footage in video productions with no need to request permission, MK. ru reported. Thus the journalists believe it was legal for the group to feature Russian president in their production.
Comments by users
Russian users entered into a heated discussion in comments about the value of butts vs. breasts.
"Maybe I am strange but I always liked girls like the heroine of the video… Can't stand females with sizes D or DD… maximum C," a guy commented.
Ivan Radionov chimed in: "Women in general attract by their butts not by boobs. That's why a flat chest is not a reason to feel sad."
Karramba Sheppard stated: "Turn it any way, if the face is hideous, no boobs or butts can help!"
Video "Siski" where words of Vladimir Putin transform a girl's life
The founder of Leningrad Sergey Shnur is known for his scandalous texts and videos. The new song promises to become a hit alike "The Exhibit".
Watch the new YouTube hit and let us know what you think!
Photos: Screenshots
Read also: