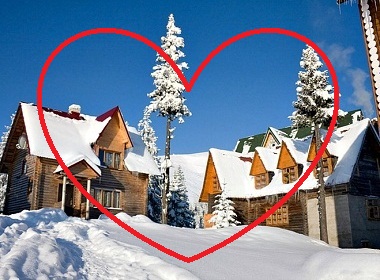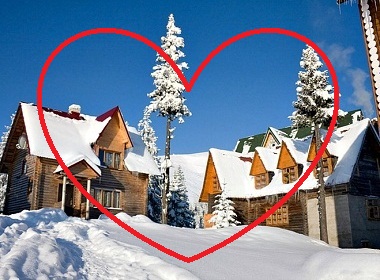 Guest author: Irina Gnatyuk
The day of 14 February my boyfriend and I celebrate every year. Although usually we simply have a classic romantic dinner at home or in a restaurant and exchange some cute little presents.
Vacation in the Carpathian Mountains
But one year his and my vacation happened to be in February, and we decided to spend it in the Carpathian Mountains in Ukraine.
Since we are not into winter sports, we simply rented a room in a small village. We hiked in the snow-covered hills and forests, enjoyed the local cuisine, and completely forgotten about the big date coming up. At least, I forgot.
One day in the morning my boyfriend suggested that we go for a walk. He sounded somewhat mysterious and promised a surprise for me. He walked me confidently through the narrow paths in the woods until we arrived to a mountain top with a wide outlook.
Special Surprise
Among the infinite radiant white snowy space there was a burning fire and next to it a giant bathtub. A hot steam was raising over the tub. I came closer and saw that the tub was filled with water that was heated by stone boulders, which were heated by the fire.
The tub was filled with the famous local mineral water from the thermal springs. Usually the water in springs is about 50˚C (122˚F). For a comfortable bath it should be about 37˚C (97˚F).
We were planning to visit a thermal spring but I totally didn't expect that the spring will come to me!
But that wasn't all. There were some dried flowers and herbs in the water, the ones known as having relaxing and medicinal effect. I didn't even know the names of all of them.
A small table next to the bathtub was covered with a hand-embroidered tablecloth. On top of it were glasses with warm local red wine and chocolates.
As I found out later, my boyfriend asked locals to help him organize this special surprise for me. The village residents brought the bathtub there, set up the fire and the stones, the table and the drinks.
We climbed into the bathtub, which was somewhat weird, given the snowy scenery around us. Sitting in the hot mineral water spiced with flowers and herbs, we didn't feel any cold.
And, of course, we drank some wine, and tasted local delicacies that accompanied it — dried plums with nuts covered in chocolate.
I will remember these amazing feelings and sensations forever. The bright blue sky, the shining white snow, mountain tops surrounding us, the hot steamy water, the dry warm wine, and my beloved man next to me.
After that we spent many other holidays together — bright, noisy, and extravagant. But it is that St. Valentine's Day in Carpathian Mountains that is the most memorable for me.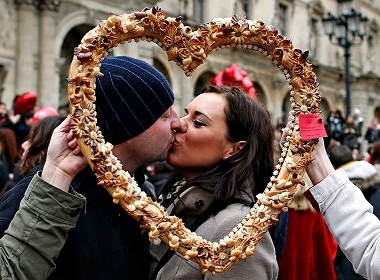 Read also: