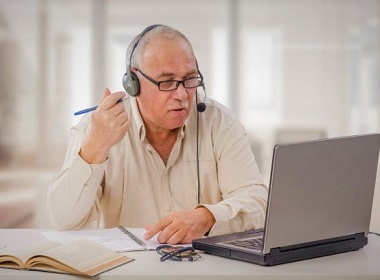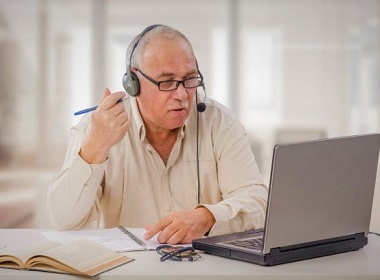 There are free Skype courses of Russian available online. Russian pensioners use the opportunity to chat with foreigners and explain to them realities of life in Russia, as well as pronunciation of words and phrases.
Free Russian lessons online
The idea of pensioners to teach foreigners Russian created opportunities not only for foreigners to learn the language for free, but also allowed local retirees to feel needed again.
The project called "Language of generations" helps foreigners to learn more about Russian history and culture, as well as grammar and pronunciation.
"Teachers" also are able to find out more about life abroad from their foreign students, Lenta.ru reports.
Rausa Valieva teaches Lutz Franz from Malaysia. He is a teacher of English literature in the University of Kuala Lumpur. He loves Russia and decided to learn the language. They were talking on Skype for a few months over Russian winter. In spring Lutz wrote a "Total dictation" test for foreigners and scored 90%.
Valieva is 65 years old and she worked in the building industry all her life. Once retired, she started teaching kids Russian language as a private tutor.
The Russian program started after three founders, graduate students from Moscow, found CAN Speaking Exchange. That program arranged connection of school kids from Brazil with residents of an old age home in Chicago. Lots of Russian pensioners are also lonely, so Moscow students decided to create a similar project, which would give them something to do and open new horizons. Student would get the ability to talk to native speakers and learn about their life.
How it started
The project became possible when the three founders won 300,000 rubles (about $5,000) grant from a charity fund.
Energetic students invited their own parents to work as teachers. They were worried if they could find enough mature people, who are able to use Internet. But it was not a challenge at all. Now there are 120 teachers work in the program, and 3,000 more people, students and tutors, who want to take part in it.
Mentors strive to put together student-teacher pairs who have similar interests. Basic knowledge of Russian is also a requirement for potential students. Teachers (pensioners) are not required to speak foreign languages. They only need to have a reliable Internet connection.
Tutors say that the biggest challenge for foreigners is the correct placement of stress intonation in Russian words.
Every lesson lasts about 1.5 hours.
Now the goal of the founders is to create a website where students and teachers could connect directly, which would speed up the connections.
Despite putting time and effort into teaching their students without any financial compensation, pensioners-teachers feel they are getting a lot from these connections. They also learn about foreign countries and improve their knowledge of certain aspects of the Russian culture, which their students have an interest in.
A social worker reflected, "You can press two buttons on a computer and open a whole world!"