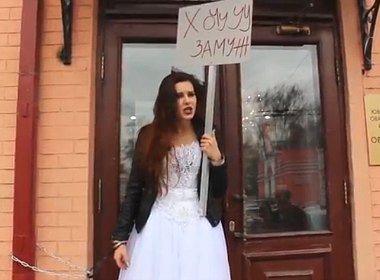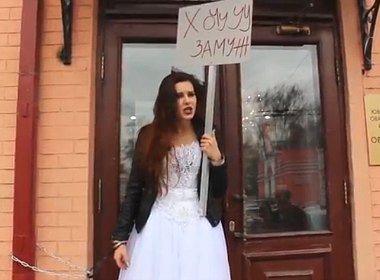 Russian media reported on a woman in the city of Yekaterinburg who chained herself to the entrance of a jewellery store in order to convince her boyfriend of 2 years to set a wedding date.
Russian Bride Who Chained Herself To Convince Boyfriend To Marry Her
The Russian bride was holding a poster, "Wannaaa marry" ("I want to get married").
The incident occurred at 3 pm on a central street of Yekaterinburg on 21 April, Vedomosti Ural reported. The jewellery shop on Malysheva street started to attract attention.
The young woman in a white floor-length wedding dress had a leather jacket thrown on top of it, in order to protect her from the elements. The temperature in April is only 5-12˚C (41-53˚F). The Russian bride insisted she wouldn't leave until she got her boyfriend's confirmation they are getting married soon.
She explained to onlookers that her boyfriend and she had been dating for 2 years, which is a long time by the Russian standards. The girl said she expected her partner to propose during Christmas holidays, on St. Valentine's Day, or on the Women's Day 8 March but he didn't make the move, and she really wanted to get married.
The happening was noticed by a local blogger who reported about it promptly. News outlets posted their stories about the incident.
The young woman who said her name was Lyubov "Lyuba" Yakovleva, stayed chained to the store for a few hours. She stated her boyfriend's name was Mikhail (Misha).
The woman was later identified as an actress of a local theatre and the whole thing was a PR setup by the jeweller, trying to attract attention. The name of the store "Obruchalka" means "wedding ring" in Russian. On its page in the Russian social network VKontakte, the store posted a message that after a few hours Mikhail showed up, proposed and freed his beloved, and told her "the sacred words".
The funny thing is that locals totally believed this could be a real deal. Many Russian women are rather desperate to make their boyfriends commit to a registered union. Being officially married is a status thing for Russian girls, which is why the episode seemed quite plausible.
Video: Desperate Russian Bride Picketing a Jewellery Store
The store employees are seen in the video trying to convince the bride to leave. Onlookers give her tips and advice how to make her boyfriend marry her.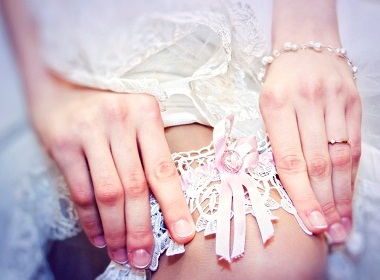 Read also: