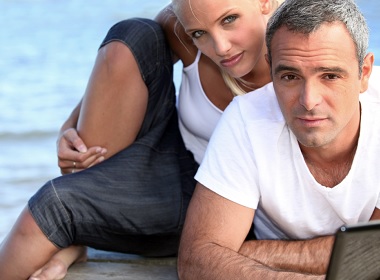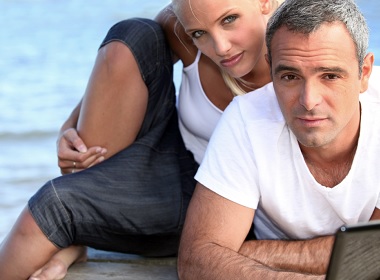 Dating with a large age difference remains a hot topic for users of our site. Here is an opinion of a man who thinks that age difference is no problem.
Dating with a large age difference: "I have dated attractive women 25 years younger than me"
By ARealMan
I'm 55 and have dated attractive women 25 years younger than me locally.
It's not because of my wallet. I'm a decent guy, in good shape, and I know how to focus on the other person and if I think they are special and love them, I truly make them feel it. No games other than the natural attraction cycle and love.
I have been married and at a very young age and later divorced. I have 4 children who are all adults.
Were my adult daughters bothered that I had girlfriends close to their age? Not at all, because they know that I am not an old geezer with bladder control issues.
People in my family live to be 100 years old quite often. I don't feel old, look old or have degenerative medical issues. I don't have problems getting it up. I will bet that I can out cycle and out run you by miles.
The idea that it's perverted for me to have consensual sex with someone 25 years younger than me? There can definitely be challenges… social acceptance by the younger person's family and social circle can weigh heavily.
But when my daughters dated guys older than them, my main concern wasn't their age, it was if they were a jerk! And without question, the biggest Jerks were those younger guys who felt they were universally powerful and immortal, lacking compassion and respect.
Another thing is culture and intelligence. When I was young I had friends who were much older than me, because I quickly outgrew peers my own age. Being highly intelligent and knowledgeable at a young age makes you seem rather nerdy to people who are average. So in High school I hung out with people who were working on graduate degrees or doing post-graduate work or older. After being married and then single again, I find that highly intelligent and attractive young women tend to feel the same way… guys their age are like children (or dogs humping their leg). They crave the intellectual stimulation of someone more experienced and/or intelligent.
As a piece of wisdom, I have found that a key reason why people break up is BOREDOM. And if you can't excite a woman with your personality and looks, then you better at least have money.
What does she have to excite a man? Well it's a bit obvious the world over that men like looking at attractive women, much more than women like looking at men. But that does only go so far, and only lasts so long.
So for me personally, it's very important that she has a great personality, is intelligent, and genuinely is excited about who I am, as much as I am excited about her. A sustained thriving marriage depends on that.
I have a pair of relatives who are going into their 90's and are still madly in love. Some people take care of their body, their mind and have great genetics, so stereotyping serves no purpose.
Finally, I can see how the 8 year average [age difference in a marriage] makes sense for average people. I have met many people who look 10 to 20 years older than their age and some who look more than 20 younger than their age. That is one hell of a span.
So I would modify that formula a bit.
If someone truly looks and behaves 10 years younger, then you can add those 10 years to the 8 for 18.
But if someone looks and acts 10 years older than their age, then they should stick with their own age.
The most amazing case I've seen was a Vegan woman who was 80 and she didn't even look 50. Hormones play a heavier role for women than men.
An even more powerful fact than Elena's 8 year stat, is that Women's child bearing years are pretty much between the ages of 14 and 50. U.S. stats are showing that most women are waiting longer to have children forcing it up to 25 to 40. Yes, that's because after 40 the risks to mother and child go up quite a bit. That doesn't mean that a really healthy 50-year woman can't have a child, it just means there aren't many of them.
So, if a man at any age wants to marry and have children, the woman really pretty much needs to be in that age range of 25 to 40. His age is less relevant. And Nature has made it this way. After 50, women lose much of that sex appeal or find it incredibly difficult to maintain, and spend phenomenal amounts of money trying to maintain it artificially.
So the fact of the matter is that a man who is 30 and wants to marry and have children vs. a man who is 50 or 60 for that matter… are all going for the same 25 to 40 year olds. If they don't want to create their own children with a woman then that's another story.
Similarly in Elena's article on the top 9 things Russian women want in a man, it shows #4 on the list that they fear as they age they will be left for a younger woman (why?? because those younger women are in that child-bearing zone where appear most attractive). A younger woman marrying a more mature man is far less likely to face that situation than if she marries some hot shot her own age. Divorce statistics around the world show that is reality.
It's NATURE that causes men of all ages to be attracted to women of child-bearing age, not perversion. The real perversion is trying to pretend that's not the truth, and insult people because of their age.
Featured photo: stock image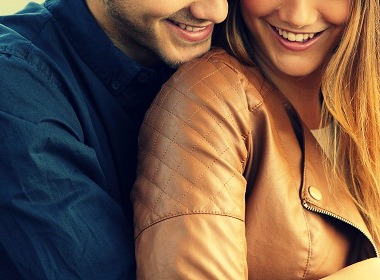 Read also: