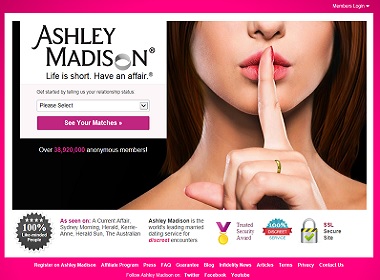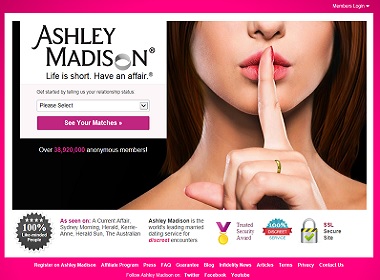 37 millions of cheating spouses who decided to join Ashley Madison now have to come up with a decent excuse why their data was on the dating site for married people seeking sex adventures, after anonymous hackers fulfilled their promise to publish records unless the adultery portal shuts down.
The site was broken into in July 2015, and user records were compromised. The faceless fighters for morals demanded the owners to shut down the website that promotes itself as "the most famous name in infidelity and married dating".
Despite the threat, the site has continued operating, and today boasts 38,920,000 "anonymous users", which is somewhat of a stretch given what happened yesterday when the data of millions of clients was leaked on the dark web.
Because profiles of users and their email addresses were not verified, the additional 2 million clients may be simply curious researchers, like Emily Retter from UK Mirror, who registered after the break last month in order to get some personal insight into its internal mechanics.
According to the British journalist, a few guys she managed to talk to haven't met any of sex-hungry women promoted in the site's ads in real life. It may be because about 90-95% of the site's users were males, even though women could use it for free, while guys were required to pay.
Most dating sites have more men than women in their databases.
On Elena's Models we currently have over 16,000 registered males, and 12,000 females with approved profiles, who were active in the past 6 months.
However, with only 12% of the men who register purchasing subscriptions, it means that there are 6 women for each man who is a paying member, capable of actually conversing with ladies.
With that please keep in mind that the majority of women who have profiles on EM have been personally interviewed by our staff to ensure the quality of our database remains the best in the industry for a website offering contacts with Slavic, Russian, and Ukrainian women. Add to that "no pay per letter", unlimited communication, and free sharing of contact information, and you will understand why it's so much easier to meet a suitable lady on EM than even on a local dating site.
"Life is short", says the byline of the infidelity portal, "Have an affair". At EM, we agree with the first part about the shortness of life, but prefer a different ending, "Have a great partner". Chasing dreams doesn't bring you closer to it, becoming real about who you are and what you want does.
Despite the huge scandal, Ashley Madison continues to operate as of today. The problem with the disloyalty gateway is another one in the raw of breakages in the past months, after some data by Sony had been leaked, as well as private photos of celebrities. It just shows once again that security is paramount online, with wiser patrons of dating sites using separate email addresses for sign up and communication, in order to ensure their privacy.
Read also: