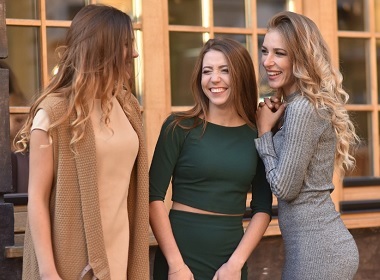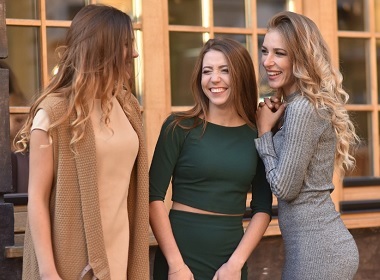 For the Fools Day this year we offer you a collection of Russian jokes. This is what today's Russians are laughing about. Celebrate the Day of Laughter with our premium compilation of funny stories and anecdotes.
By the way, don't forget to enter our new photo contest to win $5000! The conditions couldn't be simpler — all you need is your profile photo. (This is NOT a joke.)
Men and Women
Women are convinced that a man's stamina is best checked by shopping.
---
— Honey, do you by chance have a hummer in the boot?
— No, in the boot definitely not, but let me check my handbag…
---
Men! If you do not want to argue with a woman, use this tip: If a woman is wrong, approach her and apologize. You won't believe it, but it works!
---
She was such a bitch that she imitated an absence of orgasm.
---
I decided not to give anything to my boyfriend for his birthday. Really, what can you give to a man who has ME? Maybe only Prozac…
---
Spring. You took out a pair of last year's jeans and noticed they are too small. If you are a woman:
You realize: "I am fat, no one will ever love me."
Call a girlfriend and make a promise to go to gym 5 days a week.
Get depressed and open the bottle of wine you kept "for a special occasion".
Cry.
If you are a man:
Throw the old jeans in the rubbish bin.
---
If a girl buys a vibrator, it's cute. But if a guy buys a life-sized premium-class doll with internal heating, vibration, automatic lubrication, and a realistic sound of climax, then he is a pervert. That's the true example of double standards!
Love
The girl who walked by was so beautiful, I forgot to look at her breasts.
---
The biggest advantage of a mistress is that you can talk to her about your wife's shortcomings. Try to talk about the mistress' shortcomings with the wife.
---
Fiancées are usually loved more than wives. This is why many men don't want to get married.
---
While a gentleman is looking for an excuse to introduce himself to a lady, a lady's man is already looking for an excuse to slip away after the intercourse.
---
Wherever you look, there are only princesses and queens! I want a Cinderella.
---
Honey, if you don't like something, just tell me what. I won't be able to figure it out if you simply whisper something in Latin while burning my photo.
Life
IQ — The quotient of making life difficult.
---
Once is a mistake, 2 times — stupidity, 3 times — diagnosis.
---
Cashiers in liqueur stores and tobacco departments know you are over 18. They simply ask for your ID to laugh at your picture.
---
Degradation — It's when you think that you are better than others.
---
You live only once but if you did everything correctly, once is enough.
---
When I changed the brand of coffee to a more expensive one, I didn't notice much difference and even wondered: Why pay so much? It's when I swapped back to the cheap brand, that's when I understood the difference.
---
Sometimes days are drugging like they would never end. In the meantime, years are flying by.
Life hacks
As one girl said, anything you cannot get using your brains, you can get using tears and tantrums.
---
Shopping is much better than therapy. The same price but you are left with a dress.
---
Because you anyway cannot suit everyone, limit your efforts to yourself.
---
How to promote a new restaurant or bar: Invite bloggers and journalists to the opening and promise them free drinks. When they arrive, tell them they have to pay for alcohol. They will write 10 times more and you haven't spent a dime.
---
If you are going to an office party, put a video register on your neck. It will look cool and you'll collect lots of data for blackmailing colleagues later.
---
Seeking more subscribers? Register as a presidential candidate.
---
If you want to walk around New York City without being bothered: To ensure locals keep their distance, put a sign on your neck: "I am Russian ambassador. Come closer, let's have a chat."
Miscellaneous
Of course, you cannot see the brain, but its absence is quite noticeable.
---
Everybody thinks, "The time will come", and the time only passes by.
---
I am in the top billion of the most attractive people of the planet.
---
For the last 20 years, there is one question that I cannot stop thinking about, "Why the hell did I drink so much yesterday?!?"
---
Your guardian angel's life will be easy if you are a non-drinker with erectile dysfunction.
---
Sometimes you think, "Why am I sitting here online, wasting all this time surfing the Net, while I could do something really useful?" No, you couldn't. Relax.