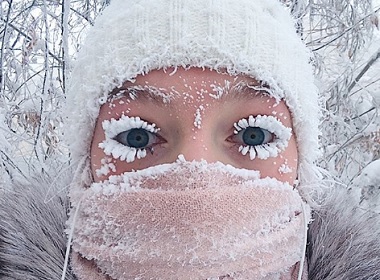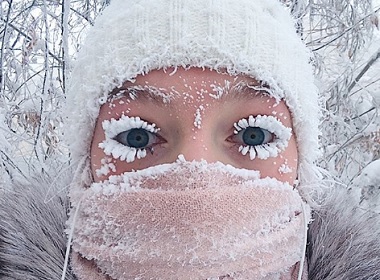 This week serious frosts hit Yakutia, which is a large autonomous republic in Siberia, Russia. Negative 55˚C (-67˚F) may sound like a place where one can hardly breathe. So, what people do in such extreme weather conditions?
What people in Yakutia do at temperatures below -50
The frosted eyelashes of 24-year-old Anastasia Gruzdeva from Yakutsk (which coincidentally is the capital of Yakutia), who posted this picture on her Instagram, scored likes from all over the world. The employee of a wedding store jokes about minus 50 temperatures in her city.
"And yes, we get out of houses (have to) and walk around the streets, and manage to stay alive 🙂 we can even take videos or photos. And in general, it's somewhat hot 🙂 "
Her first photo with frozen eyelashes Gruzdeva made two years ago and it turned into a trend.
"I feel like I made it fashionable to take photos of frozen eyelashes… now nearly every woman living in Yakutsk has a photo like this."
According to Anastasia, she doesn't specially make her eyelashes to look like this; it just happens naturally as she walks around in the streets.
In fact, kids go school regardless of the cold. It's only when temperatures drop below -52˚C, only then classes are cancelled. Kids can even be seen eating ice creams on the street at -30˚C, a local stated in an interview to BBC.
According to Yakutia.com, this week was possibly the coldest this millennium. Street thermometers in Oymyakon showed -68˚C. However, the official weather station only registered -59˚C that day.
The official record is -71.2˚C (-96˚F).
At the moment of me writing this article it was -54˚C (-65˚F) in Verkhoyansk, Russia, which is also in Yakutia, close to Oymyakon, the coldest place on Earth, where the lowest temperature at an inhabited place had been registered. As you can also notice on this screenshot from The Weather Channel app, the sun goes up at 11.21 am and the sunset is at 3:11 pm. It's less than 4 hours of day light. The weather is warming up though. It's only -50 tomorrow and it will keep getting warmer—in a week it's only -39˚C.
Video: Minus 50? Let's go for a swim…
Some other daredevils went even further. They went for a swim in a spring! Yes, in their swimming togs, in this horrendous cold. This video was made at -48˚C (-54˚F).
In Yakutia, stunts like leave locals unfazed, with residents going about their daily routines regardless of the freezing cold outside.
Video: Yakutia.com via YouTube.
I remember as a kid in Yekaterinburg, Russia, school classes for the primary school were cancelled when temperatures dropped below -25˚C. So, what did we do as kids who had to stay at home without any supervision (parents still had to go to work)? Of course, walked to the local supermarket to buy ice cream! You just adapt to the temperatures and it's not a big deal.
I had frost bites on my cheeks and nose from staying outside in the cold for too long. One of those I got during a school's sport lesson at Grade 9, as we were completing the compulsory test of 3 km cross country skiing at about -15˚C. Frost bites are as usual in continental Russia as sunburns in subtropics.
The coldest weather I experienced in Russia was -43˚C and my parents and I were playing outside, sliding from snow hills. It is only when we came back home we discovered that it dropped to below -40˚C outside. That night the cold reached -47˚C.
However, most of the time temperatures in winter are not as extreme in Ural, where I grew up. Usually it's balmy -10…-15˚C with rare drops to -25˚C. Anything below that is extreme and only happens once a year for a day or two.
But in Yakutia, "balmy" in winter may be -30˚C. At these temperatures, it's life as normal.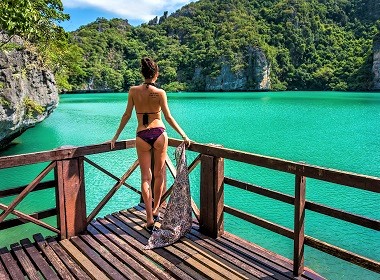 Read also: