If you have been viewing profiles of Russian women on websites offering introductions to beautiful ladies seeking partners abroad, you may have noticed the fact that many of them are divorced, even though they are pretty young — aged under 35. What is the reason for that?
Truth about divorce rate in Russia
Currently in Russia the divorce rate is 58% (2017 data by GKS.ru). It's high but much lower than what it was in 2002 when it reached whopping 83.7% — in other words, there were over 4 divorces for each 5 marriages that year.
In 2016 there was a jump again as compared to 2015: from 52.7% to 61.7%.
On average, the divorce rate in Russia hasn't dropped below 50% since 1990s: in 1990 is was 42%, but that's a distant past now.
It was nearly 40% in Soviet Russia of the times of the USSR in 1980.
By the way, GKS.ru doesn't provide one table that would allow to clearly see the divorce rate, only two separate tables for marriages and divorces. To decipher the divorce rate we had to see the proportion between the number of marriages and the number of divorces, and enter the value in the last column. The numbers look much more shocking this way as compared to the percentage per 1000 population.
Despite strong family values that Russian women are known for (or wish to be known for), there is apparently a high rate of failure in families. What is going on?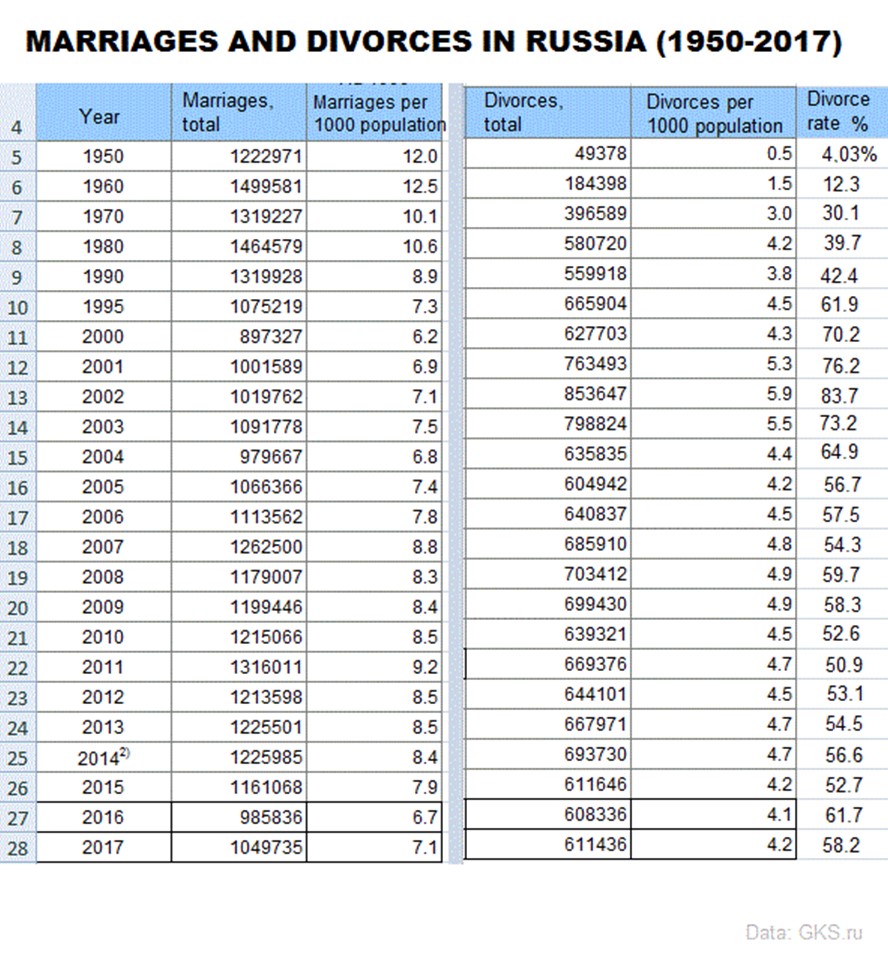 80% of divorces in Russia are initiated by women
Another shocking statistics is that the majority of divorce applications are filed by women. Sources hold it's 80%, although we couldn't find the government's statistics conforming that number.
Again, what the …?
Don't we know how hard it is for a Russian woman to find a husband? Why would ladies file for a divorce, knowing their chances to find another partner are slim to none?
Here is what the female reporter writing under the nickname Morena_Morana in the popular blogging platform LiveJournal.com thinks about the matter.
"Eighty percent of divorces in Russia are imitated by women. It offends and astonishes men. They are so used to the idea that the freedom of relationships is their privilege in a marriage, and the marriage itself, as it is — the stamp without any additional bonuses — is the dream of all women, that the harsh reality scares them.
Besides, men really don't like the processes, experiences and situations that they cannot control. Let's look at the marriage. How to ensure that the wife doesn't leave? Who even thought about this question?
In reality, when analysing the reasons for divorces, except the obvious ones of the type "he drank, beat me up and brought girls home", then there are three main reasons that I would like to analyse. Those are the reasons that became the most important now when women became relatively independent and finally understood that to tolerate injustice year after year is not necessary at all.
Reason #1. Some men's love to hierarchy
The thing is, it's inborn for them — to organize their groups rigorously, creating a vertical structure for the best control. In nature such a rigorous structure is better and more effective to hunt and defend against enemies.
You can observe these rigorously organized structures everywhere — army, police, monasteries, and even jails.
It's very hard for women in places like that. They don't take hierarchies well, and getting into such a system is already a scary punishment for them. But to earn money some of them [females] are prepared to tolerate bosses.
Where women are not prepared to tolerate hierarchy, it's in the family. Some men, however, chose wives judging from their idea of hierarchy. Younger, not as smart, from the most distant village — so that she knows her place. This very "place", the position of the wife as a servant, as someone subservient to a man, sooner or later will stop being satisfying for any woman. The wife will leave, sooner or later, it's just the question of time.
Reason #2. The idea about women of the 'pulling' age
Interestingly, the majority of men are ready to accept the possibility of a woman leaving, but they believe it's only possible until she reaches the age of 30. They decided for themselves that a woman leaves when she is the most beautiful, to "find someone better". And once she no longer belongs to the category of "girls", then there is nothing to worry about.
However, as the statistics tell us, this age limit can be boldly stretched to the age of 50. Women of the category "over 30" also leave husbands, just watch. They are tired of being women of "the pulling age", who are supposed to concentrate only on the interests of the family and pull everything by herself. They also want to feel loved and cared for. And now they have a real opportunity to do it, even outside the marriage.
Reason #3. The idea of double standards
It's the same stories of the series "I am allowed, I am a man, and she is not allowed to". I am not only talking about cheating as such — some couples have mutual agreements about having quiet affairs, if it suits both, then it's their own family matter.
I am not talking about accidental unfaithfulness — the majority of spouses sooner or later forgive these, although the society likes to hold the opposite view. I am talking about a man who decided that he can be unfaithful without any recourse simply on the basis that he is "the king of animals", and she is just a woman, and boys are allowed to, and girls aren't.
With such a husband, the wife, of course, will also leave. And it's also just a question of time.
It appears that the patriarchal family, in principle, sooner or later is destined to dissolve, as soon as the woman is unhappy about something. The only stable form of family is the one where the woman is the same type of person as a man, and the man understands that he is also interested in the marriage, just like the woman. All other constructions are based either on fear or desperation and they quickly destruct. Right?"
The reasoning of Morena_Morana ends here, and it's quite clear that there are enough women in Russia who want more from a family than being a servant.
Russian dating and marriage culture
Females in Russia enter marriages at a very young age (Russian men believe a girl should be married by the age of 21), try to live to society's expectations, grow very unhappy, and then, after living unhappily for years, something just becomes the last straw and the wife files for a divorce.
That's the reason why so many young Russian females you see on dating sites are divorced in their twenties. (Ask them, you may not hear the whole story, but there will be a story behind it for sure.)
When reviewing profiles of women in Russian social networks, the majority of them are married by the age of 20-21. They instantly have kids, one or two.
It's quite typical to see profiles of young Russian women with their young Russian husbands and their happy pictures with kids. The women proudly state their occupation as "a happy wife and mother".
Fast forward 3-5 years, and the three reasons explained above are starting to put pressure on the feelings of happiness in the family from the wife's point of view.
I have written extensively before about the 'hunter-prey' dating culture that is ingrained in the modern Russia (it popped up in early 2000's, when the divorce rate was staggering, by the way), where the man is supposed to heavily chase the woman, who pretends to be uninterested for as long as she can.
'The period of flowers and candies'
The lining of this dating custom, and it's only silver for the guys, that once the girl gave in (i.e. agreed to have sex with the guy), then he no longer needs to do anything.
"The period of flowers and candies" is finished, he got the girl, why does he need to continue chasing her? It was hard work, after all.
Now he can relax and enjoy her serving him, as this is the reward for being persistent. He only needs to "get her" once, and then it's all the woman's responsibility to be the one who keeps the fire burning in the relationship.
Russian ladies with whom I discuss this dating custom agree that it's unfair the man does nothing once "the period of flowers and candies" is over. (This is also the reason the ladies are so hesitant to agree on intimacy, because once she does it, she is in 100%.)
When I talk to them how the relationships work in western countries where both men and women contribute equally, the ladies are happy to take the 'equal contribution during the relationship' part, but they still want the man to do the chase.
Russian girls are unable to give up on the idea of the chase, regardless of the outcome (remaining single)
I try to explain to Russian girls that it's not going to happen, since foreign guys are not used to the chase and taking charge in the relationship 100%, doing things as a "surprise" for her without knowing her opinion about it beforehand.
The answer of Russian women to such explanations? — "Can't you tech them?"
It's about the same answer that I get from guys when trying to explain why Russian women act the way they behave in the beginning of a relationship.
The guys also think, "If she wants a western husband, she should learn," — so are the Russian ladies. They also think, "If he wants a Russian wife, he should learn".
Can you see the dilemma here?
Russian women are very happy to be in an equal relationship where both partners contribute. In fact, they prefer it, because in Russia many ladies are 'pulling the work' in the family all by themselves (see the reason #2 above, as explained by a female insider).
All that Russian girls want is the 2-week "period of flowers and candies" where the man is doing his best to win her over. It's about 8 dates or so.
If this happens, then she is happy and feels loved, as her culture dictates the man in love should behave this way towards his woman. Then she feels secure in the fact that he loves her and she is allowed to be open to his advances by the culture of the country where she lives.
All we are arguing about, it appears, is the 2-week courting period from the side of the man (you). Can you do it to get the girl who will be working very hard in the relationship later?
If yes, then you are able to date Russian girls successfully.
And since you are looking for a partner and not a servant (as many Russian men), there will be no reasons for the woman to feel unhappy — vice verse, ladies feel extremely happy in international relationships with western men, saying that it's like "heaven vs. earth", how a woman is treated by an American guy vs. Russians.
But still, you are unlikely to arrive to the point of a serious relationship unless you give her the expected "period of flowers and candies".
It's all explained in detail in my VIP Coaching Manual for men dating Russian women. Check it to get the girl of your dreams!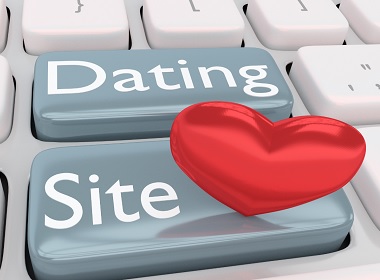 Read also: