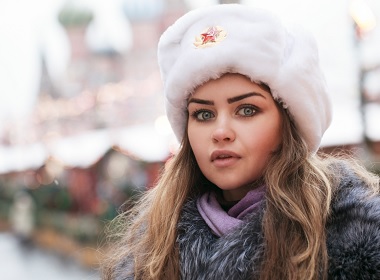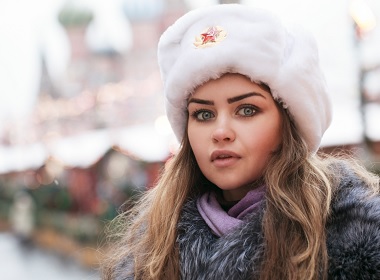 You won't be able to miss that when visiting Russia: Locals don't smile. From the first point of contact at the airport where you do your best to appear acceptable to the sombre-faced border patrol officer to looking at the people in the streets, you will notice that Russians keep a serious expression on their faces, especially when they are out in the public.
Why Russians don't smile?
Men on Elenasmodels sometimes ask about the fact they don't see too many women smiling in their ads on the dating site.
One of the guys recently commented:

So, what is going on? Why Russian ladies look so serious in their photos on the dating site?
There is a simple reason, of course… Would you be happy living in freezing cold for half a year with just two weeks of sunny warm weather a year? Just kidding. That's not the reason why people from Russia keep serious faces. To find out the real reason, read on.
Why Russian women look serious in their pictures on dating sites
The reason why many girls on EM have solemn facial expressions in their photos is the same as why people in Russia don't smile in general.
It's the culture.
Russians simply are used to keeping a serious face, while Americans are used to smiling.
Why do Americans smile? Try to explain it. They aren't always happy, right?
The same about Russians. It's just a culturally acceptable facial expression — sombre and serious.
There is even a Russian proverb that states:
"Smiling without a reason is a sign of a fool".
This is why Russians aren't of a very high opinion about ever-grinning Americans, possibly. Especially when they see Americans at a culturally important and grave sight such as the place where the family of the Last Russian Tsar Nicolay II was murdered in 1918 by Bolsheviks, and guys from the USA pose for a group photo with broad smiles. Locals are in shock seeing that!
Cultural differences
When I just moved out of Russia to live in the west, I was often approached by people who asked if there was something wrong. I couldn't understand why, but then I realized that it was because I didn't beam when our eyes met, which is the culturally acceptable procedure in western countries, or didn't lift the corners of my lips when they greeted me. That's not the way how people behave in Russia, so for me it was normal, but for them it meant that something was wrong in my life or that I was unhappy about something they did or said. But that wasn't the case, I just behaved normally for me, how I was used to behave.
It took me 3-4 months to get used to casually looking happy rather than serious. But once I started doing it, people stopped asking me if something bad happened. I adjusted to the new culture and now I don't even notice that I start beaming when someone looks at me and they do the same. It feels normal. In Russia, people will just look away unless you know each other. It's not acceptable to look at strangers, it's considered rude.
Another thing is the type of smile: People from Europe in general use more subdued tones of voice and facial expressions, while Americans are too loud and too expressive, in the opinion of Europeans.
Think "Mona Lisa smile", that's what people from the countries of the former Soviet Union would use when they are happy, not a broad green with all 32 teeth showing. You may think the person looks sad, and she is actually smiling!
Many western guys look serious on their photos on EM as well
We do recommend men to smile in their photos and most of them don't. You can run a simple search and you will see it yourself.
Even Mr A. Schwartz doesn't grin happily in the photo that he posted with the question — so, why not?
Simply put, many people don't realize the importance of a smile for the first contact with a stranger. They just didn't think of that!
Others believe that their photos don't matter — these girls just want to immigrate, right? (Totally a wrong concept, read here why.)
And the third type of people may believe (just like the guys who refuse to post photos in suits, because "I don't normally wear a suit") that they don't need to smile because they are not constantly smiling in real life.
The same reasons, in addition to the cultural predisposition that we discussed earlier, will apply to women from Russia and other countries of the former Soviet Union (Ukraine, Belarus, Kazakhstan, etc) as well. Some of them don't understand how important it is to appear welcoming, others think it's unnecessary and it will do as it is.
More reasons for Russians to don't smile
In addition to the broad cultural predisposition to looking serious, there are more reasons why people in Russia don't smile.
Obviously, since smiling requires a reason to appear happy, if you do walk around grinning, then you have something going for you. Why are you so happy? The authorities may wish to know, because the majority of people are concerned with the daily survival, so why are you different? Maybe you are on drugs and present a danger to the public's safety?
Police officers may pick you from the crowd for questioning, and who wants that?
You will be standing out of the crowd grinning for no reason (this is how Russians easily pick foreign tourists, especially pickpocketers, which are a never-ending problem in large cities).
No need to stand out like a sore thumb. This is why Russians don't smile. It's just the way people live.
And by the way, people in Russia do smile. When they are really happy. They like to express the emotion they really feel without faking it (although there is a saying, "fake it till you make it").
If a girl from Russia is happy, then she will smile! You will know it straight away.
So, if you managed to put a smile on a Russian woman's face, then you have the sincere and genuine feedback in an instant. That's one great point about it, right? 🙂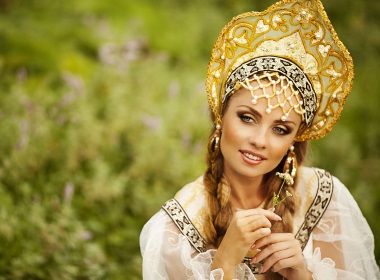 Read also: