The Statistics Service of Ukraine released the data on earnings of locals in the first quarter of 2018. The average salary in Ukraine keeps increasing, the data shows. However, is it true that Ukrainian women and men started to earn more?
Average wages in Ukraine are increasing
In March 2018 an average Ukrainian employee earned 8,382 hryvnia (USD 321) per month, according to the official statistics. The data shows constant increase in earnings by local workers.
However, one important disclaimer should not be overlooked. The statistics only took in consideration reports by companies that employ 10 or more people, which means the vast majority of small businesses and their employees' earnings are not in the picture. Remuneration in the service industry tends to be the lowest, with many workers getting only the minimum monthly wage, currently on the level of 3723 hryvnia (USD $142).
Another distortion is the calculation of averages rather than looking at the median salary. As such, if we took one top administrator earning 1 million hryvnia and 499 workers getting only 4 thousand each, the average salary will be 5,992 hryvnia, but the median will be 4,000. Medians reflect the actual situation more precise, showing how much the majority of people earn. Averages help to mask inequality.
As such, the government's statistics show a rather distorted picture of how much people in Ukraine actually earn. Many Ukrainians, as we reported earlier, prefer to work without proper contracts for a lower pay, so that they are entitled to subsidized utility rates and don't have to pay taxes, their income not showing in statistics.
How much people earn in Ukraine
Wages and salaries in Ukraine are still reported per month, not per week. So, when a Ukrainian woman talks about her salary, she means monthly earnings. Which may seem rather meagre.
Ukrainians still work for what is called salaries, in other words, they are getting paid per month and no consideration is given to hourly rates.
In general, females earn less than men. They are also more often employed in lower paying industries such as health care or education (see how much medical doctors and teachers earn in Ukraine).
1 US Dollar equals about 26 Ukrainian hryvnia in May 2018. The data shows earnings in hryvnia.
March 2018 wages and salaries: Official statistics
The highest earnings in the country are in the city of Kiev: 13,388 hryvnia ($513). No other regions show such high earnings by employees. It is this mostly region that pulls up the averages by country, which otherwise would look much less rosy. People in the city of Kiev earn 60% more than the averages in the country.
Only 4 other areas have wages over 8,000 hryvnia a month: Kiev (Kyiv) region (UAH 8,399), Dnipropetrovsk (UAH 8,387), Donetsk (UAH 8,927), and Zaporizhia (UAH 8,336), which is in the range $320-340.
Pay checks in other areas are less than UAH 8,000. Even Odessa region shows earnings of UAH 7,449 ($285).
The lowest earnings are in Ternopil region: UAH 6,394 ($245).
The highest pay checks by industry remain in air transport (UAH 32,879); insurance and finance (UAH 15,192) and information and communications (UAH 12,248).
Postal workers get the lowest pay: 5,009 Ukrainian hryvnia ($191). Health industry is close second: 5,531 hryvnia ($211).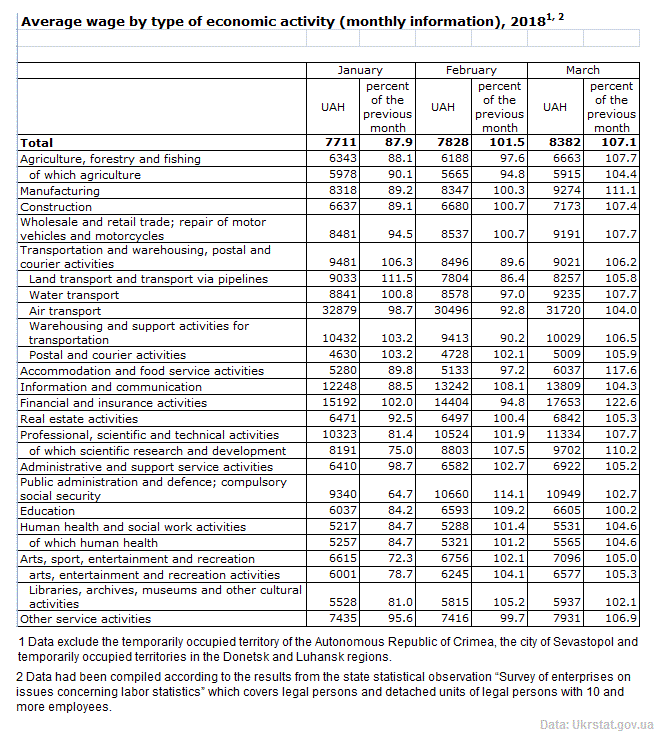 Share this article