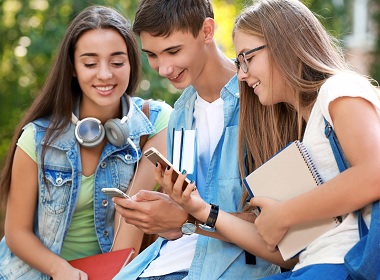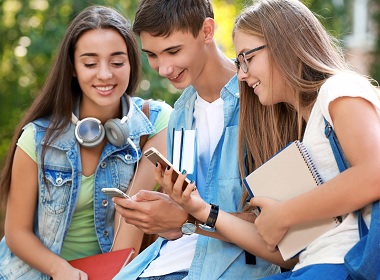 In the century of total propagation of mobile gadgets, the issue of the widespread use of mobile phones in schools became a hot topic. Some time ago, electronic gadgets have been viewed in Russia as an asset that helps learning. But now the majority of Russians believe that mobile phones inhibit productive learning, a recent poll by Wciom.ru unveiled.
Electronic gadgets are very much a status items in Russia, just like cars are in western countries. The brand of the device you are using gives you a certain social standing in the circle of your peers. IPhone is the most popular brand that everyone is after, with the latest models turning heads in fashion-conscious cliques. If you remember your times of being a schoolkid, you probably can relate to that. So, the issue of gadgets in classrooms isn't just about chatting but it is also a tool of social status for young students.
Russian parents believe that students should be prohibited to bring phones to school
Many Russian citizens are not happy that students use gadgets during school hours.
Smartphones and other electronics seem to hinder kids concentration on studies. In September 2018 the All-Russian Public Opinion Research Centre conducted a study on the use of smartphones in schools.
Whopping 83% of respondents believe that personal smartphones distract kids from the educational process.
Parents whose children don't have a phone share this point of view more often than other respondents (90%). The number of supporters of this view who have kids aged 6 to 17 stands at 80%.
Only 5% of Russians that haven't provided their kids with a mobile phone consider gadgets to be absolutely harmless when used at school.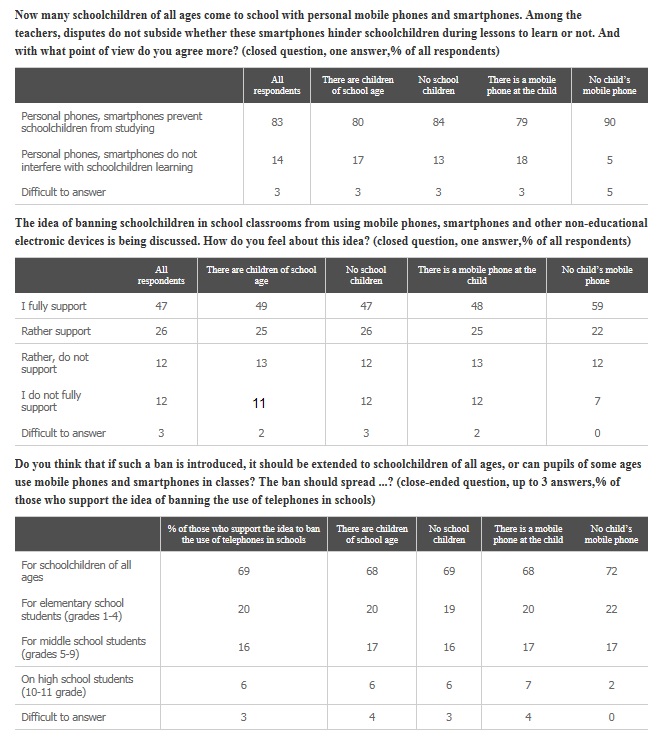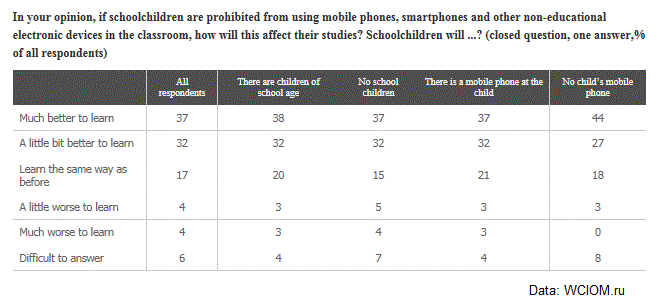 Should phones be banned in classrooms?
Three-quarters of the interviewed support the idea of banning mobile phones during study hours (73%). The restriction will help children doing better in their studies, such point of view is supported by 69% of respondents. The same share of participants would like pupils of all ages to abolish the use of any gadgets at school.
Nearly three-quarters of participants whose kids have no phones are sure that no child should use a smartphone during the hours of study (72%). Respondents who don't have schoolkids also mostly support this idea. Respondents whose children don't have a smartphone expressed a particularly negative view on using gadgets at school: 81% of such participants are against it.
That's because the parents are worried that other kids with phones could distract their own offspring from learning.
17% of Russian citizens assume nothing is going to happen to student performance if the youngsters are prohibited to use their devices in classrooms. Only 3% of Russians whose children have a smartphone or any other gadget believe that such restrictions will only worsen the situation.
What do you think? Should young students be allowed to bring their mobile devices to classrooms or not? And why?
Read also: