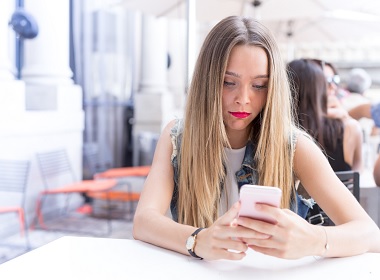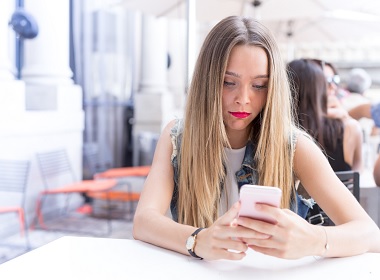 The Internet has irrevocably become a really important part of many people's lives – and Russia isn't an exception. More than 80% of Russians use Internet, according to a recent survey by WCIOM. What are the main purposes of web surfing and how much time do people spend online?
The popularity of the Internet among Russians
It's impossible to imagine our life today without the connection to the world wide web. From mobile phones to tablets and notebooks, we tend to maintain connection with family and friends via the giant networks, rather than in person or via stationery phones. Thinking about this only 30 years ago would be impossible, but today it's our daily reality, which people of Russia also embraced.
Eight out of the ten people have regular access to the world wide web, according to a survey conducted by the All-Russian Public Opinion Research Centre in September 2018. People answered questions about the frequency of Internet surfing and why they need it in daily lives. Only 19% of survey participants stated they are not users of the world wide web.
The survey was done via phone and designed to be representative of the whole population of Russia. The full methodology of the research is explained at the source.
65% of respondents are online on a daily basis.
14% reported that they need Internet access only a few times a week/month.
Only 2% of respondents spend time on the Internet extremely rarely.
The most active users are young people aged 18-24. 97% of them are online every day and 71% spend more than 4 hours online.
More than 70% of youth have a degree.
People from the big cities like Moscow and Saint-Petersburg tend to spend time online more often: 76% do it daily.
19% of respondents never feel the need to use any website or social network.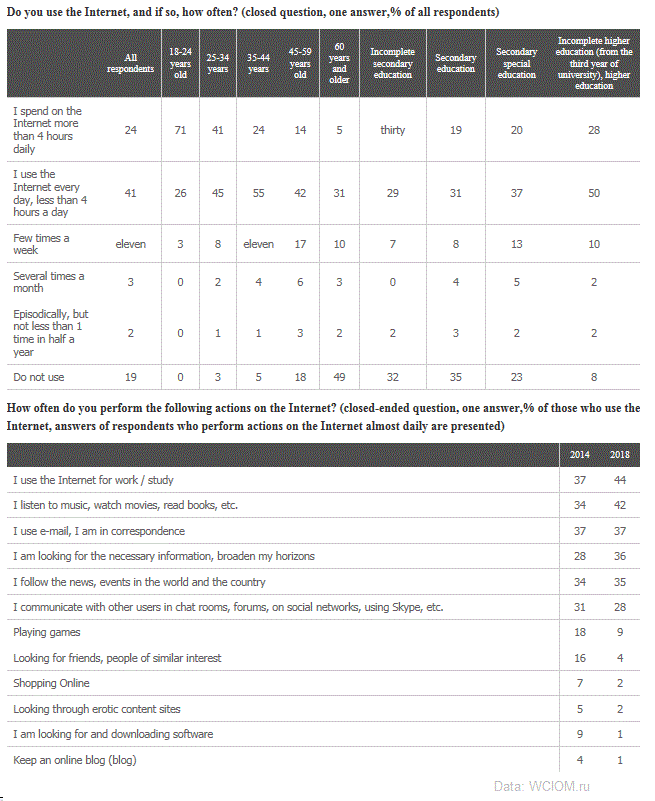 What are people doing online?
Nearly a half of them use the worldwide network for educational or working purposes (44%). 68% of those are aged 18-24, and 56% have a university degree.
Websites that contain music, movies and books are popular among 42% of respondents.
Email is frequently used by 37% of respondents.
More than a third of participants use the Internet in order to educate themselves – 36%, which is 8% higher than in 2014.
35% of Russians prefer being up to date and finding out the latest news from the Internet.
It's interesting that in 2018 Russians don't use social networks as frequently as they used to do it in 2014 (drop to 28% from 31%).
In 2014, nearly one-fifth of respondents said they liked playing online games, and in 2018 the percentage of players decreased twofold.
Only 2% of locals do shopping online every day (7% in 2014). The same amount of respondents confessed they sometimes watch 18+ videos online.
Finally, the least popular online activity among Russians is downloading software and blogging (1% each).
Read also: