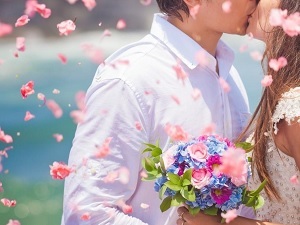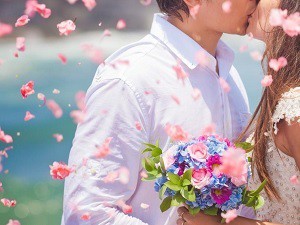 May in Russia and Ukraine is the month with the most holidays — it has more days off than December! It is also the time of the year when spring takes full charge, this is why May holidays are universally adored throughout the countries of the former Soviet Union.
This year holidays add in total to 7 days off within the space of two weeks, which is why some companies close down their doors from 1 to 11 May, allowing their employees to use this time for travel or other needs. Some women from EM may be travelling or visiting family and friends during this period.
1 May is Labour Day
Since the times of the USSR, 1 May was celebrated as the Day of International Solidarity of Workers. Now in Russia the official name of this holiday has been changed to The Day of Spring and Labour, while in Ukraine it still remains listed as the workers' day.
There are 2 days off reserved for this day, 1 and 2 May. Since in 2 May 2015 falls on Saturday, one extra day off is added (Monday, 4 May).
As such, both Russian and Ukrainian people will have in total 4 days off: 1 to 4 May.
9 May is Victory Day
Russians and Ukrainians will have 3 days off: 9-11 May, due to the public holiday 9 May falling on Saturday.
9 May 1945 is the date when Nazi Army surrendered to the Soviet Union, ending World War II with Germany. (The capitulation to Allied forces, which included the USA and UK, was signed the day before, on 8 May.)
9 May is celebrated in both Russia and Ukraine as the Victory Day. 8 May, as a pre-holiday day, will have shortened working hours with people leaving 1 hour earlier.
In 2015 ex-USSR countries celebrate the 70th anniversary of the Victory Day. Special anniversary celebrations will be held in Moscow, with leaders of several countries planning to attend the great parade in the Red Square. Other presidents and political figures were invited but many declined, due to Russia's annexation of Crimea. As compared to the records from 2005 celebrations, the list of attendees for 2015 gig seems somewhat shorter, although more countries were invited. A plethora of African leaders will replace lost participants from Europe, the USA, and Australia. (See the list below.)
The 70th anniversary of German surrender has been actively promoted throughout Russian media, pumping up patriotism and national spirit, which have declined after the local currency, rouble, lost half of its value in 2014, causing economical crisis and price hikes.
What Russians and Ukrainians do during May holidays?
Most people use these days to plant seeds and seedlings at their country gardens, which are very popular in Eastern Europe, as most people live in city apartments. During the summer season, which starts in May, citizens go to their country houses on weekends and many spend their vacations there.
Russian and Ukrainian families have small country homes, which are usually located in the vicinity of 1-2 hour drive or train ride. Most such homes are located within gardening communities, where people traditionally grow vegetables, berries, herbs, and fruit for their own consumption. Normal size of such plots is about 600-800 m² (717-956 square yards), with the largest part occupied by the garden.
More affluent people have large countryside homes, where they spend their summers but do not grow fresh produce. Such homes are usually within "cottage communities", located within a short drive from the city.
On the Victory Day May 9, great numbers of people will be gathering outdoors to enjoy festive fireworks at night, and some may even get up early in the morning to watch the parade on TV. Only selected few will get invitations to the official spectacle, which will, no doubt, have tight security.
9 May 2015 Victory Day parade in Moscow, Russia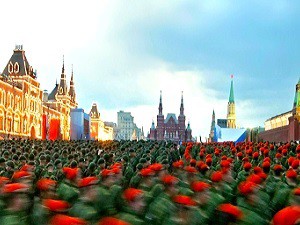 Update 14 May 2015:
On 9 May 2015 16,5 thousand of Russian troops marched across the Red Square, with 143 airplanes forming figures in the air, and nearly 200 armoured vehicles roaming the streets of the historical Moscow location, making it the largest Victory Day parade ever since the times of USSR.
Victory Day parade in Moscow and similar demonstrations around the country also featured civil processions of citizens carrying portraits of their grandfathers and family members, who lost their lives defending their motherland during the World War II. Russian President Vladimir Putin walked in front of the column in the Russian capital, carrying a portrait of his ancestor who fought in the war.
From 68 prominent foreign guests invited to celebrations, most country leaders declined participation, with less than 30 high-profile politicians showing up to witness the grand military procession.
According to BBC, the most prominent visitor in the Victory Day's display of Russian military strength was Chinese President Xi Jinping, who was standing to the right from President Vladimir Putin. Kazakhstan President Nursultan Nazarbayev took the place to the left of the Russian leader. A column of Chinese troops marched across the Red Square as a part of the ceremony for the first time during a Victory Day parade.
Other countries that joined in the viewing of the 9 May parade: India, Serbia, Mongolia, Vietnam, Cuba, Venezuela, Egypt, Palestine, Kyrgyzstan, Tajikistan, Armenia, Azerbaijan, South Africa, and a plethora of other African republics and states.
None of western leaders attended, although many countries sent their ambassadors to take part in the celebrations during the holiday weekend. For example, Sir Nicholas Soames, a grandson of the wartime British leader Winston Churchill, arrived to Moscow for 9 May events, 70 years after his mother Lady Clementine Churchill joined Muscovites in 1945 festivities. He, however, didn't attend the famous parade but participated in laying a wreath to the monument of the Unknown Soldier.
German Chancellor Angela Merkel arrived to demonstrate her respect during May 10 happenings, also missing the central display that have been in rehearsals for months.
While most western ceremonies dedicated to the end of World War II, which had taken place in various countries across several continents, were designed to commemorate fallen heroes and lives lost, and had in general a sombre overtone, it was a completely different story in Russia. A Russian mobile company joined the campaign of stately patriotism with a slogan, "We are the country of winners", capitalizing on the pervasive national pride.
There was a general unease and even anger among regular citizens due to non-attendance of western leaders, which was depicted in the local media as a political snub and attempt to denounce Russian greatness. The mainstream view in Russia is that Soviet Union had the most profound impact in defeating Nazis in the war of 1941-45, and refusal to attend the ceremonies devoted to the 70th Anniversary of the Victory Day is considered as antagonistic and disrespectful.
One female member of EM wrote in her post May 9 comment: "I am not contacting men on the site right now because of the political situation in the world". While the rest of the globe paid little attention to the events of 9-11 May in Russia, the local press had concentrated on preparations for festivities for months. If you think of general elections in your country and how much attention media pays to such milestones, multiply it by 100 and you may realize the scale of its perceived importance, which every Russian citizen had taken to heart.
Ukrainian celebrations
Ukraine commemorations were aligned this year with countries of Western Europe, and took place on 8 May on a much more humble scale as the Memorial Day. The decision to move the official day of the celebrations was taken by Kiev officials in March 2015. The country also adopted red poppies as the symbol of remembrance, which have been traditionally used throughout Europe. On 9 May there had been an organized Peace March in Kiev.
Since the beginning of Russian-Ukrainian conflict in 2014, Moscow-led media portraits Ukrainian state as fascist, aligning it with Nazis during the World War II — a depiction, which Ukrainian President Petro Poroshenko criticized during his 2015 Memorial Day speech.
The Ukrainian city of Donetsk, which is in the territory of pro-Russian activists, had its own Victory Day Parade with around 1,5 thousand armed soldiers marching through the central square.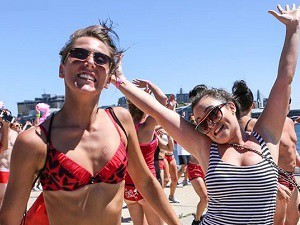 Read also:

>> All articles (in English)

Share this article