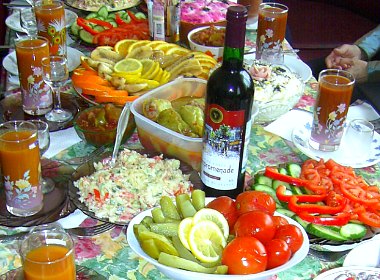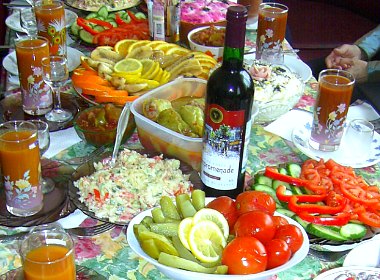 As we mentioned a few times before, New Year's Eve is the most admired and awaited holiday of the year in the countries of the former USSR.
Even Christmas (Christian Orthodox religious celebration of this event happens on 7 January) is a less important calendar date for Ukrainian women.
Knowing that, how much do you think people from Ukraine are planning to spend on holiday festivities for the New Year's Eve? You may be shocked to find out.
50% of working Ukrainian families will spend less than $40 on New Year's feast
With the cost of living in Ukraine constantly on the rise and hryvnia-USD exchange rates unstable, food and groceries became the primary article of savings for citizens.
Even though New Year Eve's festive table will be the richest for the year (local believe that "you will spend the year the way you meet it", so they do their best to make it exceptional), it seems that expensive delicacies won't be found in the majority of Ukrainian households on the date.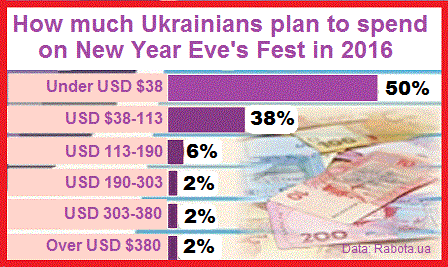 Food for thought
If you check how much money you have spent on Christmas festivities, the expenditure that people of the largest country in Europe envision may seem rather modest.
Employment portal Rabota.ua reported that 50% of respondents to their survey stated they planned to spend less than 1,000 hryvnia (USD $38) on the most important dinner of the year.
Further 38% will splurge 1,000-3,000 hryvnia (USD $38-113) in total.
6% of people are prepared to part with 3-5 thousands hryvnia (USD $113-190).
2% will spend 5-8 thousand hryvnia (USD 190-303).
Other 2% can afford to purchase 8-10 thousand hryvnia worth of food ($303-380).
Further 2% will pay over 10,000 (USD 380), which is more than double the size of the average monthly salary (wage) in Ukraine in 2016.
Naturally, visitors of an employment portal would be mostly the people seeking a job, not business moguls. So, you have an idea of what working families in Ukraine can and cannot afford today.
In total, the majority of working families (88%) will be able to enjoy a midnight feast worth under $113, while seeing off the outgoing year and welcoming 2017.
Прочтите также: