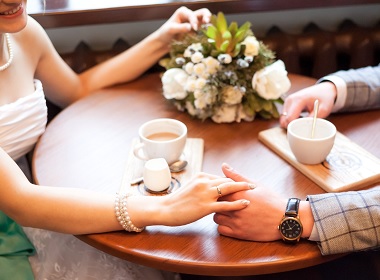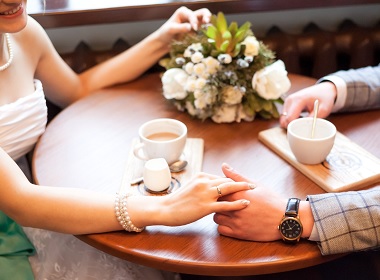 I have been running a blog on Instagram with dating tips for women since September 2018 and there is a really good vibe about relationships with foreign men, with many positive, encouraging stories from our successful couples.
Some pairs who haven't sent us their stories to be published on EM's successful couples list contacted me privately and told about their marriages, which is extremely encouraging. I know that many happy couples prefer to simply be private about their finding love, but I had a surprisingly high number of contacts via Instagram from our former female clients with messages of gratitude, sharing photos of their kids and families. It's amazing!
Last week I asked ladies to give their opinions on the subject of age difference in a couple and got some interesting responses. Then I ran a survey that was answered by over 200 women in real time. Let's find out the results!
'What age difference with a partner is acceptable for you?'
Here are the results of the survey and comments from women, how they view the issue of age gaps in relationships.
My blog for women is in Russian. So, the ladies who provided answers are Russian-speaking: from Ukraine, Russia, Belarus, Kazakhstan, and other countries of the former USSR.
Note: Some texts have been edited for clarity and brevity purposes.
28women give opinions about age difference in a marriage
As always, opinions differ, but the majority of ladies seem to agree than the age difference up to 10 years is acceptable. Some ladies would prefer a more mature husband, while others think a male of the same age would be the best option.
1. Up to 10 years
The age difference between my husband and me is 5 years and everything is perfect! But even if it was 10, then I don't think anything would be different!!!
2. Plus minus 5 years
For me the norm is 5 years maximum in any side. It's more interesting with guys of the same age. I don't understand the women seeking a partner 10 years older or more. They probably wish to replace the father or live fully catered for. And what is going to happen in the future, when he is old and you are still young? There are of course exceptions among men like Mike O'Hern who are doing sport and look amazing up the very advanced age. But there are not many guys like this.
3. Our age gap with my fiancé is 14 years
My fiancé and I have the gap of 14 years and I feel very comfortable. It can be fun with guys of the same age, but most often foreign men aged 35-40 wish to find a woman to have a child together. I already have two kids and don't want to go through the nappy quest again. With my fiancé we have full harmony, he doesn't have his own kids, but he really likes my children, especially the younger girl (I suppose his has the fatherly instinct). Actually, he wasn't looking for someone younger. From one hand, he seems to be proud that I am younger, but from the other hand, he is a bit embarrassed, and even told his mother I was older, and she still was concerned about the age difference.
4. I think even 10 years is too much
I used to think that 10 years was normal. But now I understand that for me even such a gap is too much. Although all the men are sporty and look great, the ones I am dating. I can say that I am writing a lot and have great photos. Men 10+ years older are ready to marry me tomorrow. I could get married many times. But I don't want to be with a person that I don't love. I simply haven't met my man as yet. I think if I meet him I wouldn't be worried about many things that matter for me now, including his age. Wish me luck! I really want to meet him!
5. You are either a man or not
It doesn't matter how old you are. You are either a man or not.
6. 10-year gap is OK
I used to think that [the gap should be] 3 years with the male older. Although at the same time I groundlessly thought that 5 years would be optimum, but maximum. Now I am OK with a gap or 10 years or more. The looks, level of activity and interests should match. With a guy so much younger it would not be interesting and a bit scary to think what is going to happen in the relationship in 10 years.
7. My husband is 12 years older
My husband is Russian and he is 12 years older. I am very happy about it. We have 2 kids and don't feel age difference. Before my husband I had relationships with males of the same age and 5 years older, but it wasn't the same.
8. My future American husband is 15 years older
My future husband is 15 years older, he is American, considering the fact that he goes to gym nearly every day and looks after himself well, in general he is handsome in all regards, so I don't feel any age difference. Vice versa, his life experience allows him to value all we have together and behave more wisely. And also match my intellectual level (not only in IQ but deep levels of understanding of the life and the world). I think that males under 40, of course, could be good, but I am feeling bored with them and can easily predict all his other actions 10 steps ahead. Or another variant, some guys under 40 still want to have fun and don't really desire to settle down genuinely. But this also depends on the looks, if the man looks like your dad and a grandfather for your child, then I think the woman will feel discomfort. Guys of the same age can look very different, the most important that the couple has compatibility in all important areas. Not only the mental connection, but also the sexual attraction to each other. If all this is present, then it's not important how young is the man and the woman in the couple.
9. 10 years gap maximum
In my youth I was attracted to males who were more senior than myself, was in a relationship with a man who was 9 years older for a long time. Eventually married a guy my age. Now I am planning to divorce. In the future I think the gap should be no more than 10 years, common interests, health, joint activities — all these things are very important for a relationship of a partnership on an equal basis.
10. I like different men: 10 years younger and 10 years older
I like different men. 10 years older as well as 10 years younger. There are some very interesting young guys, and there are empty and infantile at 50. But for a relationship over 40 I wouldn't, possibly. Maybe foreigners are different, I have no experience. In Russia I was dating a guy twice my age and had an admirer who was 20 years more senior. A different mentality. USSR ))
11. I prefer men who are 15+ years older
I am not married. I am attracted to men 15+ years more senior. I was always bored with guys my age.
12. 5 years younger to 10 years older
I am not married. Guys up to 10 years younger are interested in me. An acceptable age difference is up to 5 years if he is younger, and if he is older, then 10 years.
13. My husband is 10 months older and it's comfortable
I am married, 32 years old. My husband is 10 months more senior. It's quite comfortable, mutual understanding, lots of common interests.
14. My husband is 18 years older
My husband and I have the age gap of 18 years. We met on Elenasmodels. I got married with 3 kids. I will tell my story soon.
15. I am talking to a guy 13 years more senior and it's great
I am now communicating with a guy 13 years older on your website. It's the first time I am communicating with a male with whom it's so easy and fun.
16. I am engaged to a guy my age, although I was seeking a mature man
For me the age difference up to 15 years was acceptable (although I was married to a man 17 years older). Guys my age were never attractive for me, until on EM I was contacted by a guy my age, 2 months older. He is my fiancé now, the person I love. So, now for me a guy my age is acceptable. I am 38.
17. My partner is 12 years older
The difference with my partner now is 12 years (he is more senior), and the previous relationship was with a man 9 years older.
18. Not more than 10 years
The difference should be no more than 10 years. Although one famous couple has the difference 27 years and have 2 kids, she is 30. If a woman is much more mature than the man, 5 years and more, it's a risky zone. But if a man 55+ is seeking a woman under 30, he has problems with the self-esteem and his head… an old fart. Sorry.
19. Any age difference is OK
For me any age difference is acceptable. Because even at 50 one could be an idiot, and at 20 could be a mature person. I am already married, my husband is 2.5 years more senior than myself.
20. I wanted a man 10-15 years older
I am 31, started dating at 27. I wanted a man 10-15 years more senior, because they are calmer, wiser in general, but at 40-45 still ready to become a father. Eventually met an amazing 45-year-old guy on EM. He came to visit me, I liked him, my family liked him. On the last day he told me he was 58. No one had any hint of it, and I am a cosmetologist, by the way. I was really upset he lied to me, but at the end everything got sorted out and we are together. I am very content and happy. Although it's not the first man I am with who is 28 years older, but if to put his Russian "counterpart" next to him, he would look like a grandfather, and my husband is a hunk.
21. My ex-husband was 8 years younger
My ex-husband was 8 years younger than me, but there was no visual difference. Just one thing that I really was feeling, the difference in life values and experiences, this is hard to hide. Sadly.
22. 12 years maximum
The age difference should be 12 years maximum, the man older.
23. 7-15 years
I want a man minimum 7 years older and up to 15 years difference is OK. The man must be older.
24. 12-15 years difference seems OK to me
It happened that I registered on the site at the age of 20, and I didn't write to men myself. I had men 32-35 writing to me. I considered them "uncles". Somehow I got more mature with them and my views on life changed. Now I don't want to communicate with guys who were born the same year as myself, I don't understand them and consider them silly. I understand that if I want to create a family, then the "uncles" are ready for it.
25. Plus/minus 10 years
I believe that the acceptable age difference + – 10 years.
26. My views changed with age
My views changed… During the student years I was attracted only the guys my age. Now the most important thing is that the man is a Man. It's not important how old he is.
27. Maybe 5-10 years older
I like men "+ – my age". My ex-husband was 1 year younger and it's super when you are on the same wavelength! But now I think that the husband needs to be a bit older… Maybe 5-10 years older.
28. Maximum 15 years gap
I don't think much about the age difference. But for myself I see the maximum difference at 15 years. Ideally up to 10. I like different men on the site: my age and older. I didn't come across younger ones. I just want to add that the majority of foreign men are looking for an adequate age gap and 10 years difference they consider sizable. At the same time, Russian men absolutely seriously call 30-year-old women "old" (some of the Russian guys think that a woman of 25 is "old"), even if he is near 50. I was put off by it when I was already 23 and I thought that 30 is far away.
Survey results
Over 200 women gave answers in an online poll I ran on 4 June 2019 on Instagram among my subscribers — Russian-speaking ladies who are looking for a partner abroad. The results are presented below.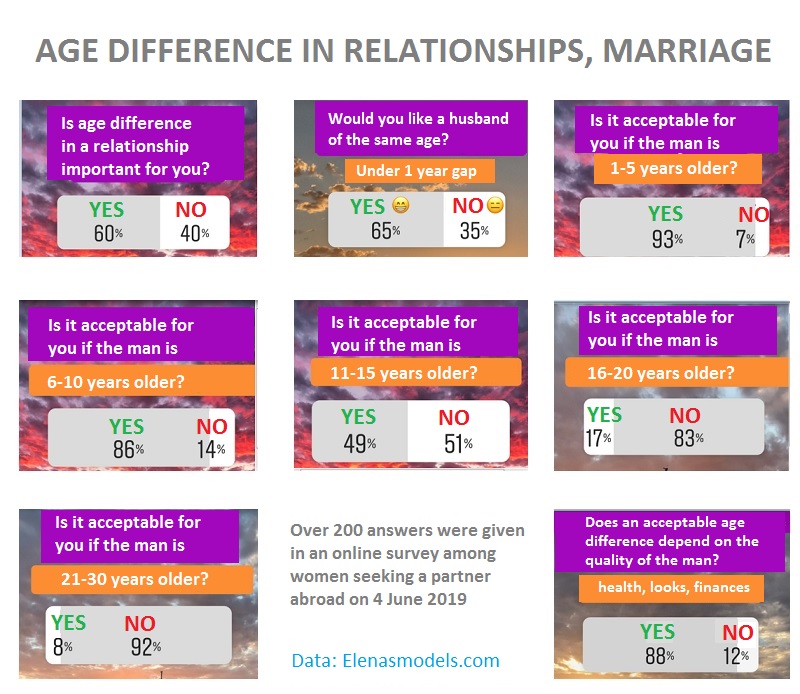 So, here you have it!
As you can see, women's views on the matter of age difference in a couple are pretty diverse.
As I usually suggest, the gap up to 10 years is acceptable for the majority of ladies.
Nearly half of women feel up to 15-year gap is OK.
58% of women are open to dating a younger guy.
There are also ladies who wish a man to be substantially more mature than herself.
Several responses indicate that a lady would consider a guy of any maturity, given he is in a good physical and mental shape.
Besides, quite a few stories that ladies shared about finding love demonstrate that once they find a person who is on the same wavelength, their preconceptions about acceptable gap in age change, because of the way they feel with the new partner.
If you want to be that guy who gets the girl, learn how to make a woman feel like this is her Destiny!
The men who have chosen to learn the simple steps how to make a Russian, Ukrainian woman fall in love with you via my VIP Dating Coaching Program say their results in communication and building relationships with ladies changed dramatically and they were able to achieve outcomes they didn't think were possible.
The program is designed to answer the most common questions guys have about dating Russian women and help you avoid typical mistakes destroying potentially great relationships. Not only that, you will be able to save thousands of dollars during the time of courtship and make sure the contacts you have are genuine, preventing losses and heartbreak.
Get it today to make your relationship the best it can be!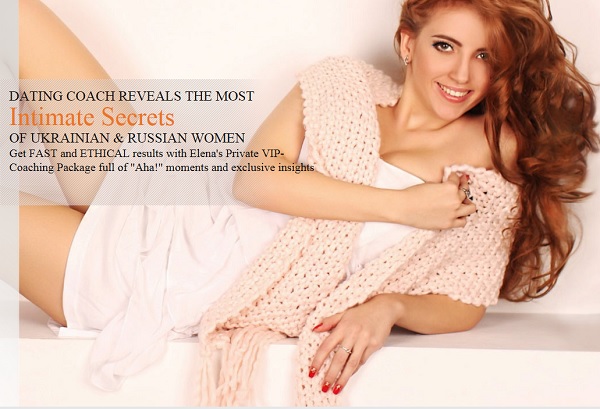 Share this article