When you are dating Ukrainian women online, there are some red flags you should be watching for. Follow these tips to stay safe when dating women from Ukraine online.
6 major red flags in dating Ukrainian women
Ukraine is a lovely place to visit and women are sweet and nice. By its geographical size, Ukraine is the largest country that lies entirely within the continent of Europe.
(Russia has a larger territory in Europe, but it's intercontinental, with its major part within the continent of Asia.)
Some facts about Ukraine:
Ukrainians are Slavs, the same group as Russians and Polish people.
Kiev (Kyiv) is the capital of Ukraine.
Ukraine has access to ocean via its ports on the Black Sea, the major one being Odessa.
Many people wonder whether Ukraine is a part of Russia: No, it's not and have never been. Ukraine used to be a part of the Soviet Union, as well as Russia, among 15 republics that the USSR was made of. But all these 15 republics are independent countries now.
Now let's talk about dating Ukrainian women.
Why would you look for a partner in Ukraine?
Most men who are dating Ukrainian women do it for these reasons:
Demographics: There are 86 males for 100 females in Ukraine. It's hard for ladies to find a match, so the regular laws of supply and demand apply: Ukrainian women work hard to get a partner and put efforts in order to keep him.
Looks: Because of the same reasons, women in Ukraine invest a lot of time and effort in looking their best. Going to gym, high standards of grooming and deportment are required to be able to compete for eligible males.
Family values: Ukrainians believe that a woman's happiness is in being a wife and a mother. Women want to get married and build a family, and view raising kids as a joy and path to personal fulfilment. If you want to be with someone who always puts her husband and family first, the values of Ukrainian women match this aspiration perfectly.
Acceptance: Marriage-minded men have immense value in the eyes of Ukrainian women. Since most men in Ukraine who want to have a family are already married, it's easy for a guy who is looking for a serious, long-term relationship to be seen as desirable. It's not about looks or how much money you have, but specifically the fact that you want a long-lasting relationship that makes a man sought-after.
Resilience: Life in Ukraine is tough compared to western countries, so women learn to fend for themselves, as they cannot rely on government's handouts.
Education: Most women who consider finding a partner from another country are educated and smart. Many of them are professionals (medical doctors, lawyers, accountants, auditors) or business owners. It's not some uneducated, poor women who are seeking love abroad, but the best quality ladies who simply don't want to accept low standards of local males (poor health habits, alcohol abuse, etc).
If you think of the type of partner you'd like to meet locally, you probably can find many candidates of this calibre in Ukraine, when you decide to explore this option with Elenasmodels.com.
However, with all these wonderful qualities of genuine Ukrainian women, you should be wary of pitfalls and red flags that tell you to stop and rethink.
When something is so good, there could be individuals trying to misuse the situation to their advantage. Knowing what to look for helps you to navigate the process faster and achieve great results.
Let's look at 6 major red flags you may encounter.
Red flag #1. The Ukrainian woman you are dating only wants to talk through a certain website, where you have to pay for communication with her
That's the major problem you may encounter. The problem isn't only the cost of dating but also the fact that if you pay for communication, it allows an agent to hire someone to chat to you, impersonating the woman in the photos.
Tip: Always exchange direct contact details with Ukrainian women you are talking to and make sure you talk on video at least once a week at a time that is convenient to both of you for 15-40 minutes. The fact that a woman invests her time in your connection (and you are not paying for communication, that's important!) shows that she is indeed interested in you.
Messengers that ladies in Ukraine love to use include WhatsApp, Skype, and Telegram. All of them are free and allow text and video communication.
Red flag #2. The woman you are dating online is pushing for your quick visit
Most people want to get to know a person first, before committing to spending a few days with someone. Ladies in Ukraine usually prefer when a man initiates all the moves and most of them would be hesitant to press a man about a visit.
Some couples meet in person rather quickly but it happens because they have a great connection and available time, such as an upcoming vacation at work.
Be especially wary if the Ukrainian lady you are talking to sends long letters or chats with such requests rather than discusses it with you when you are on video. Normally a person would make more sensitive requests face-to-face rather than in writing.
Tip: If you are feeling pressured to visit quickly, slow down.
The reason why some people do it is to make a man to invest into a visit and then ask him for purchases, starting from spa visits and paying for groceries, and then proceeding to higher value requests for clothes and handbags. The man who thinks that a woman is genuinely interested in him may feel uncomfortable to refuse, but there is no intention to have a relationship if such requests are popping up, just greed.
The best time to arrange a visit is when you feel genuine connection and mutual spark with someone you talk on video often.
Even then, requests for purchases are not normal and genuine women don't do it. She will be excited and grateful if you offer a present, but won't explicitly ask for it.
Red flag #3. All the talks about feelings are in messages, not on video
It's true that some people feel more comfortable writing about feelings than talking about them. Also some Ukrainian women may not have such a great command of English, although all kids study a foreign language (usually English) at school for 6 years, so they are able to speak it at a basic level.
However, knowing about the two schemes above, when the conversations on video and in writing do not match, it could easily be the case of impersonation when someone else is writing messages that made you fall in love.
Yes, it's unfortunate that some groups are set to play on other people's feelings, but if you are wise to that, it's easy to separate sincere Ukrainian women from the players.
Tip: Talk to several women and compare. When you are not consumed by a conversation with your only option, you can without doubt notice the differences.
Ask yourself: Does this person want me or she wants something from me?
If you are honest with yourself, the answer will be obvious.
Red flag #4. The Ukrainian woman you are dating doesn't have a real job
Another red flag is when the person you are dating doesn't work. She could state being a fitness trainer or a beauty therapist on a flexible schedule, for instance, to mask the fact that she doesn't work.
If a person doesn't have a real job, how do they pay for things in life?
Possibly, the income comes from men she is dating.
If a woman works as a teacher, medical doctor (health workers don't earn much in Ukraine), a lawyer, and she attends the office at regular hours, then she provides for herself, which shows a strength of character.
Tip: Ask some specific questions about her job and people she is working with, hours of operation, challenges and rewards. Genuine Ukrainian women would be happy to tell you about their work in details.
Does the person you are talking to actually spend 8 hours at work daily?
Or is she popping up online at various strange times of the day, such as 1-2 am during the week?
It's always best to steer clear of people with no known source of income, and rather choose someone who is an honest worker.
Red flag #5. She is late or missing video dates
If you have certain times to talk on video (you must talk on video often, without it the relationship isn't real, that's the first thing you should ensure you are doing) and she doesn't show up or is always late, it means she doesn't value your connection.
Tip: Ask her to be on time as it's a valuable resource and you wouldn't want to be with someone who doesn't value it as much as you do.
If this keeps happening, you can draw your own conclusions.
Red flag #6. Her social media accounts are full of photos showcasing expensive locations and things
Individuals who value things highly pay less attention to people.
The fact of a woman constantly being photographed at expensive hotels in various locations could also suggest that she is flying on vacations to meet men. Unless she is in photos with her girlfriends (Ukrainian women would usually include friends in pictures if they were together), then you could in all probability assume she was with a man.
If she is a professional traveller and blogger, this could be explained. Some girls take photos in expensive hotels while they stay in a cheap or free room found though couch surfing websites.
Some Ukrainian girls do that: They travel alone on the budget, being able to afford it even while having modest income. There are online groups for female solo travellers who look after each other to ensure safety, and if she is one of them, this would explain frequents trips.
But she probably won't be exquisitely groomed with exceptional hairstyles, shoes, and dresses in these photos, as budget travelling usually involves a lot of walking. She is more likely to be wearing shorts and sneakers in such pictures.
Tip: Ask your online girlfriend about countries she visited and what activities and places she enjoyed there. Women who travel to meet men usually stay in hotels and go dining and shopping, while budget travellers explore and visit many natural sights.
Conclusions
Here are the most important red flags that may pop up when you are dating Ukrainian women. Don't disregard such early signs, as it could lead you into wasting a lot of time, money, and effort on someone who didn't deserve it, while giving a miss to good women who have genuine interest in you.
If you want more insight, I have a program for men who are dating Ukrainian women, with an 8-hour audio that you can listen anywhere, listing all do's and dont's. It's available for an immediate download online.
Wishing you success and great dates!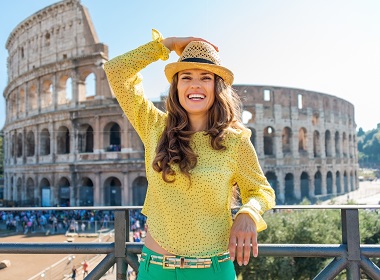 Read also: