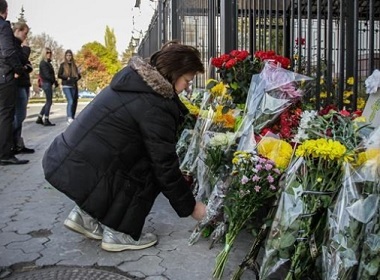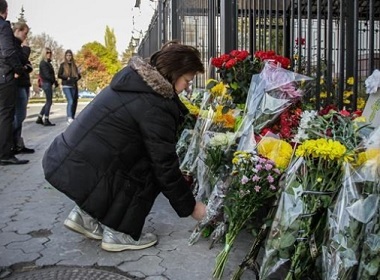 Tributes to victims of the Russian plane crush in Egypt are pouring. In St. Petersburg's airport Pulkovo flowers, toys, and notes are laid. In Ukraine people bring flowers to the Russian embassies in Kiev, Odessa, and Kharkov.
224 people perished in the largest air crash on the territory of Egypt, among them 4 Ukrainians and 1 citizen of Belarus. Most of them were Russians returning from a holiday.
The Kogalymavia flight 9268 was carrying 7 crew and 217 passengers, among them 25 children. The youngest of the children on board was only 10 months old. The flight crashed on 31 November 2015.
1 November was announced the day of mourning in Russia. In St. Petersburg, the mourning is extended for 2 more days.
Most people on board lived in St. Petersburg or the region.
The flight, which was servicing the route from Sharm el-Sheikh to the Northern city on the Baltic Sea, was branded Metrojet.
The plane was an 18-year-old Airbus A321.
The international aviation committee concluded that the plane fell into pieces already in the air, MK.ru reported.
Spontaneous tributes of flowers and toys have been erected by the walls of Russian Embassies in Kiev, Odessa, and Kharkov by locals.
"Russia! Love and grieve with you. Ukrainian people," one of them stated.
Tributes to the victims of the crash were left in other countries of the former Soviet Union by the Russian embassies.
On Monday 2 November, the Russian Embassy in Washington, DC, will open a remembrance book for people to leave a tribute, MK.ru reported.
Thousands left messages on social media.
Russian media published stories about the passengers who perished in the crash. For some of them, it was their first international holiday. Most of them were quite young, under 30-40 years old.
A former Russian Top Model participant Elena Domashnyaya was one of them.
For Belarusian Roman Seredinski, it was his first overseas trip. He lived and worked in St. Petersburg since 2004.
The Vice Mayor of the Russian city Pskov Alexander Kopylov was on vacation with his wife Elena Melnikova. The trip was her birthday present from her husband, which she celebrated on 27 October.
46-year-old Dmitry Bogdanov lost his wife to cancer 3 years ago. He took his 3 children on a warm Egyptian holiday: 10-year-old Anton, 22-year-old Anastasia, and 24-year-old Valeria.
Video: Ukrainians bringing flowers to the Russian Embassy in Kiev
Ukraine mourns the victims of the Russian plane crash in Egypt.

Share this article